Top Houston IT Staffing & Consulting Agency
One of Houston's top IT Staffing/Consulting firms
Our local recruiters combine years of experience in recruiting and staffing with our deep knowledge of the IT industry. This unique skill set enables us to find the RIGHT candidates for your team and/or business so your projects are completed successfully and on time.
We solve problems. It's our competitive advantage. Make it yours with Decide Consulting on your side.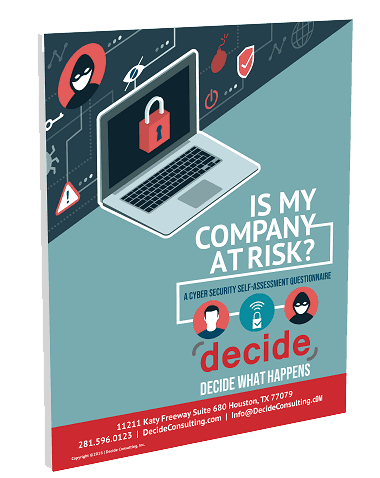 CyberSecurity Self Assesment
How Safe is Your Company from Cyber Attacks?
No company is 100% secure from cyber attacks, hackers and ransomware. There is plenty you can do to minimize your risk. Take our cybersecurity self-assessment to find out what things to do first.
Participate in our 2019 Salary Survey
We are cutrrently collecting data for our 2019 Salary Survey. Be part of the community! Have you changed jobs this year? Has your company hired Information Technology or Technical People? Please share your anonymous data with us.