Below is a graph we just updated showing the IT jobs posted in Houston since COVID started. The top line is the "normal" amount of weekly posted jobs based on the last few years. The bottom line is the actual number of posted jobs.
The short version of this is we typically see about 1400 – 1500 IT and software jobs posted every week. This includes jobs posted by companies, recruiters and consulting firms. Since COVID started, that number has gone down. The worst was in late April when there were less than 400 jobs posted a week. For a few weeks, it looked like things may be returning to normal. There were a few weeks where we went over 1100 postings for a week. That did not last long as we have been creeping back down for the last few weeks.
Overall, we are still bullish that the IT and software job market will return with a vengeance. There is a constant stream of information telling business leaders they need to invest in Digital Transformations. That will result in a demand for individuals with the right tech skills. See below for the raw data.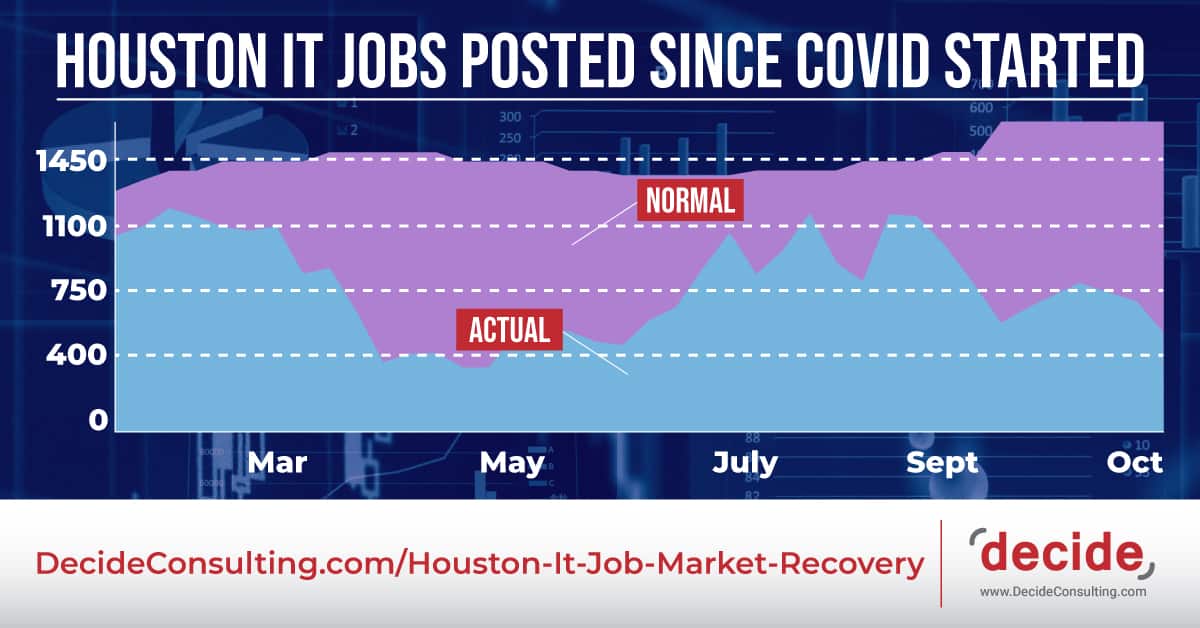 | | | | |
| --- | --- | --- | --- |
| week ending | Jobs posted | Normal level | difference |
| 2/4/2020 | 1103 | 1350 | 247 |
| 2/11/2020 | 1201 | 1400 | 199 |
| 2/18/2020 | 1156 | 1400 | 244 |
| 2/25/2020 | 1098 | 1450 | 352 |
| 3/3/2020 | 1080 | 1450 | 370 |
| 3/10/2020 | 1102 | 1450 | 348 |
| 3/17/2020 | 847 | 1450 | 603 |
| 3/24/2020 | 877 | 1500 | 623 |
| 3/31/2020 | 643 | 1500 | 857 |
| 4/7/2020 | 369 | 1500 | 1131 |
| 4/14/2020 | 416 | 1500 | 1084 |
| 4/21/2020 | 421 | 1500 | 1079 |
| 4/28/2020 | 342 | 1450 | 1108 |
| 5/5/2020 | 344 | 1450 | 1106 |
| 5/12/2020 | 533 | 1450 | 917 |
| 5/19/2020 | 558 | 1450 | 892 |
| 5/26/2020 | 536 | 1400 | 864 |
| 6/2/2020 | 482 | 1400 | 918 |
| 6/9/2020 | 463 | 1375 | 912 |
| 6/16/2020 | 597 | 1375 | 778 |
| 6/23/2020 | 667 | 1375 | 708 |
| 6/30/2020 | 874 | 1375 | 501 |
| 7/7/2020 | 1064 | 1375 | 311 |
| 7/14/2020 | 843 | 1400 | 557 |
| 7/21/2020 | 974 | 1400 | 426 |
| 7/28/2020 | 1170 | 1400 | 230 |
| 8/4/2020 | 906 | 1400 | 494 |
| 8/11/2020 | 805 | 1450 | 645 |
| 8/18/2020 | 1167 | 1450 | 283 |
| 8/25/2020 | 1157 | 1450 | 293 |
| 9/1/2020 | 1009 | 1500 | 491 |
| 9/8/2020 | 821 | 1500 | 679 |
| 9/15/2020 | 615 | 1550 | 935 |
| 9/22/2020 | 681 | 1550 | 869 |
| 9/29/2020 | 772 | 1550 | 778 |
| 10/6/2020 | 734 | 1550 | 816 |