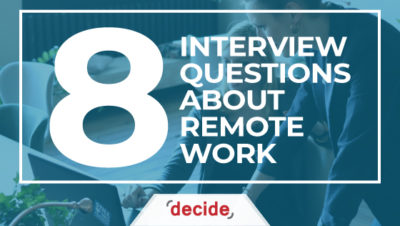 With remote work becoming increasingly frequently, companies must re-evaluate their interview processes to find suitable remote workers. For the most part, interviewing a remote employee is similar to an in-office employee. However, there are some specific areas you need to cover in order to ensure whether a candidate is a suitable fit for your remote workforce.
In this article, we will be discussing the most important remote job interview questions that hiring managers should ask remote candidates.
Let's get started.
1.     Have They Worked Remotely Before?
The first you need to ask a remote candidate is whether they have worked remotely before. If the candidate answers in the affirmative, you can proceed to ask what they liked or disliked about the job. Was it difficult for them to work from home? How has working remotely benefited them in the past?
Finding out about the candidate's previous experience with remote jobs will help you determine whether they are equipped for handling a remote job and how quickly they will be able to settle into the role if they choose to work with your organization.
2.     Can They Come Into The Office If Required?
Even though you are hiring them for a remote position, it's important to ask remote candidates if they would be comfortable coming into the office if required. Flexibility is highly important to establish a successful relationship with remote workers. You also need to be transparent about your expectations so you can make a decision that benefits you as well as the employee.
3.     Do They Work Well In a Team?
You'll want to ask remote workers about their people skills and whether they are good at interacting with team members while working remotely. Collaboration can be difficult among remote employees. You need to look for candidates that take a proactive approach toward communicating with their team members, thereby ensuring a smooth work process.
4.     How Do They Remain Productive While Working Remotely?
This is among the most important remote job interview questions that you'll need to ask a remote candidate. Productivity is a critical issue while working from home. Even the best employees struggle to streamline tasks and meet deadlines when working remotely. You can ask candidates how they stay focused and the biggest challenges they face as a remote worker.
You can also ask if they use any tools or software that helps them stay productive and discuss how the company can accommodate their requirements to ensure productivity.
Read More: 10 Best IT and Technology Job Search Websites >>
Read More: 7 Tips for Staying Productive during COVID >>
Read More: 10 Good Tech Courses to Start in Quarantine >>
Read More: Remote IT was Trending Before COVID >>
5.     What Makes Them an Effective Remote Worker?
Most candidates enjoy the idea of working from home. However, many of them may not be very good at it. That's why you'll also want to ask candidates what makes them an efficient remote worker. How does this efficiency vary from working as an in-office employee?
In most cases, you're looking for employees that require minimal supervision and thrive in an independent environment that lets them be creative and productive.  So if you come across a candidate with similar qualities, it's likely they'll be able to manage remote work in a smart and productive manner.
6.     How Do They Maintain Work/Life Balance?
Work/life balance continues to be a big challenge for remote workers. In many cases, the lines between their personal and professional lives tend to blur and they end up working around the clock. This can be highly damaging in the long run as it leads to employee burnout, disengagement, and dissatisfaction with the job.
You must ask remote candidates about their approach toward maintaining a healthy work/life balance and whether they are able to set some necessary boundaries between their job and their personal life. You can also share how the organization helps remote employees in finishing their work within a designated number of hours.
7.     How Important Is It To Work Remotely?
Top talents are hard to find. In many cases, a candidate might not be a good fit as a remote employee and may perform better as an in-office employee. If you make a similar observation about a promising candidate, you can ask them about their priorities as far as remote work is concerned. This will provide you with more clarity as you move further along the hiring process. If they happen to be comfortable working as an in-office employee, you can consider other similar in-office positions that might suit them.
8.     What's Your Biggest Challenge When Working Remotely?
Everyone is going to have some challenges working remotely. This question will reveal some insights into the home office setup, how often they may get interrupted during the day and other insights good and bad. This is a good question to have lots of follow-up ready based on the candidates answer.
Wrapping It Up
We hope these remote job interview questions prove to be helpful for your recruitment process. Successfully recruiting the right remote candidates can help you capitalize on the benefits of hiring remote workers and lower operating costs. Good luck!

Are you finding it harder to locate the good technical and IT talent? Many companies find them selves in the same situation. There are some better ways to locate and attract the right it and technical people to your company. Contact us to learn more.