"As we are experiencing the 'Great Resignation', many people are re-evaluating what they want in a job and where they are doing it. Companies are trying to keep up with the trends as well. We are updating one of our past entries with some additional information related to current hiring trends."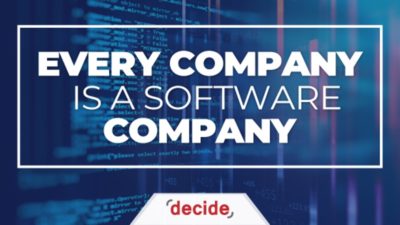 You cannot pick up a report from Gartner, McKinsey or BSG without hearing how your busines needs to "Digitally Transform". As digital transformation becomes more and more mainstream, every business needs to understand one simple fact – regardless of what you are selling, all companies are software companies to some extent. Don't believe us? Read on as we discuss the importance of business technology and how a company that incorporates software and technology in their operations can build a competitive advantage over the ones that do not.
What is Digital Transformation?
Digital Transformation is a broad term and has different answers depending on whom you ask. A decent typical definition is
"digital transformation as the integration of digital technology into all areas of a business resulting in fundamental changes to how businesses operate and how they deliver value to customers."
That definition doesn't shed much light on it. For a much clearer definition of Digital Transformation,  Check out a set of videos we put together to explain what it means for large companies and small companies.
How your Company is a Software Company
Even if you are running a brick and mortar store, all businesses need software for managing their operations. Let's look at two scenarios that highlight the importance of business technology and how a company can benefit by integrating software into its operational activities.
Suppose we have two restaurants – a restaurant A and a restaurant B. They are both clean, serve good food, and are located on a high-traffic street. Both restaurants are pretty well known in the community too and, have managed to create a good reputation.
Restaurant A continues to rely on these factors to achieve a moderate amount of success.
Restaurant B, on the other hand, decides to leverage technology to push the bar a bit higher. Here are a few things they choose to do:
1.     They Use Digital Marketing
While restaurant A relies on positive word of mouth and the goodwill they have created in the community, restaurant B takes things one step further and hires a team for digital marketing. This team helps them manage their Yelp reviews and maintain a strong social media presence. They encourage their customers to post reviews on social media about their food and service quality and reward them with promotional offers when they do. For instance, if a customer checks into the restaurant on Facebook, they serve them with a free appetizer.
They also ask customers for their contact information and build a mailing list. This can be used to share new menu offerings and promotional deals to build a long-term relationship with a customer for driving repeat sales.
Read More: SDLC Comparision: Agile vs DevOps >>
Read More: What Exactly Is a Full Stack Developer? >>
Read More: Planning Your IT Career Path >>
Read More: How to fill 500,000 IT Jobs >>
2.     They Do Online Ordering Right
The second thing that Restaurant B does is set up a website for accepting online orders. Customers can place their orders online and pick up their food from the restaurant once it is ready. They also offer delivery services. They integrate with all the food delivery services. Customers can provide them with their contact information and have the food delivered to their doorstep.
By offering these services, the restaurant can:
Widen its customer base by offering delivery to customers that don't live in the restaurant's vicinity
Use the contact information collected to send customers SMS notifications and emails about new offers
Think about these scenarios and ask yourself: Which restaurant do you think will do better? It's true that restaurant B will accumulate extra costs when it opts for digital marketing and offers pickup and delivery. However, they can recover these costs in the form of more sales and a larger customer base.
3. If a Restaurant can use Technology to Drive Business…
There is another important consideration here. A restaurant isn't exactly a technology-driven business to begin with. However, a few simple integrations can allow it to greatly expand its offerings. If a restaurant can achieve so much, what do you think other technology-driven businesses could do?
There are so many possibilities here. They could:
Automate their CRM via emails received from visitors and prospects
Track website visitors and create a sales funnels to drive conversions
Monitor social media posts that mention the Company and use this feedback to improve operations
These are just a couple of examples. The list of how you can use business technology to introduce automation and manage your customers is infinite. You don't even need to hire a full-time programmer for these tasks. Thanks to low-code and no-code technologies, it has become easier to integrate software solutions into your business to achieve long-term growth. Products such as Zappier, IFTTT, and Power Automate (by Microsoft) allow non-developers to use technology for streamlining their operations without breaking their budget.
The Final Word
The importance of business technology cannot be denied. Every company utilizes some software for achieving its organizational goals and remaining competitive. This can be in the form of social media marketing or something more sophisticated such as Artificial Intelligence. The opportunities are endless, and at the end of the day, technology is the way forward for all businesses.

Are you finding it harder to locate the good technical and IT talent? Many companies find them selves in the same situation. There are some better ways to locate and attract the right it and technical people to your company. Contact us to learn more.