"As we are experiencing the 'Great Resignation', many people are re-evaluating what they want in a job and where they are doing it. Companies are trying to keep up with the trends as well. We are updating one of our past entries with some additional information related to current hiring trends."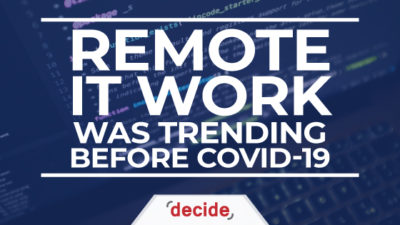 The novel coronavirus epidemic has toppled the economy and has caused widespread disruption to global supply chains. Governments are forced to enforce lockdowns to curb the spread of the virus. And while social distancing measures are known to work admirably well against contagions, its biggest drawback so far is the widespread loss of jobs.
A large percentage of employees are being asked to work from their homes.
And while remote work wasn't an impossibility before the coronavirus came along, the pandemic has transformed the digital landscape, forcing businesses to either adapt or get swept under the rug. Companies are always on the search for tech talent as they expand their business operations.
Many software programmers and developers often get to dictate their terms when signing up, and one of their favorite perks is work from home.
Here's an important statistic to hit home: 300,000 full time computer science employees worked from home in the US in 2015 alone. It is worth noting that this figure includes related professionals such as statisticians and actuaries but the vast majority of them are programmers. Almost 8% of full time programmers in the US worked from home.
What Makes Work From Home Accessible?
Engineers and designers from tech giants like Google, Microsoft, and Amazon have developed dozens of new tools to keep us connected to an organization's network infrastructure without ever visiting the place. These engineers and IT professionals end up being among the first people to start using them. More programmers, especially those who are more experienced, began demanding work from home as a perk.
Pew Research found that work from home jobs are more prominent in private companies than in state and local governments. 7 percent of private employees have access to work from home facilities compared to about 4 percent of government employees. Do keep in mind that some jobs, by their nature, are impossible to do away from the standard worksite: think of construction workers, restaurant servers, cooks, police offers, and hair stylists.
It goes without saying that the work-from-perk is mostly available to 'knowledge workers' and people who can do most of their work from computers. Around 24% of workers from different areas such as IT, finance, corporate, insurance, and accountancy have access to remote work. This also applies to 'professional' workers such as lawyers, scientists, and engineers.
Below are 4 important IT roles that will stay in demand for many years to come.
1. Cloud Architect
Cloud architects play an extremely pivotal role in managing a company's cloud computing strategy and are responsible for deploying and managing cloud applications. They have a strong understanding of business-critical operating systems in addition to programming, networking, and security skills. Businesses will be looking for individuals who have a strong grasp of cloud services such as Amazon AWS Services, as well as experience with governance, vendor management, and automation.
The skills and experience that will most valuable include:
Understanding of cloud applications
Experience with architecture of cloud systems
Knowledge of architectural principles and cloud technologies
2. AI Architect
Artificial intelligence will change how business is done, requiring companies to always be on the hunt for skilled workers who can meet the demand for AI-enabled services and products. Most companies will look for an AI architect who demonstrates expertise in computer science and data science or AI as well as having work experience in data and analytics. Candidates with knowledge of natural language processing, machine learning, AI application, and AI integration will be in high demand.
The skills and experiences that will be most valuable include:
Machine learning and natural language
Strategic thinking and organizational skills
Knowledge of AI application programming
Read More: Things to Consider when Hiring Remote Tech Talent >>
Read More: How to Get the Most of Remote IT Talent >>
Read More: How to Do a Better Video Interview >>
Read More: Software Developer Jobs may Double in 10 Years >>
3. Network Administrator
These important individuals are responsible for handling LAN and WAN protocol, hardware, and software. They are responsible for handling networking services, cloud initiatives, and applications that support cloud applications in the company. These positions require expertise with troubleshooting and often require the administrator to be on call in case of emergency failure.
The skills and experience that will most valuable include:
Being available on call after hours
Various certifications
Analytical and diagnostic skills
Excellent troubleshooting skills
Good communication skills
4. Developers (all kinds)
Web, mobile, and software developer are responsible for running much of the internet. Without them, businesses won't have their websites and mobile apps. This job requires a hands-on experience with coding, designing, and building applications and working with programming languages such as C#, C++, Java, Microsoft .NET, and Java.
The skills and experience that will most valuable include:
Analytical and technical skills
Knowledge of many programming languages
Bachelor's degree in a similar field
Key Takeaway
Although we can't predict the aftermath of COVID-19 and what it will look like, what we can do is make the most out of this situation. Once the dust is settled and we can get back to our normal lives, you will notice work from home becoming the new normal, even after the threat of COVID-19 has passed.

Are you finding it harder to locate the good technical and IT talent? Many companies find them selves in the same situation. There are some better ways to locate and attract the right it and technical people to your company. Contact us to learn more.