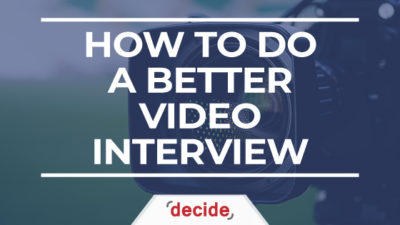 Recruiting practices and processes have changed a lot over the years. Thanks to the internet, tests and interviews are now conducted online to find the most suitable candidates for the job. This has made the entire process more convenient and flexible, both for the recruitment team as well as the candidates. Candidates can take their tests and interviews from virtually any location in the world. It prevents them from losing the opportunity of a lifetime just because they are not able to travel to the interview location.
If you are in the IT or software industry and have been asked to appear for a video interview, then we have some tips for you. These will help you do a better video interview and improve your chances of getting the job. Let's get started!
Tips for a Better Video Interview
1. Test Your Audio and Camera
Before you appear for the interview on your device, it is important to check if it is working properly. Since this is a video interview, the camera of your device must work at its best throughout the interview. Similarly, check the audio devices to ensure that the interviewer can hear you perfectly. This is important to get your answers across to the interviewer. Check the internet connection of the device and make sure that it remains stable throughout the interview. This will make it easy for you and the interviewer to get your points across to each other.
2. Dresses As If You Are Meeting In-Person
Just because you are giving the interview online doesn't mean that you can ignore your dressing. It is still an interview and you need to dress up properly for it. Think about how you would have dressed if you were meeting the interviewer in person. Dress the same way for a video interview. You should look professional in your attire.
3. Find a Neutral Background
For a video interview, it is best to sit in front of a neutral background. While this is not necessary, it still gives a perfect impression to the interviewer. Sitting in front of a neutral background makes the interviewer focus on you and not on the things behind you.
4. Close All Other Applications on Your Computer
It is important not to run any other applications on your computer while you are giving the video interview. It can distract you, and your interviewer will notice it immediately. It is best to close all applications before you accept the video call for the interview. This will keep your focus on your interview and you will be able to give the best answers.
Read More: 10 Things to do to Prepare for an IT job Interview >>
Read More: Hot Job – .NET Developer >>
Read More: Facts about .NET Developers in Texas >>
Read More: Ace that IT Interview Part 1 >>
5. Avoid Interruptions
You are giving a video interview but it is still a professional interview. Therefore, you must keep all interruptions away when you start your interview. Turn off your cellphone and sit in a room away from your kids and pets. These interruptions will only distract you and it can cost you a great job because the interviewer considers you not to be too interested in the job.
6. Have a Printed Copy of Your Resume Ready
It is always best to have a printed copy of your resume ready while you give the interview. This will help you when the interviewer asks any specific questions about your education, qualification and job roles. You can answer all their questions in detail when you have everything in front of you.
7. Write the Questions You Want to Ask
Think about the questions you want to ask the interviewer and write them down on a piece of paper. Keep this paper with you when you give the interview. Interviews can be overwhelming and one tends to forget what they had to ask the interviewer. Thus, it is better to prepare for it beforehand.
8. Have a Pen and Paper Handy
Always keep a pen and paper with you when you are giving a video interview. Some points may come to your mind while giving the interview that you can discuss with the interviewer when given a chance. The interviewer may also ask you to write something down, and you don't have to get up and find a pen and paper at that moment when you already have it there with you.
9. Have a Glass of Water Nearby
When you set up your table for the video interview, have a glass of water nearby. You don't know how long the interview will last. You may have an urge to drink water in between and it seems very unprofessional to get up in the middle of the interview to get a glass of water. Therefore, have it with you before you start the interview so that you can steer away from all kinds of interruptions and distractions.
These were some important tips that can help you ace your video interview. Follow these best practices to impress the interviewer with your professionalism.

Are you finding it harder to locate the good technical and IT talent? Many companies find them selves in the same situation. There are some better ways to locate and attract the right it and technical people to your company. Contact us to learn more.