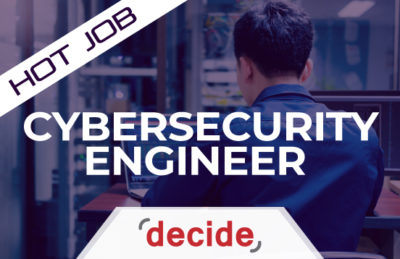 Cybersecurity is a growing concern for many businesses and skilled cybersecurity engineers are in high-demand. Today, data breaches can be extremely damaging to a business, ruining their market credibility and putting them at risk of extortion from hackers. With more and more businesses offering jobs in this area, you might be tempted to apply for this position as well. But what does it mean to be a cybersecurity engineer? If you're wondering, we can help shed more light here. We're taking a closer look at cybersecurity engineer job responsibilities, requirements, and other fine details.
Typical Background
Cybersecurity engineers are considered to be the gatekeepers of all information that an organization has. They're also responsible for security and protection of systems, including the storage of sensitive data. Given this factor, they are relied upon to develop plans, security measures and appropriate steps and implement them successfully.
Regular monitoring and updating of security systems in accordance with industry standards is also the responsibility of a cybersecurity engineer. They have to detect any possible intrusions, loopholes, and weak points in the security measures. Their ever-vigilant efforts allow the IT department to function effectively.
Cybersecurity engineers are also expected to work in conjunction with different offices, departments, and business infrastructures. They're often involved in updating, improving, and providing a secure platform for all users. The amount of responsibility they have means that there is a high need for them to be skilled, knowledgeable and have appropriate industry experience.
What You Will Do
As a cybersecurity engineer in Houston, your job responsibilities can be many because the security of the business's data is reliant on you. The following are some of the responsibilities as well as tasks that you will be expected to manage:
Establish and plan out policies for information security, best practices and cybersecurity strategies which will make the organization more secure.
Test and check all areas of the platform to ensure that there are no breaches in the security which could be manipulated by hackers. This needs to be done regularly.
Logging and identifying threats to the business through the use of effective reporting and monitoring tools and systems.
Identify different areas that need to be strengthened to prevent security breaches.
Manage the proper handling, storage and deletion of sensitive data in accordance with industry standards.
Establish a security protocol to apply if there be a sign of a breach in the system to safeguard the data as much as possible.
Conduct penetration testing and cybersecurity assessments.
Helping with daily tasks for administrative purposes, communicating and reporting to improve business functions.
Educate the user community on how they can protect themselves and the company from bad actors.
Skills Needed
A Cybersecurity engineer in Houston needs to have specific skill sets for their job. The following are the common skills needed for the job:
Appropriate experience in handling security functions for programs such as Endpoint, VSX and even managing firewalls.
Proficiency in Java, Python, Ruby, C++, Power Shell Go and Node.
Time management ability to handle fast paced tasks with a pressure based environment.
Stay aware of the latest trends that are taking place in cybersecurity and hacking trends and techniques.
Troubleshoot network and security issues to improve the security system and keep security breaches at bay.
Participate in an appropriate control operation changes and help to document and find solutions for all deviations from the norm in the program.
Collaborate, work with different departments to properly implement and teach appropriate security measures which can boost security practices.
Experience with AI-based tools such as Blue Vector or DarkTrace
Strong attention to detail and ability to think in an analytical manner.
Great problem solving abilities to detect and improve issues that data security systems can be facing.
Have an understanding of different cloud platforms, networks and security measures that are needed for these.
Read More: Top 5 IT Cyber Security Certifications with the Greatest ROI >>
Read More: 6 Questions to Ask a Potential Cyber Security Hire >>
Read More: Cybersecurity Best Practices >>
Read More: What Happens During a Cybersecurity Assessment? >>
Education Needed
Education requirements include a minimum of:
Bachelors degree in Computer Science
Bachelors degree in Engineering or any STEM field;
Be Certified as a cybersecurity engineer
Why This is a Good Job?
Becoming a cybersecurity engineer in Houston is great because it offers a lot of benefits. If you have an analytical mind, you will absolutely love the challenges that you face with this field. Additionally, with a higher demand for improved infrastructures and data security, this is an area that will offer a lot of room to grow and opportunities.
In this case, the earning potential is also very high when you're working as a cybersecurity engineer in Houston. Glassdoor has also highlighted that in 2019, the average salary they can earn on an annual basis is $129,847. Based on this factor, you can easily see that becoming a cybersecurity engineer can be a very promising and lucrative career option.
Pay
Nationwide
Texas
Low
M ed
High
Low
M ed
High
Sr. CyberSecurity Engineer
$114,000
$135,250
$191,250
$121,980
$144,718
$204,638
Jr. CyberSecurity Engineer
$94,000
$111,500
$157,750
$100,580
$119,305
$168,793
Companies in Houston With the Most CyberSecurity Engineers:
Chevron
Hewlett Packard Enterprise
Schlumberger
Alert Logic
Accenture
Ernst & Young
AIG
ExxonMobil
PwC
Baker Hughes
Other Houston CyberSecurity Engineer Stats:
There are 1760 .NET Developers in Houston
762 were educated in Texas
1434 were educated in the US
479 have post graduate degrees
522 are job hoppers
618 are or were contractors

Are you finding it harder to locate the good technical and IT talent? Many companies find them selves in the same situation. There are some better ways to locate and attract the right it and technical people to your company. Contact us to learn more.