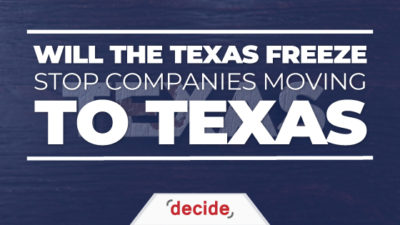 The announcements of HPE, Oracle and Tesla moving to Texas made many headlines. While these were the big names, it did cause a focus on how many tech companies were moving to Texas from other locations, especially California. We have listed over 70 technology companies and notable business leaders announcing they are moving to Texas. The February freeze put a spotlight on some shortcomings in the Texas energy grid. It raised a valid question – "Will companies continue relocating to Texas after the Freeze?".
Yes. Technology companies will continue relocating to Texas. The February freeze will not have any noticeable impact on it. Here is why.
Taxes & Cost of Living
Let's hypothetically say you are a Tech Venture Capitalist who is expected to make $100 million over the next 5 years. If you move from California to Texas,
You will have an extra $13 million in your bank account
You will live in a house twice as big as your California house
That house will reside on 4 times the land
That land and house will be half the price of the California residence
Part of that half-priced house will be $50K in property taxes that you did not have in California
Did we mention 2x the house, 4x the land for ½ the price? Do you care that $50K was property taxes?
Even if you are not at the income level of the venture capitalist, the hi-tech jobs moving to Texas are still well-paying jobs. Senior software developers in Texas regularly make over $150K a year. All the people between the hands-on technical people and the company executives save money by being in Texas.
Whether one thinks it is fair or not, an event like the February freeze is a bump in the road for high income earners. The bulk of these relocated jobs are high income earners. These are the individuals who can spend $5K for a generator to ensure they have power for a week. A week without working does not result in them being evicted.
Read More: Companies Moving To Texas >>
Read More: Why Software And IT Jobs Will Double In 10 Years >>
Read More: Finding And Hiring IT And Software People Is Going To Be Harder >>
Read More: Reasons to Use a Fractional CIO >>
Texas Has Plenty of Technical Talent
Many companies moving to Texas need to hire to expand. Texas gives them multiple options. Companies from California will realize they can attract many people. There is no shortage of stories about Silicon Valley software engineers having compensation packages of 300K when you add up salary, bonuses, and perks. There are many talented Texas software engineers, and other IT roles, that would jump on this in an instant. It would not even have to be that much.
An open secret in Texas is there are many IT people who want to get away from working in Oil & Gas. When oil prices are high, there are a lot of projects being greenlit and the O&G companies pay well. When oil prices are dropping, or hanging out under $50 a barrel, everyone hides when the see the HR person walking down the hall. The last ten years have been a roller coaster for everyone working in O&G. The technical people have skills that are transferable to other industries. The .NET programmer that wrote code calculating the mark-to-market positions for energy trading can easily work at a Fintech.
The Economy
If Texas were a country, it would be the 10th largest economy in the world. The Texas economy is equivalent to Canada. We are doing this with 25M people. The US Census projects Texas will have 40M people by 2040. No other state has the same projects growth by numbers. The only 'state' with a higher projected growth by percentage is Washington DC. By 2040, DC will be almost 1M people. In Texas we call that Fort Bend County.
The February Freeze was a black eye for Texas. It put a spotlight on a weak spot in the infrastructure. Many of the ERCOT board members have been fired or resigned. Lawsuits have been filed by corporations and individuals. ERCOT reform is, and will be, a topic for the Texas House, Senate and Governor. Regardless, it was not enough to stop the tech migration to Texas.

Are you finding it harder to locate the good technical and IT talent? Many companies find them selves in the same situation. There are some better ways to locate and attract the right it and technical people to your company. Contact us to learn more.