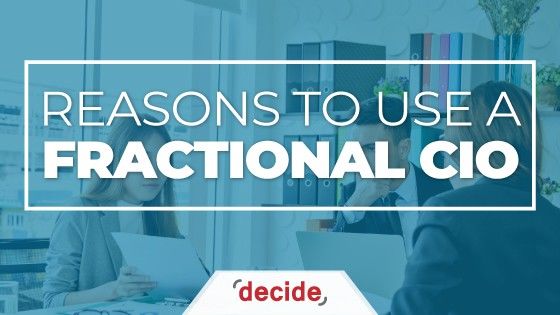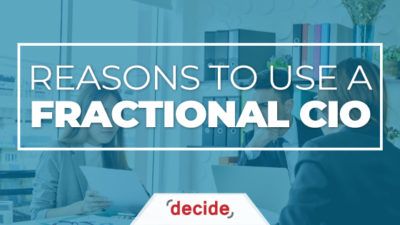 Reasons to Use a Fractional CIO
2020 put a spotlight on how organizations are using technology. The differences between those who just want to keep the lights on and email going vs those that see technology as a means of growth has never been greater. Still, not every company can afford to bring in that technology visionary to help them grow. CIOs and CTOs can be an expensive hire. If you bring one on board, you want them to focus on technology strategy, not fixing printer issues.
More companies are turning to Fractional CIOs. They are also known as part-time CIO, CIO-as-a-Service, and a few others. Regardless, it is an individual that has held the role before and has done things like technology roadmaps, budget planning, software selection and IT governance. It makes sense to bring in the skills needed for the time need and no more.
Fractional CIO Success Stories
A restaurant was convinced that they needed a new Point of Sale (POS) system. Their current system could not effectively handle online ordering. The POS is the core of restaurant technology. Changing POS is an undertaking to take lightly. After a business assessment and review of their current technology, we determined that they could utilize a third party online ordering platform with minimal costs and time. This meant they did not have to invest in new hardware. Because of our industry relationships and knowledge of how to navigate technology integration, this was relatively simple for us. – Joe Tenczar, Restaurant CIOs
I orchestrated moving their expensive data center colocation expenses to a cloud solution (about $5million+), and a software audit reduced their licensing renewals by $300k plus, all in a matter of 6 months by closely working with the CFO and director of finance. The main key component to this success was constant communication with the existing leadership, understanding their business model, and applying technical expertise and vendor management to optimize a digital transformation strategy that has allowed them to 40+ locations and become a trusted advisor to the health care space. – Derek Iannelli-Smith, Kotori Technologies LLC
The customer had several network types, data strategies, and communication protocols and hardware. We converted them into a set of standards. These standards were the foundation for savings and innovation across manufacturing & engineering, two complex and opposing functions. Looking back, I realized I worked almost daily with the CFO as Technology related cost centers where the majority of the operational spend. Bringing everything together allowed the CFO to get better cost reporting, hence allowing him to save money. – Mark Swartz.
A large petrochemical company split away from its parent company. They were still relying on the parent company's legacy IT applications, but were required to get off of them and time was running out. They also had a major change in the business model and had executed acquisitions to support it. I provided a "surge resource", working directly with the CIO, to peel back the details on the new business model, educate the C-suite on the potential impact and how IT can support it. We then developed a detailed strategic plan, including a detailed set of programs to transform both business and IT functions. The programs were geared toward specific business outcomes, getting IT to the next level of performance to execute for success, and to create an overall focus on long-term support and sustainability. We worked with potential vendors to improve our approach and begin vetting solutions and providers.
Read More: Top 8 Cost Cutting Techniques for CIOs >>
Read More: Top Qualities of an Effective IT Leader >>
Read More: 6 Ways to Identify a Tech Leader >>
Read More: Why a Managed SOC Saves Critical Time and Money >>
As a result, the company avoided executing several costly projects that didn't support its strategic direction. They also were able to integrate their recent acquisitions faster and with better results. The C-suite and management team were better prepared to evaluate vendors and understand the business case for change in greater detail, ensuring that future contracts were reasonable and geared toward the desired outcome. A set of "quick-hit" opportunities were identified that yielded benefits quickly and cleaned up existing process, control, governance and IT issues in preparation for the change. Paul Rosner, Texas CIO Partner
What CIOs wish CFOs knew
Full time, strategic C-level tech executives are expensive, and chances are that a small to medium sized company does not need this level of full-time expertise. Part-time, experienced, and talented CIOs can still be part of your team, but at a fraction and frequency that makes more sense for a majority of businesses. Because many small to mid-sized companies are working with a small relative IT team, they will try to maximize the roles into fewer hires. This creates a tendency to look for someone who can think strategically, but also fix printers when they break (or any "keeping the lights on" function). The flaws are obvious with this. First, if this size company does have the money to pay for a highly qualified, full time CIO, they will be drastically overpaying for these non-strategic functions. – Joe Tenczar, Restaurant CIOs
With a virtual or fractional CIO, you gain access to unlimited supplier options, obtain a personalized strategy & solution planning, develop a long-term relationship, acquire greater leverage in the marketplace, focus on what you do best, secure a single point of contact, gain a trusted advisor, recover lost hours, and stay on the cutting edge of technology. -Derek Iannelli-Smith, Kotori Technologies LLC
A fractional CIO can turn their IT department from a Cost Center to a Profit Center. A fractional CIO can step in and assume leadership responsibility quite quickly as they work with a variety of clients and have developed processes, methodologies and best practices. As a service provider, a fractional CIO is often very people oriented and there to be a champion for change often bridging gaps. – Steve Johnston, Differly

This article originally appeared at TexasCIOPartner.
Are you finding it harder to locate the good technical and IT talent? Many companies find them selves in the same situation. There are some better ways to locate and attract the right it and technical people to your company. Contact us to learn more.