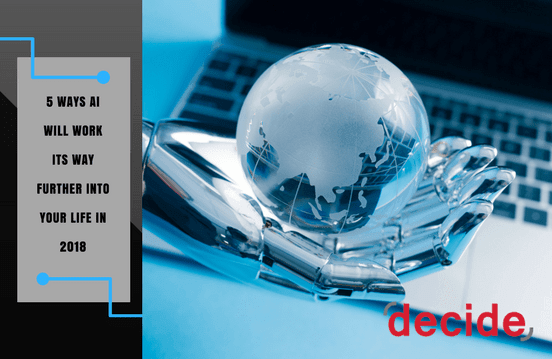 You've seen the ways AI has been leveraged in recent years: Tesla has self-driving cars, chatbots answer customer service queries, and Siri can send a text for you or set a reminder. But what's next for the future of AI? In 2018 we're likely to see AI permeate our daily lives in much more real ways. Everything from the way we make purchases to the way we create content is likely to see a significant transformation. Here are five artificial intelligence advancements that will work their way further into your life in 2018.
1. Facial Recognition Will Become The New Credit Card
Sure, you can already unlock the latest iPhones and confirm some payments with your face. But expect facial recognition as a sole credential for purchases to become ubiquitous in 2018, with retailers adopting it as the new credit card. It's happening at some individual retailers already, like CaliBurger in Pasadena, CA, which lets customers pay with a self-service kiosk camera. And 120 million people in China are already using a mobile payment app called Alipay which uses facial recognition as its only credential. As technology and retail continue to merge in the U.S., (think Amazon and Whole Foods) we can expect facial recognition to continue to gain popularity and become a commonly accepted way to pay for goods or services.
2. Alexa and Siri Will Get Smarter
Alexa can already start a shopping list for you, and Siri can send a text for you via voice recognition. But the future of AI will see your personal assistants becoming more predictive, gradually learning the nuances of your daily routines and then delivering tailored recommendations and that anticipates your needs. Alejandro Troccoli—senior research scientist at Nvidia—responded to this AI prediction in an article from the South China Morning Post stated that "as our personal assistants learn more about our daily routines, I can imagine the day I need not worry about buying food for dinner—my AI knows what I like, what I have in my pantry, which days of the week I like to cook at home, and makes sure when I get back from work all my groceries are waiting at my doorstop."
3. Increased Integration With Medical Diagnostics
Perhaps one of the greatest benefits of artificial intelligence will be its contributions to the medical field. Experts predict that by the end of 2018, a growing number of healthcare systems will have adopted some sort of AI within their diagnostic groups. A two-year partnership between Google's sister company, DeepMind, and the UK's Moorfields Eye Hospital has already showed "promising signs" of artificial intelligence being able to identify macular degeneration and glaucoma. And recently released technology in Moscow called RadIO has begun to use deep learning to detect lung cancer in radiology scans. You can expect the future of AI to include more integrations with medical diagnostics in the years to come, with new software being able to detect diseases earlier and more accurately.
4. Content Creation
You might think creative verticals like content creation would be safe from AI replacement or integration, but you'd be wrong. Natural language generation (NLG) is a software process that automatically takes data and translates it into human-friendly prose, and it's being utilized by more and more companies as a way of creating quick, accurate content. Media companies like Fox, Yahoo, and the Associated Press already take advantage of this technology for things like stock updates and sports reports, but we can expect even more business content to be authored by machines in the year ahead. And when it comes to copy editing, serious strides are also underway; software like WhiteSmoke works to not only catch typos and grammar errors but it can actually intuitively contextualize your writing and provide recommendations on how to improve it.
5. AI Will Be Both The Problem and Solution For Cyber Security
New AI cyber security advances will be unveiled in 2018, making it easier to secure a company's networks against unwanted attacks. But an increase in AI for cyber security will also bring about new threats as cyber criminals learn to exploit those same security technologies to carry out their own attacks. In McAfee Labs' 2018 Threat Prediction Report, experts suggest that the future of AI in 2018 will involve cyber criminals using machine learning "to support attacks, seeking to disrupt detection models and exploit newly discovered vulnerabilities faster than defenders can patch them." It makes it more important than ever for organizations to have a solid cyber security team in place to prevent the AI-assisted attacks that will likely increase in the year ahead.