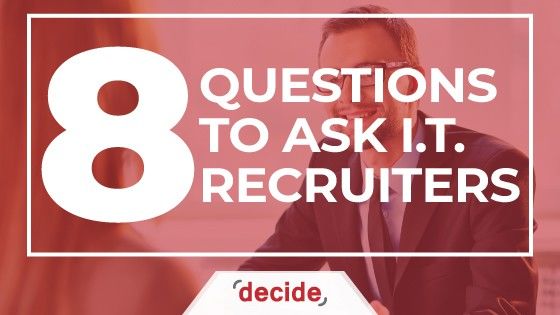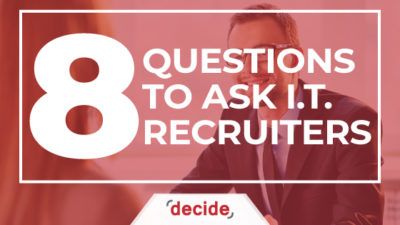 In today's world, the Information Technology sector has a huge job market – we simply cannot do without computers and their complex algorithms! So, if you are in IT, there are numerous job opportunities and varied ventures that you can explore your field of work.
However, there are times when you end up with a job or start working in a workplace that is the exact opposite of what you thought it would be. To prevent this from happening, you should ask the recruiter a few questions so that you know what you are signing up for.
A recruiter acts as a liaison between their client, i.e., the company they are hiring for, and the job candidate, i.e., you. IT recruiters are employed to fill both contract and in-house jobs. They can also help you negotiate better salaries and help you through the hiring process.
Talking to your recruiter and finding out pertinent information about a potential workplace is a surefire way to get the job of your dreams. So, without further ado, let us list down the 8 most vital questions that you should ask your IT recruiter.
1. Who will interview me?
This is a good question to ask your recruiter as it will help you know a little bit about the hiring manager who will conduct your interview. Any additional information about your interviewer – their educational background or their history with the company – will help you to communicate with them during the interview process.
If you have an internal recruiter, he might give you some information that will help you get an idea of the sort of questions you might get from the interviewer. You can also use the names he gives you and search them up on LinkedIn to find common ground.
2. Did you speak with the team?
This is an important question that you must ask your recruiter before signing on with their representative company. You need to know whether they actually spoke to the team that you would be working under, or if they are simply approaching you based on the job description that was provided to them.
The job descriptions provided by companies are notoriously off-mark and inaccurate – they are simply recycled from many years ago or copied from somewhere! You don't want to go to the workplace with certain expectations about your job, only to face the unexpected. You want a recruiter who has spoken to the team and has a clear idea of exactly what the position entails.
3. How long has this job position been vacant?
This question is important to ask your recruiter since it will help you figure out the productivity and integral functionality level of the position that you would be filling in. If the position has been vacant for a long time, then that's a red flag. You need to figure out why the job has been vacant for so long and only after you are 100% assured, you should go ahead with applying for said position.
4. Is this a new role or is the company replacing someone?
You need to figure out if the position that you are applying for is new or if you are replacing someone. Once you know this, it will help you formulate the following questions such as why is the old employee being laid off or leaving, what job requirements and criteria would you have to fulfill, etc. Plus, it will help you negotiate a good salary package!
Read More: Tips from IT Recruiters: How to Hire Top IT Talent >>
Read More: Houston IT Market Facts >>
Read More: Why It's Harder to Recruit IT and Software People >>
Read More: What It Is Like Being An IT Recruiter >>
5. What is the interview process?
Every company has a distinct interview process that involves various rules and protocols that the hiring managers follow. So, make sure to ask your recruiter everything they know about the company's hiring process, including if there's an evaluation test before the interview, what sort of questions the interviewer might ask, what expectations they have from you, etc. Knowing everything there is about the hiring process of a company of your choice will help you prepare for your interview.
6. When should I expect to hear back from the company?
Make sure to ask your IT recruiter about the timeline of the company they are representing; simply put, you need to find out how long it will take for them to get back to you after your interview with them. At times, it takes weeks for a company to get back to an interviewee. So, if you ask the recruiter for the exact timeline, you will know exactly when you will hear back from them – you won't spend an endless amount of time waiting anxiously for the company to get back to you.
7. What is the salary range for this position?
It could be really awkward to ask your interviewer just how much salary you can expect to get. A better way to go about finding the salary range of your job position is to simply ask the recruiter. After all, you need to know if you and the company are a good fit or not – it's not worth expending your energy at a place that doesn't pay you enough for your skill set.
8. Have you placed candidates with this company before?
This question helps you gauge the intensity of the link between the recruiter and the company. If the recruiter regularly helps the company hire candidates, then they might be well-versed in the entire hiring process and different job openings of the company. They will guide you through the process in the best possible way.
These are all questions you must ask your IT recruiter to prepare yourself for an interview at your dream workplace.

Are you finding it harder to locate the good technical and IT talent? Many companies find them selves in the same situation. There are some better ways to locate and attract the right it and technical people to your company. Contact us to learn more.