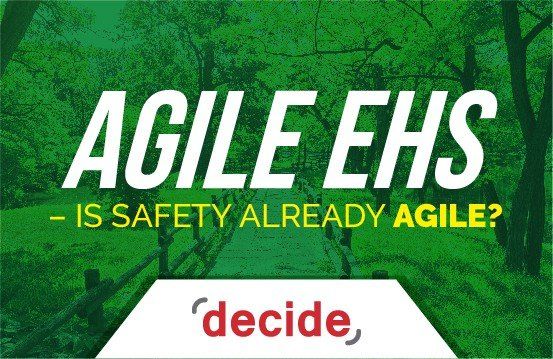 One of the things we have encountered delivering Environmental, Health & Safety (EHS) software solutions is how safety professionals have been working Agile for a very long time. Things that are new to the software delivery sector have been in practice for decades in the safety world. If you look at the four-point workplace program delivered by OSHA in 1989, there is a lot of common threads to what is Agile today.
MANAGEMENT COMMITMENT AND EMPLOYEE INVOLVEMENT
Agile is all about empowering team member to keep developers developing, testers testing and analysts writing requirements. From an EHS standpoint it is about giving those with safety and health responsibility enough people, time, training, money and authority to get the job done.
WORKSITE ANALYSIS
Daily safety meetings are a standard in the workplace. Periodically reviewing with employees each job, analyzing it step-by-step to see if there are any hidden hazards is a must. Agile development stresses daily meetings between the business and development team to focus on continuous improvement and delivery and to be able address changing requirements.
HAZARD PREVENTION AND CONTROL
One of the tenants of Agile is continuous improvement. At the end of every sprint there is a retrospective between team members to discuss what to change on the next iteration. It is also the employees that run the retrospective. By empowering employees, they develop a culture, much like a safety culture is implemented on the worksite.
TRAINING FOR EMPLOYEES, SUPERVISORS AND MANAGERS
Training is not a listed as a principal of Agile, and in general it is assumed that team members have a certain expertise. But, both teams share the same cultural principals of continuous attention to technical excellence and good design. Developers should be constantly looking at design, and safety should be a constant awareness at a worksite.
SUMMARY
Because of the culture of continuous improvement is a tenant in both safety worksites and software development, there are many parallels that can be drawn. Software development has taken huge leaps towards continuous improvement and delivery with the inception of story mapping, test driven development and backlog grooming, software developers are pioneers in process improvement.
With the maturation of EHS software solutions, EHS can start taking it proven processes and add in newer processes to manage their action items and provide an increased focus on continuous improvement. These changes will be the focus of our next blog.
Decide Consulting is an EHS software solutions firm specializing in process improvement and EHS software implementations. For more information on how EHS software solutions foster an Agile culture to manage your safety projects and actions, contact us.