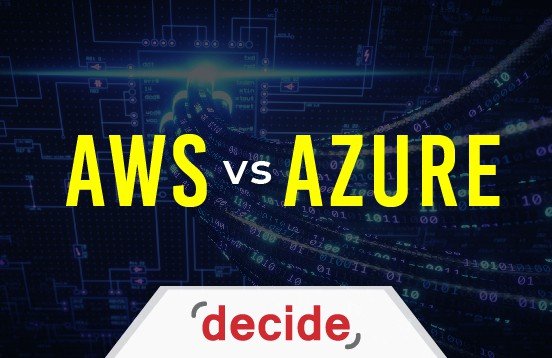 Amazon Web Services (AWS) and Microsoft Azure are cloud service providers that have revolutionized the IT and tech industry exponentially. Cloud storage companies, like these two, have touched millions of lives and have changed the competitive landscape of various IT companies. AWS and Azure each have strong features and have enough market share to prove they will be players in the cloud computing market for some time. Still, there are differences between AWS and Azure that are worth pointing out. Let's compare AWS vs Azure.
Considering that AWS has been around for the last ten years or so, it seems that AWS might be a better cloud service provider when compared to Azure. But, if you take a closer look, you would notice it's not that easy to make a decision in favor of any one of these two. You have to take into account several factors before you can confidently pick AWS over Azure or vice versa. These other factors would include cloud storage pricing, rates of data availability, and data transfer loss rate. Based on these factors, the CIOs and CTOs of IT and tech companies decide which cloud service would be in the best interest of their company.
This article is all about comparing Azure with AWS. We have put both of these cloud service providers under the microscope in order to separate their good features from the objectionable ones. So, let's start with a simple description of these cloud service providers.

Amazon Web Services (AWS)
There's no doubt AWS is one of the leading cloud service providers that offer amazing storage solutions. AWS has a strong customer support because the rate of its data loss during transfer is quite low. AWS' public cloud market share is 47.1%. Its market share is not at all surprising when you look at some of the clients that prefer AWS over any other cloud service provider. Some of the big names that use AWS include Spotify, Netflix, Yelp, and Airbnb.
Azure
Microsoft Azure entered the cloud service scene a little late, but it took the market by storm. Its unique features and a variety of tools make it an instant favorite of many IT specialists. It's safe to say that Azure has challenged AWS with all its might and it seems it would claim AWS' turf. Given that Azure is a new player in the market its public cloud market share is relatively lower than AWS' share. With 10% cloud market share, Azure is the first choice of companies like Rolls Royce, Heineken, HSBC, and GEICO.
The Pros & Cons AWS
It's really important to look into the details if you have to make a choice between Azure and AWS. For that, we have listed a few pros and cons of using AWS. This would help put things into perspective.
The PROS:
One of the redeeming qualities of AWS is its several availability zones. AWS has 42 availability zones with 8 more on the way. Owing to this fact, AWS users enjoy the easy availability of data. They can store it close to them and save their money instead of spending it on fixing glitches.
Like we said, AWS has a reputation for losing minimal data during storage and server transfer. This indicates that AWS has high data transfer stability.
The CONS:
AWS is incompatible with other private clouds because it has a weak hybrid strategy. This means if a company adopts AWS, it would have to let go of its own private cloud infrastructure. This makes AWS not a very viable option for industries that have to deal with sensitive data, like banks.
AWS has a huge variety of products that it offers to its users. For someone who isn't very well-versed with AWS' products, it will be a very tedious process to navigate through all those complex offerings and make a sound decision in favor of any AWS product.
The Pros & Cons Azure
Like AWS, Azure also has its share of benefits and objectionable features. If truth be told, the weaknesses of AWS are the strengths of Azure.
The PROS:
Azure is the only hybrid cloud system that offers extensive support to private cloud infrastructures and hybrid cloud applications. This helps companies keep the sensitive information of their clients and customers confidential.
The companies that already use Microsoft to operate the systems on their premises find it very easy when they have to switch to Azure.
The CONS:
The most objectionable feature of Azure is that its services are loaded with glitches. If you decide to fix these bugs, it costs the users an additional sum of money.
Azure has a very restrictive platform. This means there is not enough flexibility when it comes to running Azure cloud services on platforms other than Windows. However, this is not the case with AWS.
Now that you have read an unbiased comparison of both the cloud service providers, you can make your final decision based on the technical features of these two cloud platforms. Reading about the good and bad features in both the services will help you side with any one of the two. You can either go for the astounding computing power of AWS, or you can choose the unswerving hybrid infrastructure of Azure.
Once you have made your selection, you can improve your knowledge about whichever cloud service you have chosen and perfect your skills with the help of various courses. The available courses for both cloud service providers can make you a pro at AWS or Azure.
For AWS you can sign-up for AWS Solution Architect. It is designed to give you an in-depth understanding of AWS. You can opt for AWS Sysops Associate if you want to run highly sophisticated systems on AWS. If you want to make AWS based applications, then you can go for AWS Developer Associate.
For Azure, you have training programs like Implementing on Microsoft Azure, Developing on Microsoft Azure, and Microsoft Azure Fundamentals. These programs will introduce you to numerous tools and services of Azure and you will learn some next-level principles of cloud computing.
When it comes to cloud wars, there is no clear winner or loser. With Google cloud platform entering the competition, this game is bound to become more unpredictable, where the smallest thing can turn the tables on any one of the players. However, the one thing that is certain is that cloud is here to stay. If you hone your cloud skills, you'll be rewarded, if you choose to underestimate cloud's importance, you'll be left behind!
Are you finding it harder to locate the good technical and IT talent? Many companies find them selves in the same situation. There are some better ways to locate and attract the right it and technical people to your company. Contact us to learn more.