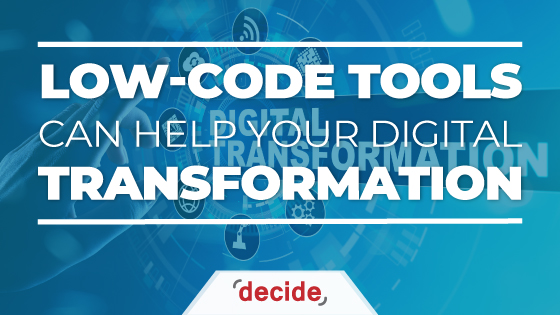 Companies are heavily investing in digital transformation projects. It is hard to read an article that doesn't tell you that your company needs to digitally transform. While it is obvious that all companies need to do this, there is an open question about what to do.
Switching to Agile methodologies and moving your servers to the cloud are common things companies are doing. But these activities are not going to make a difference this quarter or the next. Agile requires a cultural shift in your company. Have you ever seen what happens the first time you ask a developer for story points? Even if you are doing a "lift and shift" to the cloud, there is still a lot of planning and relearning to go along with that. You will see a return from these digital transformation efforts, just not right away.
There is a way to get quick, and lasting, returns from your digital transformation investment. Consider including low-code and no-code tools. These tools allow you to create a team of citizen developers to solve problems. Low-code and no-code options can give your digital transformation effort a series of quick wins that do not break the bank.
Many companies have a long list of requests going to the IT and development teams. It is not uncommon to hear your projects will not even get on their radar for six months, and when they do, the estimate is routinely higher than expected. Then the budget battles begin. When your project does get a green light, the business case may have already changed. With low-code/no-code options, you can get started on a project in days instead of weeks. You can go live in weeks instead of months.
So What Exactly Are These Low-Code And No-Code Tools?
There are multiple options for any company. You can build your own workflows with screens that integrate with your other applications (AirTable, ProntoForms, Mendix, Tonkean, Nutshell). You can build your own webpages that capture data to be used elsewhere (Carrd, Bubble.io). You can build a bot to automate a piece of work an accountant or sales rep does (SnapLogic, Workato, StudioX, TeamDynamix). If one of these does not work, you can use some low-code duct tape (Zapier, IFTTT, PowerApps, PowerAutomate).
Read More: Practical Reasons you Cannot Find .NET Developers >>
Read More: Top 8 Cost Cutting Techniques for CIOs >>
Read More: Top Qualities of an Effective IT Leader >>
Read More: Why a Managed SOC Saves Critical Time and Money >>
How Organizations Are Using Low-Code
The City of New Orleans is tracking their Covid-19 vaccines with a low-code application built with Quickbase. Residents can check their eligibility for the vaccine, schedule appointments, follow up with their second dose and get reminders.
The registrar's office of a San Diego school built a workflow app that forwards forms with missing data to the parents and students. Each day they report on what percentage complete everything was filled out for the entire student body.
A not-for-profit, HopeSource, is reducing homelessness by creating apps that track where individuals check-in and which of them have received services. When they do get off the streets, they use another set of apps to monitor utilities, food delivery and work assignments. Before, they were paper and spreadsheets. Now they have data and can monitor who they are helping.
These low-code success stories have similar themes. They turned months-long projects into weeks-long projects. They had proposals over $100,000, and low-code allowed them to deliver at a fraction of the cost.
Not The Answer For Everything
If you need an enterprise app built for 50,000 worldwide users with 20-plus security levels, low-code/no-code is not the path you want. If you have to have 100% coverage of every use case, low-code is not the way you want to go either. The more flexibility you have, the more low-code/no-code makes sense.
There are parallels to the current low-code tools to PC databases (i.e., Access, Paradox, dBase) we saw in the '90s. Companies wanted to switch from resource-heavy mainframe systems to client/server or web applications. Many ideas were too small to get on the radar of the software development teams. Individual departments took it upon themselves to create their own applications using the PC database tools. The shelf life of these apps was short, but while they were online, the users benefited.
How To Start With Low-Code/No-Code
Most IT departments have a list of requests much longer than they can get to. There are items in these departments' to-do lists that can be satisfied using these new tools. As an IT director or manager, if you can knock out a host of topics without interfering with your software engineering team, everyone wins.
Have a resource investigate several of the low-code tools. Understand how they work. Figure out how they can integrate with your security. What data is it okay for them to access? Then, build a sample project. Your investment will be low. Your return can be potentially higher.
This article was originally published at Forbes.com

Are you finding it harder to locate the good technical and IT talent? Many companies find them selves in the same situation. There are some better ways to locate and attract the right it and technical people to your company. Contact us to learn more.