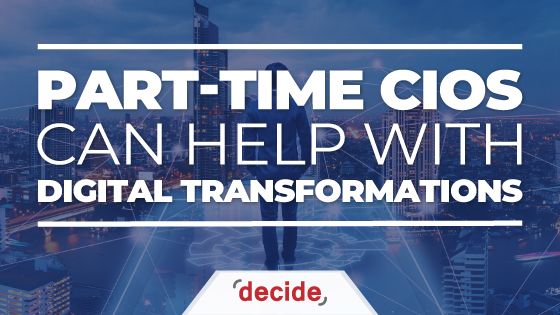 2020 provided us with many business lessons. A top one is to rethink how you use technology. The companies that saw more revenue and greater market share all had technology as a central component. Larger companies with extended IT departments and the pockets to pay McKinsey consultants are rethinking how they are using technology. They are looking to monetize data or use IT to expand services.
But what can the midsized or smaller companies do? What if your IT department is only 10 people and they have full workloads? Those big-name consulting firms do not return your call unless you have a million-dollar project.
The Benefit Of Part-Time CIOs
The answer is a fractional, or part-time, CIO. The concept has been around for a while but is now becoming more common.
Here is the concept: An individual has been a chief information officer at a company for several years. They worked themselves up through the ranks, helped select enterprise software, sat in on board meetings, called out individuals who wanted to use a technology just to pad their resume instead of doing what was best for the company, and developed technology road maps for the next few years. Many of these individuals have previous experience working for the big consulting firms until they got tired of getting on airplanes every week.
These individuals take their experience and work for two to three companies at a time on a per-project or part-time basis. It is a win for the company because it gets the benefits of the resource without having the big full-time salary. It also does not have to write the million-dollar-minimum check to the big consulting firm that will give the company the same advice. This also works for the part-time CIO because they get to do the fun work without having to worry about politics or other company requirements unrelated to technology.
Read More: Reasons to Use a Fractional CIO >>
Read More: Things to Consider before Signing that MSP Contract >>
Read More: What is Digital Transformation? Small Company Version >>
Read More: Why Software And IT Jobs Will Double In 10 Years >>
The Need For Factional CIOs
It is hard to read any McKinsey or Gartner technology article or white paper lately without seeing the phrase "digital transformation." To many, this is an overused buzzword. But it does carry weight and sentiment. The more companies can automate data from one department to another — and subsequently, from one person to another — the more competitive they will be. On a small scale, this could be a restaurant automating a Yelp review request from a repeat customer. On a slightly larger scale, it is notifying the sales team of repeat visitors on the company website and what products and services they looked at.
Regardless of the company size, these digital transformations encompass cloud, software, code, infrastructure and a host of new tools. Most organizations' C-suites do not have the background, time or aptitude to investigate all these tools or determine which combinations are best for their organizations. New technology and tools are coming in too fast. It is difficult to cut through the sales material. This is where the fractional CIO can add value.
This is not the typical IT staffing arrangement. Many companies reach out to IT staffing companies looking for a very specific skill set to a defined project. A typical scenario is a company needing extra .NET/C# programming hands to complete a software project by a deadline.
Factional CIOs typically come in when a company does not have a defined project. It is looking to solve a problem but isn't sure how to approach it. The company hears and reads about other companies that are solving similar issues with technology, but it does not have the right people with the right experience.
When Does A Part-Time CIO Make Sense?
Companies that generate $20-$250 million in annual revenue are the ones poised to benefit the most from a part-time CIO. A CIO or CTO is typically one of the last members to join an executive team. Many companies elevate someone to the title of CIO or CTO, but that individual is often "overtitled." Any company that has experienced growth but has not asked, "How can technology make us better?" is primed to benefit from a fractional CIO. But it is not just asking, "How can technology make us better" once. Smart companies ask that about every department and process. If you have grown and not addressed your technology, your company is missing out on extra revenue.
How To Find A Part-Time CIO
Fortunately for those small and midsized businesses, there are more CIO/CTOs looking for clients than a year ago. When companies were looking to cut costs in 2020, many IT managers, directors and CIOs were released. It was a common strategy to keep the hands-on technical people and release the higher-paid executive. Many of these individuals set up their own corporations and rely on their personal networks to find gigs. The savvier executives banded together to market themselves as a group.
If your company has a specific project, find an individual who can discuss the decision process for your industry. If you are less specific about a project and looking to develop a technology road map, look for a former CIO who can describe how they developed technology plans for their past employers. Regardless, you will see a bigger ROI than bringing in the big consulting company.
2021 will be a good year to work with or be a fractional CIO. More companies need to rethink, or begin to think about, their IT strategy. IT must be more than just providing them with a laptop, CRM and email. Companies both large and small can obtain a competitive edge by looking at their data and operations, then asking what tech enables them to do this better? The fractional CIO has been answering that question for years already.
This article was originally published at Forbes.com

Are you finding it harder to locate the good technical and IT talent? Many companies find them selves in the same situation. There are some better ways to locate and attract the right it and technical people to your company. Contact us to learn more.