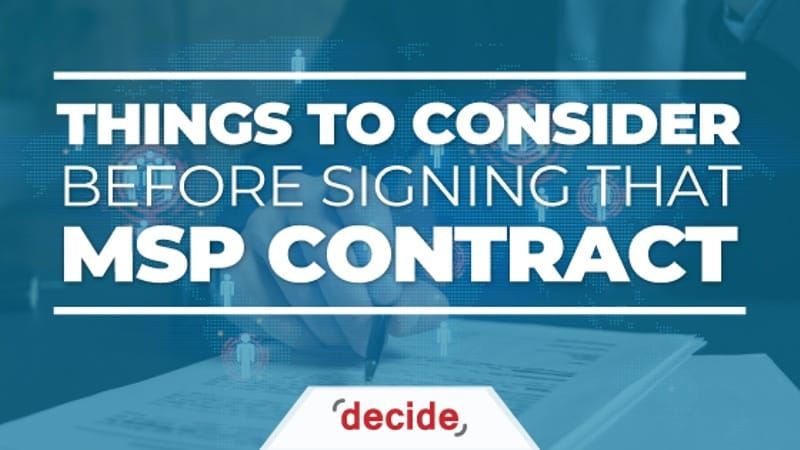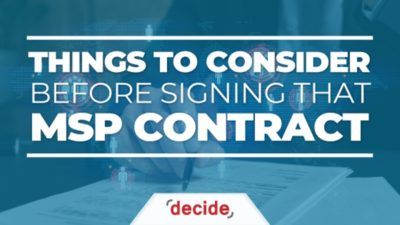 Signing up with a Managed Service Provider (MSP) is a big commitment. There is a trend underway where more companies are turning to MSPs. With expanded services and products offerings, it is increasingly a good idea for a company to use an MSP. Still there are long commitments and potentially thousands of dollars a month. Companies need to look past the sales pitches and consider the finer point of the contracts before signing the dotted line. Here are some insider tips from individuals who work with MSP contracts and services.
Measuring Downtime
How does the vendor measure downtime? Does the measurement have the sampling resolution to catch violation of the promised uptime? Does it really correspond to the network downtime you experience? A common SLA may claim 99.999% uptime per month. That translates to only 30 seconds downtime per month. How often is the MSP checking the network? If they check it every minute, what if it is down for 58 seconds between checks. Ashwath Nagaraj, Co-founder, Chief Technology Officer at Aryaka
How does an SLA Penalty Work?
Backing up the SLA promise must come with a meaningful penalty for failure. You are paying for that promise. When that broken promise turns into connectivity failures that significantly hurt productivity and hinder a business's ability to perform, there needs to be a penalty. This is where many vendors contrive to hide their inability to deliver to their promise.
Example – A vendor claims 99.999% uptime and gives a single 5% penalty for a network availability between 97.9% and 99.999%. If you have 15 hours of downtime per month, you get a 5% credit. You will pay a lot of money for that 99.999% uptime. When your downtime is 1800x the promised downtime, the penalty should be more than 5%. Check the penalty for each tier in the SLA. Make sure the penalty is consistent with the outcome.
Read More: Every Company is a Software Company >>
Read More: Is COVID Changing the Job Market for Software Developers? >>
Read More: Hot Tech Skills are Still Hot >>
Read More: Back to Work – Hiring in the 2020 Recovery >>
Is this MSP Reliable?
You really should be vetting the company you are considering. How long have they been in business? What are other customers saying about them? What do their reviews look like? Call the main number of the business and ask general questions. Get a feel for their customer service and what you can expect as a client. If you vet the company and feel comfortable, then you must trust that they have hired people with the appropriate experience and skills to do the tasks requested. Pieter VanIperen, Managing Partnerat PWV Consultants
SLA Compliance
What does an MSP need to do to stay compliant with their SLA? Do they need to actually fix a problem or just send you an automated email? The typical SLA gives a deadline to respond. This is completely toothless if all they have to do is send an email. Many MSPs have autoresponders. If that meets the SLA requirement, your request can sit for days with no penalty for them. You really want to make sure your SLAs cover when work starts. Dustin Bolander / Clear Guidance Partners
Get Another Set of Eyes
It is rare that a CFO/COO or any C-level role has a clear enough picture of the details to verify that they are covered by an SLA. Make sure the internal staff has skills required and the knowledge to figure this out. If that is not available , bring in someone to properly assess the MSP/MSSP and determine whether the requirements in the contract, the SLAs, the commitments, change management processes, technical staff knowledge, etc, actually cover what the business needs. James Bore / Bores Security Consultancy
MSPs are going to continue to be a growing part of the IT landscape. Most companies at some time will at least investigate using one. More and more companies are using them. You need to get past the sales pitch at look at the finer details of the contract and ask if this is good for my company.

Are you finding it harder to locate the good technical and IT talent? Many companies find them selves in the same situation. There are some better ways to locate and attract the right it and technical people to your company. Contact us to learn more.