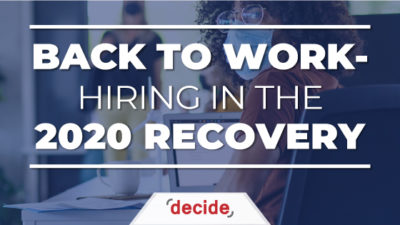 As organizations shift to the new normal and return to work, there has been a notable shift in hiring trends that are likely to remain in force for the remainder of 2020 and beyond. As a hiring manager, it's more important than ever to ensure your organization is able to accommodate the shifting needs of candidates. This is vital to ensuring the long-term retention of top talents and achieving sustainable development.
Read on as we discuss some of the top hiring trends for 2020.
1.     Determining In-demand Skills
The first thing that hiring managers must ask themselves is which skills are currently in demand. As far as the IT industry is concerned, some of the top jobs that were in demand before the pandemic include:
Software developers
Web developers
Mobile application developers
Cloud engineers
Scrum masters
DevOps engineers
Cloud architects
Data Science professionals (analysts, scientists, engineers)
Most of these skills continue to be in demand. This isn't a surprise considering the unemployment rate of IT professionals remained fixed at 4.2 percent.
Besides these jobs, there is a surging demand for new skills. In particular, the pandemic has forced a number of organizations to move toward digital transformation in order to survive in the current business landscape. With a majority of their audience shifting online, every business must have the resources available to ensure successful digital transformation and retain their customers.
As a result of these changes, consulting companies are looking to hire professionals that can help them develop an action plan for businesses aiming for accelerated digital transformation.
2.     Reevaluating Your Retention Program
There has been plenty of discussion about layoffs during the pandemic. However, hiring managers also need to take a closer look at their company's retention program. In May, it was reported that the resignation rate was at 7 percent amid the pandemic.
As per a LinkedIn study, this is primarily due to insufficient compensation, the need for more challenging tasks, limited career advancement opportunities, and discontentment with the work environment and workplace culture.
With the pandemic forcing people to reevaluate their priorities, you can expect your top talents to switch jobs if they are unsatisfied with the company's work practices.
To prevent this from happening, hiring managers must revamp their employee retention program and consider the challenges that currently confront their workers to ensure higher job satisfaction.
Read More: Free Courses to Learn AI and Data Science >>
Read More: Additional Insight into Corona Virus Related Job Losses >>
Read More: Remote IT was Trending Before COVID >>
Read More: 8 Interview Questions about Remote Work >>
3.     Emphasis on Remote Work
With remote work quickly becoming the preferred mode of operation for most organizations, hiring managers need to make sure that an employee is suited to work from home. This is essential since not everyone can remain productive as they work remotely.
Other challenges include successfully onboarding employees by providing virtual orientations, introducing them to team members, and ensuring employees remaining engaged while they work remotely.
As a hiring manager, you must make sure your company's operational infrastructure is streamlined to meet these requirements for a smooth hiring and onboarding process.
4.     Evaluating Office Design and Safe Working Conditions
This is another emerging hiring trend for 2020 that hiring managers must prepare for. It essentially involves making sure that the company offers safe working conditions to in-office employees that cannot work from home. For the most part, this requires you to reexamine the current office design followed by making changes to ensure appropriate social distancing between workers.
If you are looking to improve the existing office design of your company to make it more COVID-compliant, then here are a few things you can do:
Make sure all work stations are at a distance of 6 to 8 meters from each other
Install sanitizers at every work station
Install automatic doors within the office
Install touchless sensory faucets
Provide employees with face masks and face shields (where necessary)
You can also make sure employees observe social distancing when walking down hallways. These initiatives may prove to be costly in the beginning but they can be particularly useful in ensuring the company remains operational if the pandemic continues to persist.
Wrapping It Up
Keeping the aforementioned hiring trends for 2020 in mind can improve the efficiency of your hiring process and make it easier for you to retain top talents.
Remember to take the needs and priorities of job candidates into account while hiring, as well. You don't want to lose a talented recruit due to an inflexible hiring process.
Good luck!

Are you finding it harder to locate the good technical and IT talent? Many companies find them selves in the same situation. There are some better ways to locate and attract the right it and technical people to your company. Contact us to learn more.