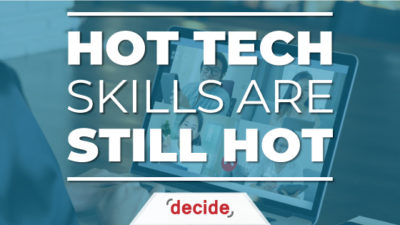 Do you want to pursue a career in Information Technology?
With the pandemic forcing organizations to lay off employees, there is plenty of uncertainty regarding choosing a lucrative career path that provides you with sufficient growth opportunities as well as the financial security you desire.
Unlike most industries that have suffered heavy losses during the COVID-19 pandemic, the IT industry has fared relatively well. Let's take a closer look at the changes witnessed by the industry in recent months and discuss the top IT skills that hiring managers are looking for.
Industry Outlook: How Has the IT Industry Performed During the Pandemic?
There's no denying that the COVID-19 pandemic has caused significant upheaval in the US economy. The economy has shrunk at a rapid rate of 4.8 percent. There has been a historic decline in commercial activity, and over 26 million people have lost their jobs. Prior to the pandemic, the economy was expected to grow at a rate of 2 percent.
On the whole, we have witnessed 10 years' worth of change within a span of 3 months. As far as the unemployment rate in the IT sector is concerned, then here's a quick breakdown of how the sector performed between February and June 2020:
| | |
| --- | --- |
| Month | The unemployment rate in the IT sector |
| February | 2.4 percent |
| March | 2.4 percent |
| April | 4.3 percent |
| May | 3.7 percent |
| June | 4.3 percent |
At first glance, the jump from 2.4 to 4.3 percent may prove to be alarming. However, it isn't as bad as it seems. In particular, if you compare the unemployment rate of the IT sector to other industries, then you'll see how the sector witnessed the lowest unemployment rate in the past three months.
With technology playing an increasingly important role in how people interact with businesses, maintain social engagements, and pass their time while in quarantine, this is hardly a surprise. Technology is also playing a pivotal role in helping businesses remain operational while employees work from home.
Consequently, IT companies are continuously on the hunt for fresh talent that can add value to their organization.
Top IT Skills and Jobs for 2020
If you are considering pursuing a career in Information Technology, then here is some good news for you. Despite the current situation, there has been little change in the top IT skills that were in demand prior to the pandemic. The lack of volatility in demand is a great sign for fresh graduates.
Some of the most popular jobs in the IT industry include:
Software developers
Web developers
Mobile application developers
Cybersecurity professionals
Cloud engineers
Scrum masters
DevOps engineers
Cloud architects
AI/Machine Learning specialists
IoT specialists
Data analytics
Data Science professionals (analysts, scientists, engineers)
Read More: Signs Your Key People are Leaving >>
Read More: Career Advice – Experienced IT People >>
Read More: Career Advice – Mid Career IT People >>
Read More: Career Advice to New IT Grads During COVID >>
Hiring managers are also looking for talent that has more hands-on experience with different technological tools, systems, and languages. That said, some of the most popular IT skills at the moment include:
1)    Digital Transformation Skills
Due to the growing emphasis on digital transformation, consulting companies are hiring professionals possessing skills in this area. If this is something you are good at, then we recommend applying to an IT consulting company.
2)    Simple Coding and Automation Skills
Small businesses are also looking for professionals skilled at using coding and automation tools such as Mendix and Zapier. This is because they cannot invest too heavily in more advanced tools and require a professional that can help them move toward digital transformation at minimum cost.
3)    Specific skills
Besides the aforementioned skills, hiring managers also require IT professionals skilled at using the following languages, programs, and tools:
AWS
Azure
GCP
Python
R
PyTorch
Scala
Django
C#
.NET Core
RESTful API
Tensorflow
NET
Keras
Spacy
NLP
Other recommended systems and tools include:
SQL
NoSQL
Hadoop
Spark
Hive
MapReduce
Kubernetes
Docker
Ansible
Wrapping It Up
Despite the ongoing economic and humanitarian crisis on our hands, the performance of the IT industry has remained relatively stable in the first half of 2020. If you are thinking of pursuing a career in this industry, then we highly recommend you acquire some of the top IT skills mentioned above. These will elevate your profile and improve your chances of securing a great job at the organization you want to work in.

Are you finding it harder to locate the good technical and IT talent? Many companies find them selves in the same situation. There are some better ways to locate and attract the right it and technical people to your company. Contact us to learn more.