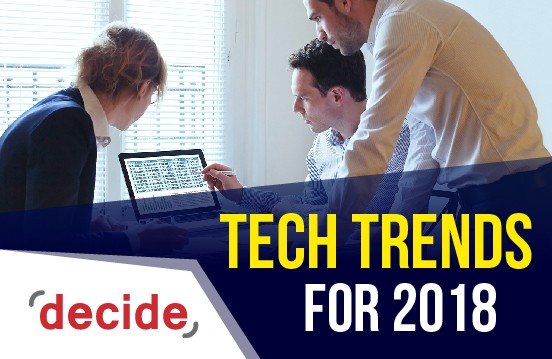 The annual Consumer Electronics Show (CES) serves as a platform to introduce the next generation of innovations in the marketplace. This event gives consumers the chance to get a glimpse of the new products and technologies before they are made available in your local malls and stores.
Just this January, the CES introduced a couple of innovations that will change the way we use our arsenal of technological advancements. Here are some of the Consumer Electronic Show's highlights—the Tech Trends for 2018:
AI Comes of Age
AI is no longer restricted to research and laboratory settings or the stuff of scifi movies. Artificial Intelligence is making inroads into every aspect of business and life and is expected to replace some jobs entirely within a few years. Anywere there are redundant tasks that need to be performed accurately and swiftly is a good candidate for AI. In 2018, look for more insurers and banks to use AI to speed intake and applications for customers.
Transformation of the Internet of Things (IoT) to the Blockchain Internet of Things (BIoT)
The Internet of Things is a network of gadgets and physical devices, from home appliances to vehicles, which allows these objects to communicate with each other and exchange data. With IoT, these objects can be controlled remotely, solidifying the integration of computer-based systems in the physical world. An example of this would be people using Amazon's Alexa to control their lights, sound system, and even the refrigerator.
Blockchain is one of the technologies that make the cryptocurrency industry transparent and trust-worthy. It can be used to create unimpeachable, decentralized digital records of online interactions, with minimal risk of tampering or hacking. Industries from healthcare to entertainment are constantly finding new ways to use blockchain – and IoT is no exception. Since it is decentralized, a blockchain record is impossible to hack — good
This 2018, the fusion of Blockchain and the IoT will be well underway. Companies will start utilizing Application Programming Interfaces (APIs) to connect to various computer services and databases. This gives manufacturers a real-time update of all interactions, deliveries, and regulations of their products without the fear of being hacked.
Enhancing the retail experience with Augmented Reality
The Pokémon Go craze is an example of just how effective Augmented Reality (AR) entertainment could be. Its success made major brands take notice of the technology, and businesses are climbing over the fence to integrate this innovation in their business practices. Brands like IKEA use AR to show what new products would look like in a customer's own home, while Disney and other entertainment giants let kids put their favorite characters into real life setting. Flexible and innovative AR is expected to have a significant impact on the marketing industry, from print ads to mobile marketing campaigns and to have a heavy emphasis in 2018 and beyond.
HUDs make Translation Easy
Heads Up Displays (HUD) continue to surge in popularity. With this technology in place, users can immediately see foreign signage translated to their native language without hassle, making traveling and communication easier.
Customers wearing HUD equipped glasses can see their clothing purchases fitted in virtual mannequins of numerous sizes, making the shopping experience easier and more efficient. This 2018, countless companies will create engaging content to expand the experience of their customers from the physical to the virtual.
Enhanced Payment Methods
More and more of your gadgets and items are set to become payment devices in 2018. With the help of IoT and artificial intelligence, enhanced payment schemes will be introduced internationally, with IoT banking services in Asia and the Payment Service (PSD2) directive in Europe. This makes open banking possible, and will change the way companies use their traditional business models. For the millions of unbanked or underbanked individuals in the world, this innovation opens the gateways to commerce and can improve living conditions.
Utilizing Tech Trends to Enhance the Human Experience
Ultimately, the goal of all technological advancements is to improve the human experience. The blockchain internet of things, augmented reality, and boosted payment methods are just some of the many tech trends that are set to change the way we conduct our practices daily. To accurately use these innovations, it is important to understand each one and see how they can be connected with one another.
Decide Consulting provides IT staffing services. Our conclusive hiring methodology enables us to bring the best IT problem solvers to your organization. Our entire management team comes from an IT technical background giving us a unique perspective on candidates and the industry.