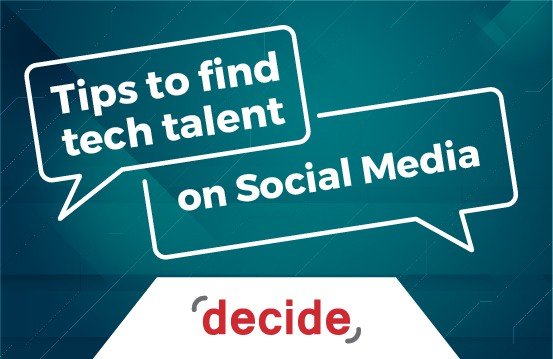 At present day, the process of finding quality candidates has become extremely easy due to the presence of various social media platforms. You can instantly make connections with prospective tech savvies as they regularly hang out online.
The average internet user has more than five social media accounts, most commonly Facebook, Twitter, Instagram, LinkedIn, and YouTube, as well as other channels for sharing their thoughts and getting in touch with people who have similar interests as them.
Even though the majority of companies have partially ditched the traditional means of recruiting tech talent and have turned to social media, some of them are still not making the most of it. If you are looking for easier and more cost-effective methods of sourcing talent through social media, here are X tips that will help you achieve that.
1.      Make Use of The Right Recruiting Techniques
To recruit the right tech talent, you will need to have an impactful recruiting brand on social media. Ensure that your business is a name that people are well-aware of and respect. That way, prospective candidates will be more inclined to respond to your job ads and reply to your messages.
No one wants to waste their time going back and forth with an unknown entity which has just approached them online.If your brand is not a reputable one, don't expect candidates to take an interest. On the other, having the upper hand on your recruiting brand can make it way easier for you to entice top talent into submitting their resumes or applying for your job openings. Your followers can retweet or share your job openings within their networks, thus, increasing the approachability of your ad.
2.      Connect With Influencers
To multiply the reach of your job openings, consider connecting with influencers.
You can contact your followers who already have a large social media following and offer them complimentary or discounted products or services in exchange for advertising your brand, or your current job openings. This is ideally achieved via "sponsored posts" where the influencer mentions you're your job opening while posting a photo relevant to it. They may also add a relevant hashtag to make your brand more visible. You can easily get in touch with influencers and inquire them about their sponsored posts rates.
3.      Explore Niche Markets
Even though most people use Facebook, LinkedIn, and Twitter, you can easily find prospective candidates when you pursue niche networks. You can also look into forums, such as GitHub.
4.      Use Social Media Advertising
Do not just increase vacancy alerts only across your Twitter and Facebook pages or feeds. The reason behind this is that your brand might end up looking desperate. This, in turn, can harm your ability to entice top tech talent. Nobody wants to be bombarded with a ton of job postings.
If you have the budget, hire a PPC campaign on social media, a blogger or a social media manager to take care of your social media advertising.
5.      Make Proper Use of LinkedIn
With over 467,000,000 users, LinkedIn is one of the internet's biggest social network platforms used by the majority of the population to look for job opportunities. That being said, take advantage of this powerful recruitment tool to source tech talent. This website allows you to post available job positions and also search for potential candidates. You can sign up for LinkedIn's Talent Advantage to use its special tools that will greatly help you in the recruitment process later.
However, if you are financially constrained, you can utilize the website's free resources that it offers. Begin by building connections with people and keep expanding your network. You can do so by clicking on the "Add Connections" feature and allowing LinkedIn temporary access to your email address or by posting your emails in. They could be your present clients, friends, and co-workers. LinkedIn groups are another excellent way to connect with potential candidates and finding an affiliated group on this website will help you communicate directly with top-notch tech experts.
Decide Consulting provides IT staffing services. Our conclusive hiring methodology enables us to bring the best IT problem solvers to your organization. Our entire management team comes from an IT technical background giving us a unique perspective on candidates and the industry.