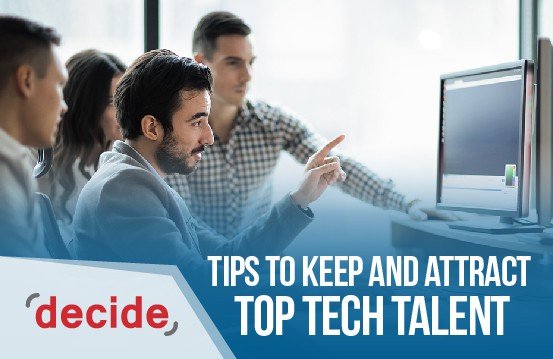 Right now, companies are still undergoing a digital transformation. Technologies like security, AI, data science, and the IoT are still evolving rapidly. This means that businesses will invest billions of dollars to attract and retain the talent who can use new and quickly changing technology to help support business goals. Since all companies have to compete for this talent, businesses must find ways to attract and retain digital professionals or risk falling behind. Businesses that can secure and keep their talent better than their competitors will enjoy better support from new technology and lower hiring costs.
Ways to Keep and Attract the Tech Talent You Need
According to McKinsey, demand might outstrip supply for tech professionals by as much as 50 percent very soon. Look at how some businesses are successfully attracting and retaining their share of technical pros:
Offer Competitive Salaries and Raises 
Technical professionals and even new grads usually say that salaries and perks aren't the only things that factor into their choice of employers. Still, pay or at least the prospect of future monetary rewards still matter in such a competitive environment. CIO Magazine reported that organization- or individual-performance merit increases and bonuses help keep people loyal and motivated.
Besides pay, technical people tend to value opportunities to develop their skills and get rewarded for doing so. Companies might offer paid training, conference tickets, and other development opportunities as rewards for good performance.
Consider Proven Perks
Younger workers also tend to factor in lifestyle decisions when they look for long-term employment. If your company offers some valuable perks, you may not have to compete on salaries as much. Some benefits that have been proven to attract technical talent include flexible schedules, at least some remote work allowed, food and social events, gym memberships, and even on-site health and daycare facilities.
Companies don't necessarily have to pay the total bill for all of these perks but should strive to make them affordable and convenient. For instance, a larger company may partner up with a medical clinic that accepts their insurance to offer an onsite nurse practitioner's clinic.
Positively Brand Your Company to Attract and Retain Talent
Even though most companies find that they have to compete for talent, some companies have talent competing to work for them. For instance, one survey found that 85 percent of technical people said they would love a job offer from SpaceX. One employee said that working for Elon Musk's company was more like getting assigned an important mission than just having a job.
Top tech talent typically wants to work at a company that they can feel proud of serving and where they believe that their work makes a difference in the world. On the other hand, some employees find companies like SpaceX stressful just because employees tend to be so passionate. If your company doesn't work in such a glamorous vertical as outer space, you may brand your workplace as committed but less stressful and still attract good people.
Reimagine Your Recruiting Style
Most companies have moved online for recruiting. However, you're probably still just using your own website and regular or B2B social networks to attract job candidates. Some businesses have enjoyed a lot of success by establishing themselves on other platforms where talent is likely to gather.
For instance, you can find all sorts of developers on such platforms as Github, Reddit, and Stackoverflow. You might use recruiters or even your current technical professionals to establish themselves within these developer communities for outreach. Once you hire one member of these communities, you're also likely to attract more.
Encourage Innovation and Entrepreneurship, Plus True Work/Life Balance
Even if your company is 100 years old, you can still learn some lessons from popular startup companies. Today's tech talent tends to enjoy a climate where they believe their efforts support their department and their employer. At the same time, they don't want to sacrifice time for their personal interests and relationships just to feel productive enough to succeed.
Companies with a reputation for truly caring about work/life balance and giving each employee a chance to contribute tend to keep employees longer and attract experienced individuals who may have been burned out by other employers.
Competing for Tomorrow's Technical Talent is Not All About Money
If you want to attract employees who can contribute to your company's bottom line and workplace environment, you will need to invest in them. On the other hand, you don't necessarily just need to invest in higher salaries and other financial perks. Money will always be an important factor in any tech worker's decision to accept a job offer; however, the company's environment, satisfying work, and feeling like an employer cares about them as people can make up for somewhat lower salary offers.
Decide Consulting provides IT staffing services. Our conclusive hiring methodology enables us to bring the best IT problem solvers to your organization. Our entire management team comes from an IT technical background giving us a unique perspective on candidates and the industry.
Source
https://www.mckinsey.com/business-functions/digital-mckinsey/our-insights/the-new-tech-talent-you-need-to-succeed-in-digital