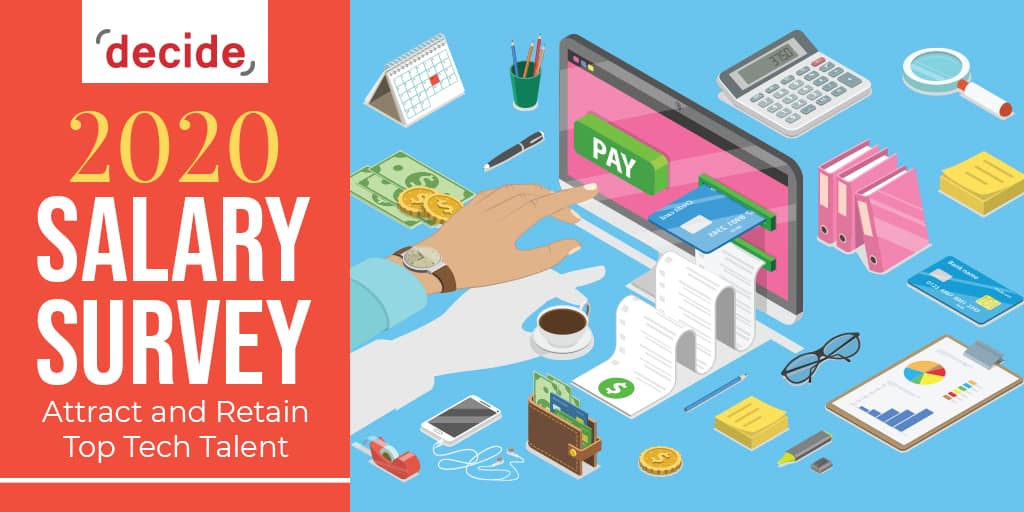 Decide Consulting has just released it's 2020 IT Salary survey. We publish data on over 200 IT, software and technical positions such as:
Cloud Architects
Full Stack Developers
DevOps Engineer
Chief Information Security Officer
Network Engineers
Data Scientists
Information Systems Security Manager
Front-End Web Developer
We combined our own CIO / CTO survey results with job board data and cross reference all that with data from the Department of Labor / US Bureau of Labor Statistics. Added together, this is a comprehensive collection of IT, software consulting and technology salary data.
How to Use this Guide
For IT Workers, you must understand where your technological skills currently are and where your future interests may be.  Then ask yourself "Does my current company value these skills? Do they offer training for where I want to go? Does this company offer an environment to get there?" This guide may help you answer these questions. This salary guide can give you insight as to what technology you may want to work on next. Think of it as an information guide for your IT career planning.
For IT employers, you need to understand the value of the technology. How important is this technology to the company revenue? Can better use of the technology increase company revenue? There are many companies that answer "yes" to both. They use guides like this one to make sure they can attract and keep the top talent. If you are finding it harder to keep current IT employees, this guide may help you with some insight.
Besides salary data, the guide also discusses in-demand IT skills for 2020, tips for retaining and attracting the top tech talent and forecasts on IT and technical job growth.