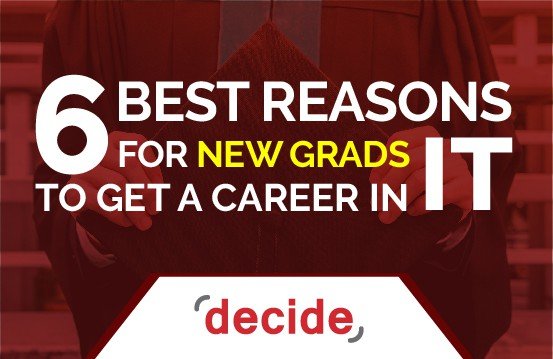 The tech industry is a very interesting one since it isn't isolated. Unlike other industries, such as pharmaceutical, Information Technology doesn't have a specific way of operation and methodologies that are solely exclusive to its sector. For someone looking to start a career in IT, this is great news. Those who are unsure of which career path to take, IT is still a lucrative and fulfilling option. Let's take a look at why so.
1.      Tech Jobs Are Not Going Anywhere
Perhaps one of the biggest benefits of taking a career in IT is the stability of the industry. It has continuously been growing for decades, and the number of job opportunities has more than doubled ever since 1997. As a direct result of its flourishing growth, there willnever be a shortage of available jobs. You will not wake up one day and find that all the spots have been taken; there will always be something for you since we are all so heavily dependent on technology.
2.      You Will Be Constantly Learning and Exploring New Areas of the Field
The technology sector is teeming with passionate, creative people who genuinely want to change the world for the better. In addition to that, the mere diversity of IT enables you to constantly learn, whether you are working or just collaborating with a colleague.
Not only does an IT career encompass a myriad of callings, such as Network System Administrator, Computer Programmer, and Web Developer, it also prevents you from getting locked up in a single niche market, which keeps your creative bone lubricated. A lot of these professions within the IT sector are high in demand in numerous other fields such as the military, schools, hospitals, banks, law firms and just amount any major company imaginable.
3.      You Will be Paid Well
IT graduate jobs pay more generously in comparisonwith many other fields. Digital salaries are 44% higher than the average, as per Tech Nation's 2017 publication. For instance, in America, jobs such as systems engineer, software engineer, systems administrator and web developer can have a yearly salary of between $80,000 and $95,000, and this trend in other developed countries such as Australia, Canada, and European Union members, etc.  As per Forbes, Computer and Information Systems Manager is the 3rd best paying job for women, just above surgeon and CEO, with an estimated yearly salary of $80,000.
4.      You Will Be Rewarded and Challenged Constantly
It appears like brand new tech companies are springing up all the time, developing quickly and changing some aspects of your daily lives. Besides the obvious spike in job opportunities that this creates, it also rewards experienced workers well. The intense competition means that you will be continuously challenged to work your best, and this will allow you to develop as an employee and also hone your skills. The strong competition is also the reason why tech industry workers have a higher chance of progressing in your job and taking on more responsibility.
5.      Every Industry Needs Tech Skills
There is a skill gap in the technology industry since almost every business requires tech skills whereas the labor supply available to meet that demand is not up to par. For instance, the increasing demand from governments and businesses seeking digital transformation and the need for data sharing and online security is huge, while the IT skills shortage is normally in mid-level add higher positions rather than at the graduate stage. However, companies are working to bridge the gap by hiring fresh grads and then training them.
6.      Explore Your Innovative Side
Much of the IT process depends on problem-solving and creativity. This field offers you a unique chance to use your tech knowledge and skills to come up with creative solutions to problems faced by your company, clients, and the general population. When you use your skills to contribute, not only do you feel good but also learn to be more confident in your abilities, which is very important if you are to succeed later in life.
Decide Consulting provides IT staffing services. Our conclusive hiring methodology enables us to bring the best IT problem solvers to your organization. Our entire management team comes from an IT technical background giving us a unique perspective on candidates and the industry.