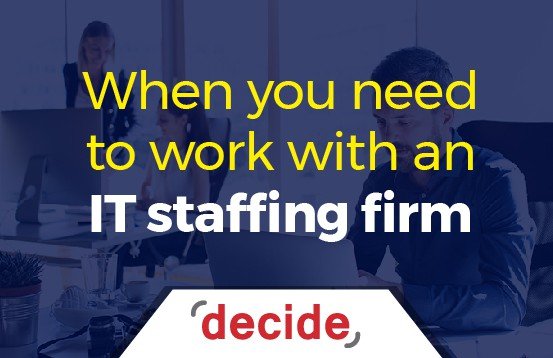 Regardless of its size and nature, every business is reliant on Information Technology and must have a game plan on how to employ it. Today, an increasing number of businesses are turning to IT staffing firms in the hopes of finding the best tech talent suited to their particular needs. These agencies perform recruitment and selection processes for organizations that do not have the resources, the time or expertise to manage the employment process of IT workers.
When employers have an open job position and do not have the resources or time to hire and employ workers on a full-time basis, they normally seek help of staffing firms to help fill those jobs. These companies typically fill a specific type of industry or work (IT, administrative, day-labor, etc.) As a prospective employee, you basically signup with the IT staffing agency and review your skills and qualifications, and the firm looks for appropriate tech businesses that can utilize your skills and experience. Let's take a look at 4 reasons you would need to work with an IT staffing firm.
1.      You Need to Fill Up a Position Fast
Let's face it – every business comes to a point where they have so much to take care of but are pressed for time and/or workmanship. Recruiting, screening and hiring a tech candidate  whether temporary or long term, can be a long and complex process, especially since employees have specialized roles. Small to medium-sized businesses can benefit the most from IT staffing firms when trying to fill up a position fast or complete a project on time.
2.      You are Not Looking for a Long-term Commitment
A lot of tech firms work with one-time projects for which they need to hire temporary IT employees. Going through all that trouble recruiting a worker that you do not intend to keep for a long time seems rather silly, which is why so many companies turn to an IT staffing firm. These IT staffing agencies basically specialize in the type of position you are looking for and therefore already has the recruitment advertising money spent and qualified tech candidates lined up, ready to be recruited.
Employers often prefer hiring temporary employees since they normally do not receive any perks or fringe benefits like retirement plans, health insurance, as per the Employment Spot. Temporary IT tends to require less training as they are sent to the company because they already possess certain skills. Businesses can also steer clear of numerous wrongful termination cases by using an IT staffing agency. On the other hand, workers get a more flexible schedule and can typically take off long periods of time since they are not bound to any one company. They get to either brush up their skills or develop a new one in various different environments.
3.      Your Present Staff Lacks Experience in a Specific Technology
Technology is ever-evolving, which means there will come a time when a business will be faced with a skill shortage from their present team of employees. In such a scenario, you could invest thousands of dollars hiring brand new qualified staff through your own recruitment process, spend months' worth of time training your current staff, or use an IT staffing agency to access the exact talent pool that you are trying to reach without wasting time or money. The last option obviously makes the most sense, especially if you are financially constrained or cannot afford to lose time.
4.      Your Present Staff Has Too Much on Their Plates
The IT industry is a dynamic one, and all businesses become the victim of industry volatility at one point or another. In such a situation, employees often have to deal with too much work, either because of an increase in the demand for the business's products/services or owing to the absence of certain employees. Whatever the reason may be, an IT staffing firm can offer you access to temporary workers who will have enough knowledge and experience to take over the existing workload and work side by side with their fellow employees.
These are just some of the many scenarios that can prompt a business to work with an IT staffing firm.
Decide Consulting provides IT staffing services. Our conclusive hiring methodology enables us to bring the best IT problem solvers to your organization. Our entire management team comes from an IT technical background giving us a unique perspective on candidates and the industry.