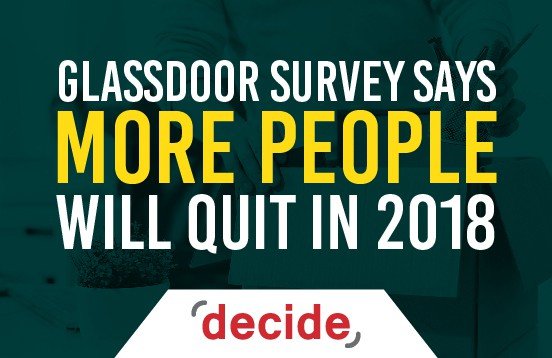 Employee turnover is expensive – replacing a skilled tech employee or a middle level manager can cost you up thousands of dollars, according to the Society for Human Resource Managers. Losing even a few employees can cause your costs to soar and have a significant impact on your bottom line. Since onboarding replacements takes time and impacts your overall culture and productivity, the impact of employee turnover can have a lasting effect on your organization.
Taking steps to retain key employees is more important than ever; understanding what motivates employees to leave and what compels them to stay is a must if you want to prevent losses. Unfortunately for employers, recent research suggests that more employees will be looking for new positions and changing jobs in the years ahead.
According to job search and recruiting site Glassdoor, about 35% of the HR professionals who make hiring decisions anticipate and increase the number of employees who quit in the next year. Glassdoor surveyed 750 HR and recruitment professionals in both the United States and the United Kingdom to determine the key reasons employees leave and seek other opportunities.
Dissatisfaction with salary topped the list of reasons employees separated from current employers; 45% of responders felt that salary was the primary reason for separation. The ability to advance, benefits offered and even the location of the business trailed behind income.
Are Employers Setting Salaries Correctly?
Most responders (64%) felt that the brands they worked for were either "very satisfactory" or "satisfactory" at creating clear expectations of salary and benefits in published job listings. The actual data doesn't agree; according to Glassdoor, only about 10% of job listings contain actual salary and pay data in the job description.
Employees who are not clear about the expectations of an employer or the compensation offered may feel let-down or dissatisfied with the position after they begin work. In the survey, about a third of respondents agreed; 37 percent felt that providing better information about the position in advance would increase employee retention after the onboarding process.
The differences between the employee perception of the job compensation and duties and the actual salary and responsibilities is often not noticed until the onboarding process is complete, When the employee has an unrealistic idea of what to expect, they are more likely to be disappointed and disillusioned when they discover the actual details and begin performing the job. Making prospective employees fully aware of the job details, including salary, could cut down on the disappointment and surprise they experience and as a result, on the number of employees who leave shortly after onboarding.
Pay Ranges Provide Clarity
An earlier survey from Glassdoor indicates that most of job seekers want to see salary ranges included in job listings.
"Pay can be a big motivator for employees to take a job, however, very few job listings actually include pay information, even if this is overwhelmingly what job seekers want. If candidates were better informed about how their pay and career could progress during the initial job search and recruiting process, they would be less likely to take a job that turns out to be a bad fit," — Carmel Galvin, Chief Human Resources Officer at Glassdoor.
By setting realistic salary expectations, employers can reduce turnover rates and spend less time and money recruiting, onboarding and training employees who later leave. Since salary and benefits are the most compelling reasons an applicant accepts a job, setting clear expectations in the beginning can help you avoid problems later.
Key Takeaways
Salary is a major driver of employee satisfaction and of a successful hire; offering pay that is commensurate with the job responsibilities and providing clear expectations from the start can result in more successful hires and lower turnover.
A third of decision makers and HR professionals expect to lose employees this year, resulting in higher costs and lower productivity for their brands.
Company culture, location and other factors impact job satisfaction; while these details are secondary to actual compensation, they still have an impact on retention and costs.
Learning more about the reasons employees leave and what is important to your top applicants can help you offer the best possible compensation packages. This key factor will help you not only attract more applicants to choose from, but can lead to higher satisfaction rates, lowering your turnover rates and improving retention. Careful attention to employee satisfaction along with awareness of the trending compensation requirements for different skill sets can differentiate your brand and allow you to offer the best possible plans to your new hires.
Make the most of the hiring process by doing things right from the start; our 2018 salary survey and in-depth analysis can help you attract and hire the best tech employees for your brand. We're committed to supporting your efforts in finding, appealing to and retaining the best possible talent for your brand. Get your copy of the survey today and start taking a proactive approach to employee satisfaction and hiring.
Decide Consulting provides IT staffing services. Our conclusive hiring methodology enables us to bring the best IT problem solvers to your organization. Our entire management team comes from an IT technical background giving us a unique perspective on candidates and the industry.