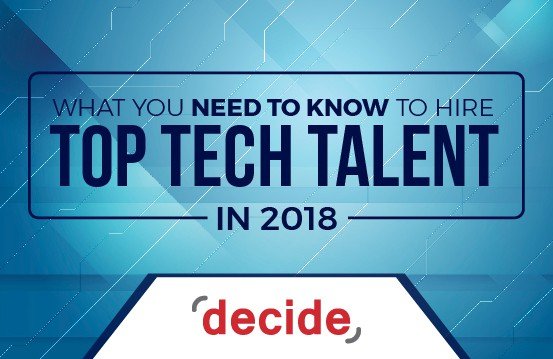 Recruitment can be a long and complex process, but any business with growth aims must go through it at one point or another. The tech sector, in particular, is grabbing on to tempt quality tech talent, into one of the nation's most rapidly growing industries. The deficiency of available talent has transformed technology hiring into a candidate-driven market, and companies are now the ones that have to work extra hard to stay ahead of their competitors.
Simultaneously, the motivation level of candidates has changed, needs have advanced, and attitudes have evolved. In light of all these changes, what are the key things you need to know when hiring top tech talent in 2018?
1.      The Talent Shortage is Still Persistent
The talent deficiency of tech workers is no longer just a hassle for employers but is quickly becoming a major business problem. And when businesses do succeed in finding top tech talent, they typically cannot afford it.
As per Robert Half, 44% of CIOs claim that they miss out on top talent mainly because candidates are looking for higher salaries than they can offer. Of the 98% tech professionals who are employed, 67% are not entirely satisfied with their jobs and can be talked into something better.
2.      The Demand for Tech Goes Vertical
Tech is a rapidly growing need in every industry, but according to different surveys, certain vertical industries are going through an acute need for tech employees. Financial, manufacturing and healthcare experts cited increasing demand for top tech talent in their respective industries.
When it comes to healthcare, there is a need for innovation and modernization to deliver patient care better. Data and security professionals are in high demand in the financial services industry as security becomes a key priority. Automation is affecting the manufacturing industry, where businesses are looking for creative IT professionals to help adapt.
3.      Soft Skills Are Now a Must
As technology becomes increasingly vital in every business, it is important to recruit tech experts who can collaborate and communicate with other non-tech departments. That means recruiters are more interested in those candidates who have a strong critical thinking, listening and communication skills.
Keep in mind that technology will be so much different in just a matter of 5 years, which is why companies are thinking long-term and hiring employees who are problem solvers and will be able to cope with the change efficiently.
4.      Employee Passions are Encouraged Through Role Experimentation
Companies are rapidly finding more ways for workers to experiment with various roles within the company, to tap the changing passions and skills of their workforce, minimize turnover, and better match talent to positions. It is probable that this will continue and flourish even in the upcoming years.
5.      Perks are The New Way to Woo IT talent
To snatch the top tech talent in a highly competitive market, businesses have turned to offering "perks," which are additional benefits outside the typical offerings you would find at most companies. These include regular social events, flexible working hours and schedules, remote work opportunities, free gym membership, free food, and a compressed schedule.
To keep talent motivated, companies are also offering incentives such as awards for team and individual achievements, retention bonuses, profit sharing, deferred compensation, and stock options.
6.      Automation is Switching Skills
Automation is not poised to eliminate jobs just yet. It is merely evolving the skills that are crucial to businesses. As per a Robert Half study, the finance industry is going through a shift in skills already due to automation. Of those surveyed, 56% of CFOs claimed that they speculate automation to bring better efficiency to finance while 43% also project better decision-making.
Although CFOs are positive about automation, they also speculate it will switch their primary skillsets and priorities. By 2020, CFOs forecast to keep up with changing technology as a key priority, followed by big data management, maintenance, and compliance with financial reporting norms.
For comparison, the main priority for CFOS in 2017 was to meet regulatory compliance mandates, while managing and harnessing big data came in last.
Decide Consulting provides IT staffing services. Our conclusive hiring methodology enables us to bring the best IT problem solvers to your organization. Our entire management team comes from an IT technical background giving us a unique perspective on candidates and the industry.