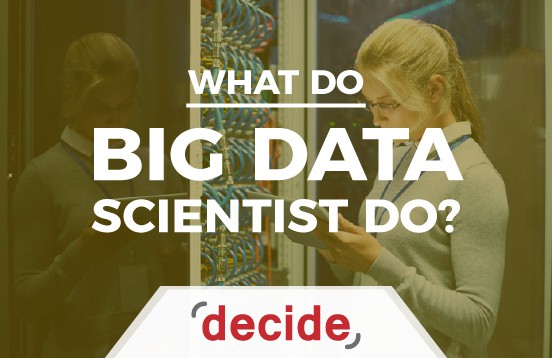 Becoming a data scientist has become one of the most exciting jobs in information technology today. It is a job that is in high demand. People are curious about what it exactly is and what data scientists actually do. There is a misconception about what exactly the job of data scientist is. This is because unlike other jobs, there is no standard definition explaining this profession.
Data scientists are often confused with data analyst and data engineers, but in reality, there is quite a lot separating these fields. A data scientist has knowledge and experience from different digital and engineering sectors. These sectors include mathematics, statistics, advanced computing, data engineering, visualization, data engineering, and domain expertise. The role of a data scientist is extracted from these areas.
If we narrow down the foundation of data science, we can see it is developed upon business operations, statistics, and probability. It also utilizes software programming along with written and verbal communication skills. To become a data scientist, you need to be strong in all these four areas. This is one of the reasons that becoming a data scientist is such a daunting process.
Data science is a diverse field that includes a wide range of work. It comprises of tasks such as experimental frameworks building for product development, innovative techniques used for online marketing solutions, and tackling the impact of operational changes on businesses. Data science is a part of different industries. It works in different manners depending on the individual organizational goals.
Job Description of Data Scientists
If we analyze the job description of data scientists, we can see that they are responsible for conducting in-depth analysis. They use different methods to make online experiments easier and turn them into successful ventures. They work on forming a strong and firm data foundation for these experiments to work and achieve sustainable growth.
Having reached this level, they work on building machine learning pipelines. Moreover, they develop personalized data products. The purpose of these products is to understand their customers and businesses better. This understanding improves their decision making. Data scientists can be referred to as constructors. They work on the infrastructure of decision making and promote testing and learning process for data products.
Many data scientists that you see today started their career as either statisticians or data analysts. As the data storing and processing technologies started evolving, the roles of data analysts progressed as well. Data, previously treated as an afterthought, is now considered a key source of information. It is analyzed and transformed into creative ideas by corporate companies across the world which aim to gain profit out of it.
The job for data scientists includes solving business-related problems. They do it through various data-driven techniques. They also transform huge data into usable formats. They also have to look for order and patterns in data achieved and identify trends. This analysis is then utilized help the bottom line of the businesses.
How and Why Companies Utilize the Big Data?
Companies are achieving tremendous success by making use of valuable data and insights. This data, if utilized properly, can help companies generate great value. It can help them overcome a lot of challenges and make use of opportunities. The technology has made it rather easier to acquire valuable data and analyze it in a manner to be used effectually. Companies use Big Data to increase their efficiency. They achieve success through automating processes. They also gain substantial in-depth knowledge about the target audience. This helps them improvise their service and products accordingly. The data scientists are proficient in analyzing the acquired data and draw inferences from them. The acquired information can be used in improving the service delivery of the companies. Big Data holds tremendous potential. Companies that aren't making use of Big Data are actually lagging behind tremendously.
According to the latest finding, there are 2.5 quintillion bytes of data created every day. The number is only increasing as the Internet of Things is growing. This is a whole lot of data that can be used in a number of ways. What the data scientists do is that they work on these data sets and use technologies such as SQL, NoSQL, MatLab and Python to acquire valuable statistics and information. This information is then utilized by the companies to make their customer service more efficient.
For instance, Amazon, the online retail giant, has used the Big Data to become the leader in the eCommerce industry. The company uses data scientists to extract value out of the Big Data to optimize their supply chain, pricing strategy, and fraud detection and control. Google Inc., Netflix, and Apple Inc. among several other corporate giants are following the same suit to improve their businesses. The data scientists help facilitate the practice by speeding up data processing and analytics. This is used in long-term strategic, operational and business decision making.
Big Data can create colossal growth opportunities. Some companies are already achieving tremendous success by utilizing them effectively. Some are beginning to realize its importance. This has, nevertheless, increased the demand of data scientists in the Information Technology. It has opened a huge window of opportunities for the IT professionals to develop their skills in this particular sector and gain career growth.
How to Become a Data Scientist?
Data scientists are proficient in a number of areas as mentioned in the beginning of this article. To become one, you have to have sufficient skills in various programming languages, computing as well as statistical models. Programming languages such as R, Python, Java, and SQL are a must for a data scientist.
You have to be proficient in them and have substantial knowledge and understanding of algorithms, statistics, mathematics, and data visualization. If you are an IT professional, you can take online courses and certifications in different coding languages, database understanding and data visualization technologies to become eligible for data scientists' position.
Read More: The Rise of Data Analytics Degrees >>
Read More: Why Big Data Needs to Revolutionize Healthcare >>
Read More: How to Break Into an AI Job >>
Read More: Software Developer Jobs may Double in 10 Years >>

Are you finding it harder to locate the good technical and IT talent? Many companies find themselves in the same situation. There are some better ways to locate and attract the right it and technical people to your company. Contact us to learn more.