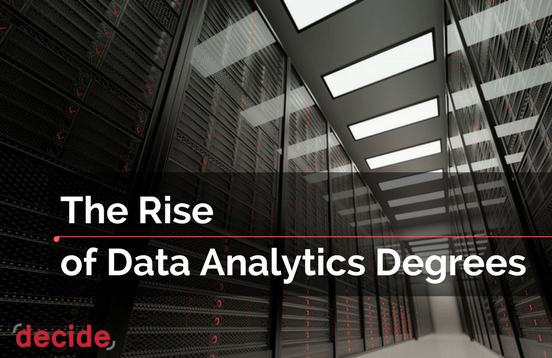 Today's companies have access to more data than ever before, and most are starting to take notice that investing in data analytics can lead to positive business outcomes. To respond to this uptick in demand, universities around the country are beginning to ramp up analytics degrees and certifications. Landing a spot in one of these programs is quite difficult because competition is at a peak and shows no signs of slowing down. On the plus side, more universities are beginning to offer degrees in data analytics and data science.
As an example, Georgia Institute of technology announced recently that it would launch a master's of science in analytics program this summer. The program, intended to start with a 250 headcount, has already drawn 1200 qualified applicants. Due to the demand, the higher education institution bumped the headcount to 300. Additionally, Harrisburg University of Science and Technology also recently kicked off a master's degree program two years ago, as well as a bachelor's program last year. To keep up with the demand, the school had to hire nine new Ph.D. faculty and 30 part timers.
 Why Analytics Degrees Are On the Rise
The widespread adoption of technology has generated demand for people who can make sense of institutional data. Many of these skilled data professionals are working to master Tableau, an industry leading tool that focuses on data visualization, dashboarding and data discovery.
When it comes to business intelligence and analytics, Tableau, an industry leading tool that focuses on data visualization, dashboarding, and data discovery has become a major focus for those looking to break into the industry. According to Forbes, data and Tableau skills are must haves for 2017. Despite this, 36% of US managers say new grads lack data skills.
Innovative companies are realizing that data can be used to gain valuable business decision-making insight, limited only by imagination.
And companies can maximize their use of data in a number of ways:
To create innovative products that reflect the needs of clients and customers
To "informationalize" products, meaning new products can be designed so that their use delivers more valuable information back to business decision makers
To find and eliminate errors/make improvements and adjustments that would have otherwise been missed
Provide valuable content to readers, clients, customers and partners
What Kind of Candidate Are Companies Looking For?
An education in business analytics or data analytics is just the beginning of a journey toward a great career in the data industry. Both CEOs and human resources departments are on the hunt for professionals with analytics skills, such as a working knowledge of R or PYTHON programming languages, along with competencies like the ability to quickly learn new programming languages and applications.
Ideally, these employees are going to be problem solvers who thrive in technology-rich environments and know how to link the work to tangible business value. Be on the lookout for applicants who can demonstrate strong skills in communication, creativity and know how to work well as part of a team. These candidates will likely rise to the top of the pool.
Moreover, larger data-centric corporations are partnering with both universities and policymakers to invest more in analytics education programs. The same companies are also stepping up their recruitment activities, targeting university campuses and leveraging college placement services
A List of Universities Currently Offering Data Analytics Degrees
This list is bound to expand, but here are just a few of the many universities that are currently offering degrees in Data Analytics:
Penn State University
Arizona State University
Georgia Institute of Technology
Washington State University
University of Wisconsin River Falls
Northeastern University
University of Illinois at Springfield
Syracuse University
Southern Methodist University
University of California – Berkeley
Harvard University
Stanford University
Massachusetts Institute of Technology
If you're interested in hiring a data analytics professional, or you're interested in pursuing a career in data analytics, please reach out to us.
Read More: Why Big Data Needs to Revolutionize Healthcare >>
Read More: 5 Ways AI Will Work Its Way Further Into Your Life In 2018 >>
Read More: $500K, Stock Options and No Experience Required: AI Jobs are in Demand >>
Read More: How to Break Into an AI Job >>