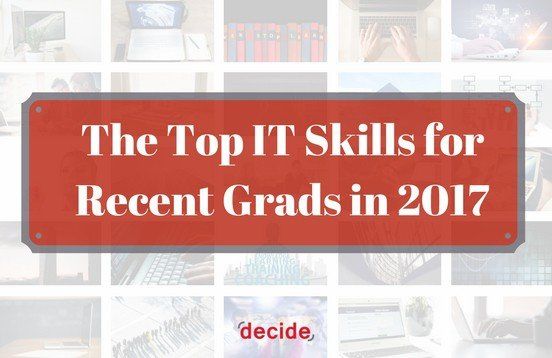 Many of us would agree that now is a great time to enter the IT industry, as demand for talented individuals is at an all-time high. According to CIO, IT unemployment rates are at historic lows and, according to Oracle University, over 80 percent of IT leaders say they have difficulty finding talent with the right IT skills.
If you're a college grad looking to land a job in IT, you may be confused about which skills are the most important to have, or what you should try to specialize in moving forward. In this blog, we'll reveal the top IT skills for recent grads so you can increase your chances of being hired into the role you want.
Investing in developing in-demand IT skills is a key way those pursuing a career in tech can better position themselves to be hired after graduation. According to both Computerworld and Pearson, these are the top IT skills top tech companies will be looking for in 2017.
IT Architecture
According to the Pearson IT survey, 42% of companies will be looking for new grads with skills in IT architecture in the coming year. That means having a good grasp on enterprise and cloud architecture, frameworks and industry standards, according to Oracle.
Tech Skills to Develop: Openview, Solarwinds, MS SCOM
Program and Application Development
Also, currently in high demand are programming and application development skills, which was ranked as the #1 in-demand skill in 2016. According to the Pearson, nearly half of companies plan to hire new grads with these skills.
Tech Skills to Develop: .NET, C#, Angular, React, Xamarin, Java, PHP
Project Management
Project managers are also in high demand. As companies increase their tech spending, the number of projects will also increase, requiring more skilled project managers to help navigate teams through challenges and unexpected turns. While many companies do not hire new graduates to manage large projects initially, they hire project coordinators to manage portions of projects. These roles can move into project management and program management roles further into one's career.
As we've talked about in previous blogs, Big Data is in high demand right now. The amount of universities offering degrees in both business and data analytics has increased dramatically over the course of the last few years.
According to the Pearson survey and Oracle, nearly 40 percent of IT executives plan to hire people that have the ability to "manage, package and analyze ever-growing mountains of data." Big Data ranked #1 among the list of technologies that companies are using in pilot programs. Last year, it was listed as #10, which is a significant shift.
Tech Skills to Develop: Tableau, Power BI, Qlik, Spotfire
Cloud Software and Software as a Service (SaaS)
More and more companies are looking for skilled IT professionals that can help them power the potential of their cloud computing solutions to new heights. Nearly a third of companies involved in the survey indicated they would be seeking recent grads with this skill set.
Tech Skills to Develop: AWS, Azure, Google Cloud
Web Development
Web development continues to be one of the most in-demand IT skills for recent grads. Web has become a critical channel leveraged by organizations to connect with prospects, employees and third parties on a day-to-day basis. Over 25% of executives involved in the survey said they plan to hire web development specialists this year, and most report that it's been a challenge to find enough people with this skill set, according to Oracle.
Tech Skills to Develop: HTTP5, CSS3, Javascript, CMS ( e.g.Wordpress), eCommerce (e.g. Magento)
Security/Compliance/Governance
Over half of companies plan on increasing their spend when it comes to security-related technologies next year, which is why nearly a third report that they will be seeking recent grads with related skills 2017 and beyond.
Tech Skills to Develop: CISSP, CISA, CISM, CEH, CRISC
Demand is Growing for IT Grads in the Workforce
The information sector is exploding with growth and, as a result, there's been an increase in demand for fresh talent from the nation's top university programs. In every area I mentioned above, there is a shortage in the supply of good-quality fresh graduates and experienced professionals.
Graduates with STEM degrees are some of the best-positioned to have higher starting wages than those who major in the traditional liberal arts. Along with hard skills, employers are also looking for tech candidates with those hard-to-find intangible skills, such as active listening and critical thinking. These skills are in short supply among professionals today.
If you're in need of fresh IT talent, or you're interested in pursuing a career in IT, connect with us. We'd love to talk more about how Decide Consulting can help you fulfill the needs of your organization, or help you reach a new level in your career path.