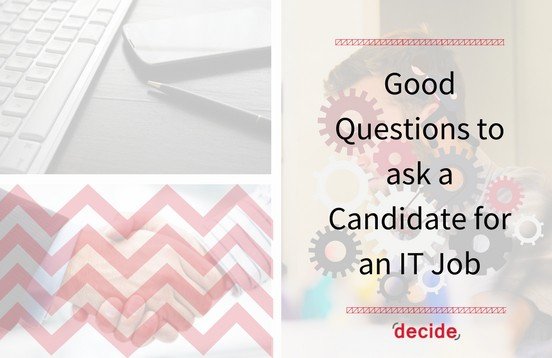 Calling in an applicant for an interview after inspecting their resume is normal procedure in any IT organization. It allows employers to ask questions regarding the content in an applicant's resume and develop familiarity.  This is so that in the event that they are prospective employees, you can ask specific questions to ensure they fit criteria along the lines of the company's requirements. This is why it is important to ask the right questions lest you pick the wrong candidate.
Previous Work
A common practice is to ask a new candidate about previous work experience. However, it's important to ask for detailed answers in the follow-up Ask about the previous IT company they worked for and what position it held in the IT industry. To learn of their capabilities you can ask questions about large or small-scale projects they've executed while working for that company. Any descriptions or roles they played in the previous job should be acknowledged.
Check If They Did Their Homework
It's crucial to know if they're dedicated to getting a position in the organization and there's no better way to know than to see how much they know about where they're replying. Start off small like asking how they heard about you and why they want to work here then move on to asking specific questions about the IT Company. Check to see if they know what kind of services you offer and possess any knowledge about any major contributions that your company has made to the IT industry. Casually ask if they keep up with your social media accounts and website then move on to ask if they know who your company competes against in the IT industry.
If They Learn From Their Mistakes
IT companies rely heavily on the experience and expertise of its employees, even if it's something they bring from the outside. Ask about any mistakes that they had made while previously working and ask what measures they would take to prevent it happening again.
Future Work
To be specific, ask them questions about how they'd work in your company. Ask those questions using real work scenarios from the department they will be working for. Timing and response quality matters to check if they think on their feet. Creativity is highly valued for an IT position so it's also recommended to ask if they have any ideas to make certain projects better. This allows you to know if you're getting a creative employee.
Decide Consulting is a software and IT Staffing firm based in Houston, TX. Founded by veteran software consultants, Decide has developed proprietary methods for finding problem-solving IT personnel. Our Software products focus on the Environmental Health & Safety (EHS) and Healthcare markets.