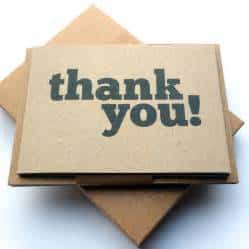 A lot has changed about job interview procedures over the past couple of years. It is not uncommon to be asked to partake in in a video interview, provide links to your social networking accounts for demonstrating your personal brand, or to carry out some sample work to prove that you are competent for the job. Regardless of how the interview occurred, your chances of receiving a job offer go up tremendously if you write a personal hand-written thank you note after the interview.
One thing that hasn't changed is the need to send a thank you note to your interviewer for expressing your appreciation for the opportunity. Writing a thank you letter after an IT job interview is always a good idea. In fact, some managers think less of those interviewers who fail to follow-up on time. To write the perfect thank you note after an interview, you will need to take into account the following tips.
Include all the interviewers – or you can send individual emails to every person who spoke with you. Remember that if you choose to do the latter, you shouldn't just copy paste one message to all. Make slight variations so that the recipients don't compare notes later and feel like they just received a chain email.
Add the position name in the subject line and the "thank you". This will ensure the hiring manager sees your feedback and knows that your email is important.
Avoid being too casual – regardless of how well you and the interviewers clicked, you should never send an informal thank you note. This includes internet acronyms, memes, slang, etc.
Proofread – sending a thank you letter with misspelled words, grammatical errors, or anything that has not been proofread is a big no-no. Even expert editors make mistakes when trying to work on their own. Ask a friend or family member to look over your draft before finalizing it and hitting the "send" button.
Send the thank you letter as soon as possible – write within 24 hours of the interview, to thank the hiring managers and confirm that you are interested.
So few people write hand written thank you notes these days. The ones who do will really stand out. This single gesture can rank over the other candidates. Think about this for a moment – If you could spend 15 minutes and earn another $10,000 over the next year, it that 15 minutes well spent? You bet it is. Writing a thank you note after an interview will take all of 15 minutes. It is a good investment of your time. Who doesn't want a job where your peers think highly of you?
Read More: 10 Things to do to Prepare for an IT job Interview >>
Read More: IT Recruiting Tip: How to Answer "Why Did You Leave?" >>
Read More: How to Know it is Time to Look For a New IT Job >>
Read More: If You Work in IT – Things You Do NOT Have to Worry About >>

Sample Thank You Note
Dear Mr./Mrs. Last Name
I had a great time speaking with you about the assistant IT administrator position at Marley Solutions. The job complements my interests and skills, and the work approach confirms my desire to be a part of your team.
I appreciate you taking your time out to interview me. I am quite interested in working for you and look forward to hearing from you soon.
Sincerely,
Your Name.
Decide Consulting is a software and IT Staffing firm based in Houston, TX. Founded by veteran software consultants, Decide has developed proprietary methods for finding problem-solving IT personnel. Our Software products focus on the Environmental Health & Safety (EHS) and Healthcare markets.