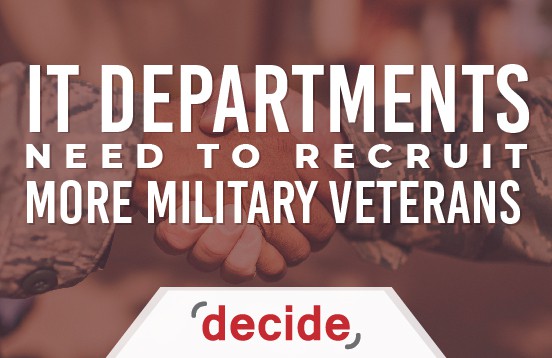 IT departments across the country could easily upgrade themselves by hiring more military veterans. Military vets, just by being one, are equipped with certain skills any employer wants to have. According to data gathered by Payscale, veterans are commonly well equipped to handle tech jobs such as program manager, systems analyst and network administrator. These jobs also pay well and push tax credits towards the companies that hire them.
Veterans of the military have the added advantage of being trained to adapt and carry out specific functions, especially those relating to technical skills. These tendencies come in handy in a field where following specific sets of instructions and adhering to a code is necessary.
There are also many tech jobs that don't necessarily require a four-year degree and these positions can be filled by people that are competent at following instructions and learning fast. Adequate job training can impart these skills to veterans and help fill an employment gap.
Veterans Thrive In Tech
Jerome Hardaway was in the Air Force. He did three tours of Iraq and Afghanistan and there he learned to solve a lot of problems on the field. Now, he works as a software engineer. He even founded a company that trains veterans in software-related fields through a 14-week program. The program is called Vets Who Code and has graduated over a hundred veterans.
This isn't the only company training vets to code. There's also VetDevs, Code Platoon and Operation Code. These organizations are producing skilled coders that are filling the employment gap in the tech industry.
Read More: Why Do IT and Tech People Cost So Much? >>
Read More: Ways You Can Find Great Tech Talent >>
Read More: These 5 IT hires can cost you over a Million Dollars >>
Read More: Keys to Finding the Right Tech Talent >>
Big Tech Companies Are Already Hiring More Veterans
Amazon has already joined forces with the US Department of Labor to create a program that trains military veterans for tech jobs at the company. The 16-week program is designed to impart skills to them that are necessary to take care of the logistics and programming required at Amazon. There is also a 12-month paid apprenticeship program.
Veterans Fill the Talent Gap
Pivotal Software Inc. has made no secret of its preferential hiring of military veterans. The company has a US Marine as a Chief People Officer. Pivotal believes that the high intensity need for problem solving in the field leaves veterans with a focus and steel-like nerves unlike any other profession. They are best suited to tackle unforeseen problems when they arise. Hence, they can problem solve in tech when errors or hacks occur, without losing their cool.
Discipline is also one key quality that veterans have that helps in tech jobs. Pivotal says that great communication skills and cooperation is required in tech and that the veterans are very well suited to cooperating with their partners when it's literally a scenario of life and death.
Recruiting military veterans has helped Pivotal maintain a sizable workforce at a time when a myriad of tech organizations are complaining about a gap in talented and skilled individuals for professions like cyber security and programming.
In 2018, 40 companies pledged to hire over 110,000 veterans and military spouses as part of a deal with former First Lady of the United States, Michelle Obama and Former VP of the US, Joe Biden.
Veterans Have Unparalleled Cooperation
Steve Crago is the Agile Coach for the IBM Agile Academy that trains people in software. According to him, the skills required in tech, to work in small teams and communicate effectively and not shy away from explaining specific problems in clarity are all things that the military has perfected. Due to these skills being part and parcel of the military training, they are perfect at accomplishing tasks with the resources at hand.
Veterans Are Great At Practical Work
Even tech jobs that involve repairing and installing hardware are incredibly well-suited for military veterans since they have a history of working with their hands. Due to the skills that they have acquired in the field, veterans are unusually well-suited to repair and install hardware. They can also think quickly on their feet to repair a leak or any piece of damaged equipment.

Equipment like AC units, heaters, or a complete HEPA filtration system can also be installed perfectly by veterans. They also work extremely well as electricians, plumbers, computer repairmen etc.
Veterans Make Great Entrepreneurs
Patriot Boot Camp is one of many programs that military veterans enroll in to learn software skills. Many of the graduates have gone on to launch their own technology companies .This is also not a localized phenomenon, since 25% of those that enlisted in the military post 9/11 have cited an interest in pursuing a business.
Mike Murphy is a non-commissioned officer who founded ProctorFree in 2013, a program that helped teachers administer and supervise online exams. The company now employs 25 full-time employees.
Nick Black was an army officer from 2006 to 2011 and founded inKind when he was honorably discharged. The company built a program for non-profits and donors to more effectively communicate. The software allowed non-profits to create stories around their current charitable work. It also helps them to outline the exact materials needed and for donors to donate the exact items and finances they need.
Veterans Thrive In the Semi-Conductor Industry
According to Lam Research, the average military veteran's attention to detail, discipline and tendency to make good decisions around difficult situations makes them well suited to thrive in the semi-conductor industry.
The company has veterans working in a variety of positions such as in their research laboratories and pilot and production manufacturing. The practical work involving soldering, welding, working with wires and hardware is well suited to a veteran's skill set.
Are you finding it harder to locate the good technical and IT talent? Many companies find them selves in the same situation. There are some better ways to locate and attract the right it and technical people to your company. Contact us to learn more.