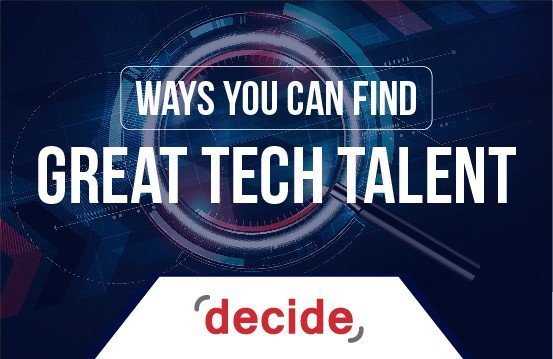 There has never been a more exciting time to work in the tech industry. Jobs that once seemed exhausting or best suited left to geeky computer professionals are now more in demand than ever before. For this reason, finding good candidates is not as hard. However, finding the top tech talent, both in terms of skill-set and culture can be a little overwhelming. Your HR department can do the best they can, but you cannot force talented people through your company's doors if you aren't utilizing the right hiring strategies. Listed below are 5 ways that will help optimizing your job recruiting efforts and find top tech talent.
1.      Make Use of SEO
Candidates cannot find your job opening if you are not using the right keywords to target them. Studies suggest that 67% of potential candidates will use a search engine to look for job opportunities. In absence of effective search engine optimization, your chances of coming across a qualified candidate are pretty slim. Meta tags, page titles, and H1 tags can all be used to improve your SEO efficiency.
2.      Look in New Places
Online communities are a great place to start if you are looking for top specialized talent, besides the niche job boards. As a hirer, you have to search and post in the right spots. If a tech vacancy is open, then posting to a general community will in turn get you a general skillset. On the other hand, if you decide to post on a site such as GitHub, Facebook, Twitter, technologist, Twylah, Reddit, StackOverflow, and LinkedIn among others, you will be reaching out to millions of hopeful and qualified candidates.
LinkedIn alone has with over 467,000,000 users and is also at the forefront of connecting recruiters and job seekers. AngelList is another company that specializes in startups, so if you are an infant business, make sure to check it out.
3.      Be Presentable
Tech talent will be using social media platforms to research more about your company – so make sure to use these to make your company look appealing (don't fake it), one that people would want to work for. By using Twitter and YouTube properly and with a reasonable budget to document an aspect of your company that top tech talent will want to see, you will be easily be able to score numerous talented candidates. Throw in the potential of working with technology such as HTML5, Ruby, and other similar tools, with training, and you are certain to receive a lot more attention. Perks can also help make your organization more inviting to tech candidates – these can include an attractive salary, free food, flexible work hours, and many more.
4.      Use your Present Employees as a Source of Recruitment
Treating your present employees well enough, giving them responsibility and trust and treating them with respect will guarantee that they work hard and become a recruitment source in themselves. Research shows that employee referrals are one of the top resources of candidates for hire, so a tech worker who thoroughly loves and enjoys doing their job will promote the brand for free – and further lure in additional talent. On the other hand, if you fail to treat your workers well, best believe this can lead to bad publicity, and can extremely damage the image of your business.
Besides, encourage your present workers to keep contact with their past employer, so you can then hire from the competition. If your employees keep in touch with your rivals and other brands, they can bring you valuable information that will then enable you to gain better talent and expand your brand in the correct way.
5.      Join Hands with Colleges and Universities
Finding fresh graduates for your company will give you a chance to tap top tech talent before they can even reach the professional workforce. Internships are a popular getaway to the flourishing filed of talent. In fact, around 97% of corporations are planning to offer valuable internship opportunities to fresh graduates in the present year.
Following these above-mentioned recruitment techniques will enable you to get your hands on the best tech talent in no time.
Decide Consulting provides IT staffing services. Our conclusive hiring methodology enables us to bring the best IT problem solvers to your organization. Our entire management team comes from an IT technical background giving us a unique perspective on candidates and the industry.