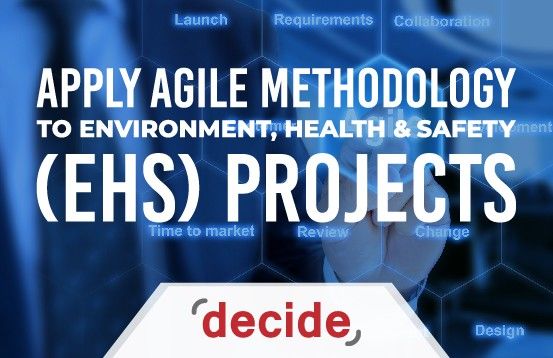 Navigating the rough waters of keeping a EHS job site safe is a complicated and difficult undertaking. Managing the communication across departments, risks, audits and action items can make staying organized difficult and slow down EHS initiatives. And when an accident happens, the reactive nature of fixing the cause of the accident throws off all the proactive efforts that are done to prevent accidents in the first place. Interestingly, Agile methodology. long favored by the software development community, lends itself well to the EHS process.
You don't have to go into a safety project hoping and praying that accidents won't happen and that you are working on the right actions. Thankfully, applying some simple project management tools and fundamentals to your industrial and manufacturing processes will save you time, money and a few headaches.
One of the newer methods of managing projects comes from the software development industry, aptly named Agile Methodology. Agile methodology is a set of principles where findings and actions evolve through the collaborative effort of self-organizing cross-functional teams. It advocates adaptive planning and continuous improvement, and it encourages rapid and flexible response to change. By using a continuous series of time boxed, iterative "sprints", Agile project teams can offer improved efficiency in completing actions. This approach can be used to making a job site significantly safer.
Mitigate Risk
The problem with risk is that sometimes you see it coming…and sometimes you don't. In many cases, perceived safety risks may prove not to be risks at all while unanticipated risks may surface out of the blue. Because many risks are only addressed and discovered during accident investigations, an iterati
ve approach provides a far better opportunity to mitigate them early on because the iterative approach is a near-continuous analysis of what a team is working on. Projects that used to be long, uncertain, and difficult to plan accurately are divided into smaller iterations that start with far fewer elements.
Accommodate Change
Changes in priorities have always been primary sources of trouble to EHS teams. Priority changes lead to late delivery, missed schedules, and poor quality. But the iterative approach takes changing priorities into account from the start.
We must expect a EHS job site to change—it's inevitable. After all, the context is changing. Unplanned events like weather, accidents, near misses, surprise audits happen all the time. Findings from these events creates new ideas and requirements and thereby fosters a more comprehensive safety practice in the end.
Read More: Case Study EHS System For SEC University >>
Read More: Top 10 Problems EHS organizations have with Software >>
Read More: EHS Software Selection >>
Read More: EHS Software Services >>
Achieve Higher Quality
Agile methodology results in action items being more effective and higher quality. Flaws are detected and corrected earlier. Performance bottlenecks discovered early can be reduced, as opposed to being discovered when actions are nearing completion. And because critical functions have had many opportunities to be tested over several iterations, the result is more mature testing methodologies and higher quality.
Learn, Improve, Foster Buy-In
An iterative approach provides opportunities for the entire safety team to enhance their knowledge and skills throughout the project lifecycle, contributing to the ultimate success of safety projects. It provides more opportunities for lessons learned. Testing starts early, and actions are broken down into smaller iterations, so corrections can be started sooner. The result is a better system supported by focused corrective actions of higher quality, making a safer culture. Lastly, the need for additional training or resources can be detected in early iteration assessment reviews. After all, why put off till tomorrow what is better accomplished today?
Conclusion
To foster long-term value and reduce the threats of EHS project success, it pays to be flexible. Taking a highly iterative Agile approach can reap benefits by making the job site safer by making safety initiatives more efficient.
For more information on how EHS software solutions foster an Agile culture to manage your safety projects and actions, contact us.