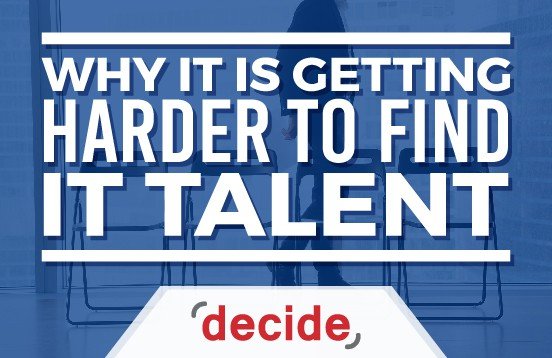 IT is getting harder to find quality IT and technology people. The tech industry is booming worldwide and there is more potential for it to grow even further.
With this technology expansion, the demand for information technology people and talent is becoming greater. The inflow of skilled technology workers is currently less than the demand. Many people are referring to this as the tech skills gap.
Because of these changes and rising trends in globalization, generational shifts, and changing consumer habits, both small and giant companies are realizing the need to get the best tech pros onboard to make the best out of this opportunity
.
But the biggest challenge that all these companies are currently facing, and fear to face in the future as well, is finding, selecting, and recruiting the right people with the right skill who can understand what the needs of the company are and what initiatives it needs to take to excel in this
highly
demanding and competitive industry
.
This leads to the slowdown of the IT job market because labor market for web and mobile designers is although very big but without certified standard skills that people
possess
it shows that there is a 'tech skills gap' that is prevailing in the market of this industry
.
Here in this blog, we explore the major challenge behind this famous 'tech skills gap' and the major IT hiring trends that are the leading cause of it
.
Rising demand for IT professionals
The national tech unemployment rate has been hovering at
just
2.0% for several months, while the average number of days to fill the typical IT position is at a massive 26.7 days
.
This data
clearly
shows that although there is a high demand for IT professionals and skilled people in this area there is not
sufficient
tech talent available to meet this soaring demand
.
It has also
been stated by
the Bureau of Labor Statistics that it
is projected
that this demand would increase by a huge 12% over the next decade
.
The reason for it to increase is that of the job opportunities in the Internet of Things, Cloud Computing, mobile computing and Big Data that would further increase in the future because of less number of people entering or even available for this field
.
Technical skills are hard to find
The major reason behind not being able to find talent in the tech industry that is relevant to your company is because of the quick changes that are taking place in this industry and in the technology itself
.
Employers are,
therefore
, facing a hard time in finding the talent that has the capability and experience to learn on the job and whose services turns out to be valuable for the company
.
From the employee's perspective, they find that they have limited incentives when it comes to serving a company that is so tech updated that it leaves them uncertain about the future prospects of the version of the technology that their employer is going to use
.
They find no gain in putting time and effort on a job and with a certain employer with whom their own future is uncertain and at risk
.
People,
therefore
, tend to find jobs and invest in such skills that
are standardized
, would never
be outdated
, are always in demand, and promise a secure path with reliability and good salary in their future
.
These standardized and legacy technologies that are now considered outdated because of the introduction of new cutting-edge technologies are now left in the dust and there is the demand of such talent that has a command over what is new and what can
potentially
turn out to be the next outbreak in the industry
.
Engineers have started to work for their own self
It has
been noticed
in the past couple of years that many engineers have started to do their own thing,
mostly
electrical engineers, rather than looking for jobs related to their field
.
Even so, some of them have shifted a little bit and either moved into management consulting, software engineering, or other IT related jobs and occupations
.
One reason behind this is that employers nowadays are hiring workers like electrical engineers on a temporary or a contract basis
.
The government data released last year reported that 15,000 electrical engineers
were unemployed
.
Because of these changes, another data from IEEE-USA from last year shows a decline in the number of electrical engineers by 35,000 which are almost about 10.5%
.
A rise in IT salaries
Because of the
rapidly
changing technology, the tech sector demands you to keep yourself updated on new technology
.
This is the very reason why major spikes have
been
witnessed
for those working under such professions
. Not only this, the compensations in the tech world are also getting higher across the board. The jump and the increase in the tech wages have been the largest last year which was 7% YOY increase. Additionally, an increase in the bonuses was also
witnessed
to be 7% apart from the wage increase.
These salaries, wages, and bonuses make it difficult for firms to attract skilled IT employees who might turn down your offer and accept your competitor's job offer because they are meeting their salary demands
.
These skilled workers also have an idea about their demand in the market and
therefore
demand a salary which is often far above what the company is willing to pay
.
From these challenges that
are faced by
the technology industry
regarding
the skills gap, that
is mentioned
above, to the increase of wages for only a particular group of individuals possessing
highly
demanded skills we realize the speed with which this industry keeps changing itself
.
This shows us that employers might still keep facing these challenges in the future because of a shortage of skilled designers and engineers, in short, IT talent
.
Are you finding it harder to locate the good technical and IT talent? Many companies find them selves in the same situation. There are some better ways to locate and attract the right it and technical people to your company. Contact us to learn more.