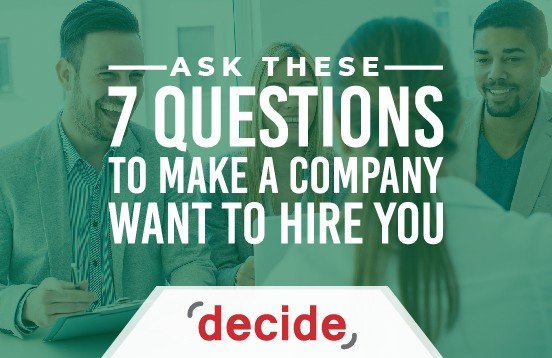 Interviews are not really a walk in the park. Not only do you have to be equipped with sufficient information regarding what the company does and what your role requires you to do, but you also have to revise the basic knowledge regarding your line of work. Considering that an interview is one of the most important stages of a hiring process, most employers have a keen eye on how you perform. Do a good job here and you would be considered good to join the company. Make sure you do a good job by having some great questions in the interview. This article gives you some ideas on great questions to k to make them want to hire you.
Although most talented individuals giving an interview are prepared to answer the technical questions regarding their line of work, they are ill-equipped when it comes to engaging in a conversation with the interviewer. Almost every interview requires you to ask some questions of your own, and if you aren't able to do that, you might not be able to give the right impression to the interviewer.
To assist you during the interview process, we have come up with a list of 7 questions that you can ask. Have these questions in your mind and make the company want to hire you by asking them at the right time.
Why did you take the Job Here?
The interview you give should show your confidence, and nothing shows confidence as much as asking the interviewer what made them take up the job in this organization. Not only will this get them talking, but it will also tell you how they feel about the company as a whole. Such interactions within an interview go a long way in making you aware of the motivation within employees currently, before you have even joined the organization. Not only this, but if an interviewer sits in a higher management position, you would also get to know what their story was and how they have fared over here in this company.
What do the Most Successful People Here Do?
The next question that you should come up with is to ask the interviewer about the attributes of the star performers within the organization. You can phrase the question even better by asking about what makes them stand above the rest of the employees. You could then take the answer they have to this question to define yourself when it comes for you to do that. This information will go a long way and will let the interviewers know that you have the attributes of their current star performers. Moreover, this is also a good way to let the interviewers in the room know of your capabilities and also that you are aiming for the top.
Read More: Ace that IT Interview Part 1 >>
Read More: Ace that IT Interview Part 2 >>
Read More: 10 Things to do to Prepare for an IT job Interview >>
Read More: 10 Questions Smart Software Developers Ask in Job Interviews >>
What is the Background of Star Performers?
Knowing the background of the star performers and people that are in good favor with the organization can actually help your cause in the interview. This information will let you know of things that you should bring up during the interview, or things that you should rather not talk about. If you feel that a particular attribute you have is common with what is being mentioned then now is the time to bring it up and leave a mark. Even add an anecdote to tell how that attribute helped you out with a previous employer.
Any Hesitations?
Now is the time to clear any causes of hesitation and present yourself as the perfect choice. So, if there is anything in your resume that is making them hesitate before hiring you, then now is the perfect time to get this question across. Know what they are thinking, and clear any misconception if there is any. Don't leave any doubts or hesitations unattended to, and make sure that you leave the room only after you have presented or rather sold yourself in the most becoming manner.
What are the Must-Have Attributes?
A good question that you can ask the panel taking your interview is that what qualities about a candidate would make them say, "We must hire this person!" The question is self-explanatory and the answer to it will help your cause further. Knowing what attributes the panel wants to see can help you in showing these attributes in an even better manner.
What are the Current Opportunities the Company Has?
Asking them about the opportunities currently present in the organization for all kind of workers will get them to sell the organization and the job to you; which is the perfect scenario to have in an interview. You would also want to have them sell the job to you, which is why asking this question will further your cause. Knowing about the opportunities currently present for your or any other worker will also make you clear about how you see yourself a couple of years down the line in the same organization.
What are the Next Steps?
Don't forget to ask the most vital question out of the lot. Asking about what will follow this interview is really important and will make your mind clear on what to expect. Don't just ask about the next step for you or them, but try using the term 'We'. Considering that organizations nowadays are looking to speed up their hiring process due to stiff competition, we surely believe that they would give you a definite answer, based on if you have asked the questions mentioned above.
Your interview is bound to be an important part of any organization's hiring process, so make the right impression and get the panel to talk about you and your presence after you have left the room. Get these questions out in the open and leave the interviewers in awe of your confidence.
Decide Consulting provides IT staffing services. Our conclusive hiring methodology enables us to bring the best IT problem solvers to your organization. Our entire management team comes from an IT technical background giving us a unique perspective on candidates and the industry.