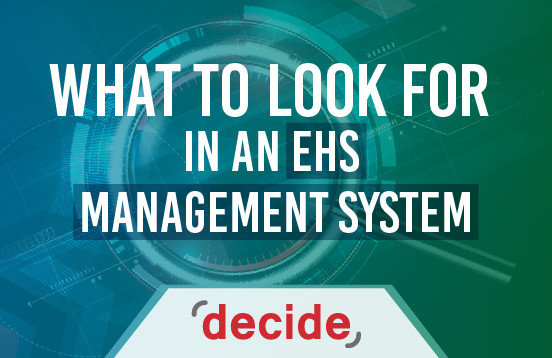 The business justification of a modern EHS software system should be a straightforward, low-risk management decision. Most companies today are still using spreadsheets to manage their EHS program. As regulatory agencies become more sophisticated in tracking, reporting, and compliance enforcement, spreadsheets are simply not viable and create risk of non-compliance events and lost productivity. Compliance experts estimate that 80 percent of enterprises use spreadsheets to support critical business functions.  Spreadsheets are powerful and effective in small groups, but quickly break down when collaboration is needed across the organization. We need to plan ahead and determine what criteria we want look for when selecting an EHS management system.
Visibility: Dynamic dashboards with data drill-down capability offer flexible data visualization and management transparency. Easily identify sites for improvement, highlight issues immediately, analyze performance and trends over time, and track corrective actions.
Mobile Capability: Mobile is revolutionizing EHS, making it easier for enterprises to collect and manage data. Today's EHS mobile apps enable employees to capture data on-the-go and alert management instantly of any issues.
Read More: Three EHS KPIs That You Are Probably Not Tracking >>
Read More: The ROI on EHS Systems is Better Than You Think >>
Read More: Top 10 Problems EHS organizations have with Software >>
Read More: Getting IT to buy in to your EHS software project >>
All-In-One System: Seek a software solution that can manage complex, high-volume environmental data AND safety-related information in one system. This type of solution establishes a central system of record for your enterprise and automatically generates accurate regulatory and internal management reports. Look for a system that can both scale up to the needs of a large enterprise and scale down to mid-sized companies facing similar challenges.
A modern EHS Management system will redefine efficiency standards for your enterprise. The centralization of knowledge, more accurate data, and enhanced management visibility will significantly reduce risk and incident occurrences, while reducing substantial costs. The ROI is typically more than 5X the cost of the software, with a payback period of well under 12 months.
Decide Consulting can get you started on your EHS systems implementation or get an existing implementation on the right track.  With DecisionEHS, you will get:
Comprehensive model of your existing EHS data needs across your organization.
1 year, 3 year and 5 year system roadmap towards consolidating your EHS data.
Vendor scorecard tailored to your EHS needs and budget to aid in your software selection.