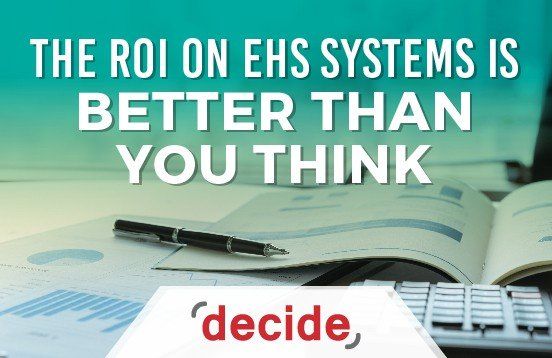 Many people think an Environmental Health Safety (EHS) system is too expensive, that it won't provide the ROI they're looking for. But actually, it's more expensive not to implement an EHS system. The ROI is much better than you think!
Even a small EHS department will find it reaps in immediate cost savings, and larger EHS departments will see significant returns. In fact, these systems pay for themselves in just one year. Many cloud systems are pay as you, so users do not have to purchase a module for every user. For a single process, the cost to implement an EHS system can be less than $20,000.
What is EHS?
Environmental, Health and Safety systems help protect employees in a number of industries. These systems help to lessen the negative impact companies have on the environment.
EHS systems help keep businesses operating within regulatory compliance, allowing employers to keep their minds on protecting the health and safety of their workers. An EHS system is a smart investment because of its material and intangible benefits.
Read More: Three EHS KPIs That You Are Probably Not Tracking >>
Read More: Top 10 Problems EHS organizations have with Software >>
Read More: Getting IT to buy in to your EHS software project >>
Read More: What to look for in an EHS Management system >>
The Benefits of an EHS System

EHS systems offer businesses a variety of benefits. These include:
Increased employee morale: Introducing an EHS system shows employees their management team truly cares about their wellbeing. This often offers businesses measurable benefits like fewer instances of absenteeism and lower staff turnover.
Better company culture: With an EHS system, the company's safety culture will improve because employees see these processes and programs as beneficial. Again, they'll see that management cares. This improved safety culture will lead to fewer workplace incidents and help drive down costs.
More effective safety programs: An EHS system will help businesses focus on their staff rather than paper processes because the system takes care of these processes.
Direct cost savings: Businesses will see lower costs related to workers' comp claims because there are fewer injuries. This includes costs for doctors' visits, insurance costs, legal fees and more. In fact, fewer incidents can help lower insurance premiums, providing longtime cost savings.
ROI on EHS Systems

When calculating the Return on Investment an EHS system would offer your business, it's important to look at the direct savings these systems offer.
Additionally, in order to correctly calculate ROI for your business, execute the following steps:
First, figure out how many employees actually work on producing reports for OSHA, EPA, and other clients and constituents such as these.
Next, calculate the average percentage of hours these employees spend entering and consolidating data, writing and sharing reports, and looking through older reports on a regular basis.
You'll need to figure the average salary of the EHS professionals your company has allocated to doing this type of work. When the EHS processes are automated, your employees will spend their valuable time on other projects, rather than working on EHS reports.
Finally, remember to consider the benefits of better visibility into your EHS data will offer your business. Add in the cost savings related to lower incidents, lower turnover, higher morale, and the improved commercial benefit achieving certain industry certifications will afford you.
Remember, accidents and injuries are costly in many ways, financially and in human terms. You know that you have a duty to provide your employees with a safe and healthy workplace, and a good EHS system powered by software will help you fulfill your obligations to your employees while you add value to your business and cut costs related to workplace incidents.
Small, Medium, and Large Businesses
No matter the size of your organization, the ROI on EHS systems is better than you think.
Small Organizations: One small business purchased an EHS system to manage their audits. The automated system allowed them to automatically schedule audits instead of manually scheduling them. They reduced manhours and overhead, which resulted in a resource savings equal to 3 full-time employees. This was a savings of over $150,000 in labor costs which they were able to repurpose in order to do more productive work. Their system paid for itself by automating a single process and the system was used across the company.
Medium Organizations: One medium-sized business employed a Quality Control process that took more than 45 days to complete one cycle in a manual process. This was because of the company's diverse locations and their need to compile data from a variety of sources. Using automated solutions, their QC process was reduced from 45 days to a single day. This was a savings of over $10,000 each time the process was run, and it was run 30 times a year—saving the company more than $300,000.
Large Organizations: One large company with an EHS department of over 200 business systems and spreadsheets driving processes, saved money by initiating a single, EHS solution. In this way, they were able to reduce the number of systems from 200 to a single system. This reduced their license and maintenance costs by over $1 million for the software alone. It also saved a great deal of money on both labor and processes.
As you can see, an EHS system allows employees to feel safer, improves morale, and it improves your bottom line.
Are you finding it harder to locate the good technical and IT talent? Many companies find them selves in the same situation. There are some better ways to locate and attract the right it and technical people to your company. Contact us to learn more.