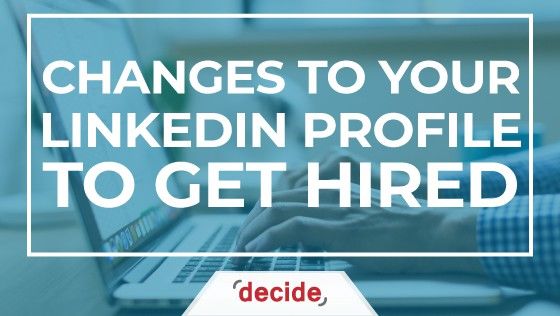 Did you know that 90 percent of recruiters use LinkedIn? The platform plays a pivotal role in the recruitment process for most organizations and allows organizations to find new talent easily. Having an attractive LinkedIn profile is critical to getting your dream job. However, given the number of people that are part of this social network, most job seekers are unable to use this platform to find a good job.
So what can you do? As it turns out, simply creating a profile on LinkedIn isn't good enough. You need to customize it in a manner that makes it easier for you to be found. Read on as we discuss some of the most important changes to your LinkedIn profile that make this happen.
1. Write a Search-friendly Headline
Most professionals opt for complex headlines that use difficult or unusual words. While there is a certain appeal to such headlines, they are also counterproductive and make your profile harder to find. What you need is a search-friendly headline that uses keywords highlighting your profession and area of expertise.
For instance, instead of describing yourself as "Code Guru" in the headline of your LinkedIn profile, we suggest you opt for something simple such as this:
IT Project Manager | Program Manager | Head of Strategy and Implementation
Writing a clear headline, which includes proper keywords, will improve the visibility of your LinkedIn profile and make it easier for recruiters to find you.
2. Know What to Include the Summary
The summary portion of your LinkedIn profile is essentially a comprehensive overview of your resume. Make sure it is clear, concise, and discusses your professional experience and qualifications. Avoid copying your resume in the summary.
Instead, you need to talk about your core strengths and capabilities in a manner that is easy to read. Some of the things you need to include in this portion of your LinkedIn profile include:
Key skills
Non-technical competencies
Make sure the summary portion is at least 500 words long and delivers a strong impression of your capability as a candidate.
3. Include Your Experience and Qualifications
Another critical portion of your LinkedIn profile is your professional experience. List all the previous jobs you have held and describe your role, responsibilities, skills, and competencies. You can also mention your key achievements respective to each role.
You need to list your educational qualifications, as well. Including these sections will allow the recruiter to assess if you are adequately qualified for a certain role.
Read More: If you are In IT, Do this to your Linked in Profile >>
Read More: 8 Easy Tips To Writing s Successful LinkedIn Profile >>
Read More: How to Find Remote IT Jobs >>
Read More: Top 5 STEM Careers for 2020 >>
4. Add Skills
You also need to list your skills separately. For instance, if you are well-versed with Angular, consider listing all of the things that you can do using this application. This will let the recruiter know that you are familiar with the tool and will distinguish your profile from another candidate who has only mentioned it once on their profile.
Skills can also work as keywords for searching your profile. If a recruiter is looking for a candidate possessing a certain skill, then having this skill listed on your profile will make it easier for them to find you.
5. Ask For Recommendations
Another great way to improve the visibility of your LinkedIn profile is to ask for recommendations from your clients, colleagues, and managers. This is easily one of the most important changes to your LinkedIn profile. When other industry professionals and customers affirm to your skills and capabilities, it lends more credibility to your profile and encourages the recruiter to consider you for a role.
Conversely, you can also write endorsements and recommendations for other colleagues. Recruiters tend to look at profiles that write recommendations for other professionals. This indicates that they have an acute understanding of the role and are able to understand and discern high-quality work. It also showcases you as a team player, which is a critical skill that managers look for in new hires.
In a Nutshell
There are several important changes to your LinkedIn profile that you need to make in order to improve your visibility on this platform. Try not to be too verbose. You need to write a short and attractive summary that provides recruiters with sufficient insight regarding your knowledge, skills, and abilities.
Make sure you expand upon your list of skills and add any relevant certifications if possible. You can also build your connections, follow recruiters that serve your industry, and engage with them. This will significantly increase your chances of getting considered for a potential role.

Are you finding it harder to locate the good technical and IT talent? Many companies find them selves in the same situation. There are some better ways to locate and attract the right it and technical people to your company. Contact us to learn more.