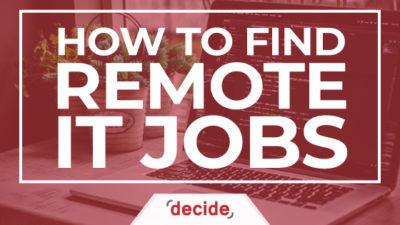 Do you enjoy job flexibility? You are not the only one. As per a 2016 study by Deloitte, 75 percent of the millennial workforce prefers to work for organizations that offer a chance to work remotely. Of course, given the current global situation, remote work has become a necessity. Nevertheless, finding a remote IT job can still be a challenge.
In this article, we discuss the nuances of the remote hiring process and how you can find remote IT jobs.
Let's get started.
1.   Get In Touch With an IT Staffing Firm
The first thing you need to do is look for staffing firms that specialize in recruiting IT professionals. You can look for agencies that focus on Information Technology and Software Engineering roles. Many staffing agencies deal in a variety of areas such as administrative, manufacturing, financial, medical, and technology.
While reaching out to these organizations might seem like a good idea, in the beginning, their diverse focus can work against you eventually. For instance, imagine the number of applications they must receive on a daily basis. The competition is likely to be stiff and making your application stand out will be a big challenge.
To avoid this, we suggest opting for a staffing agency that focuses solely on recruiting candidates for IT roles. This can help you find a job much faster. Given their niche focus, it's also likely that they work with multiple technology firms who could use your services.
At present, most staffing firms are also used to accommodating demands for remote work. They have adjusted their client base accordingly, as well.
2.   Update Your LinkedIn Profile
Preparing a strong and attractive LinkedIn profile is mandatory for every job seeker today. You need to highlight your skills, qualifications, and experience in an engaging manner to catch the attention of a recruiter or headhunter.
Fun Fact: 95% of recruitment agencies rely on LinkedIn as a sourcing tool for locating top-tier talents.
If you are trying to find remote IT jobs, make sure you mention this on your LinkedIn profile, as well. This communicates your expectations to the recruiter and helps save your time.
3.   Be Flexible
Even though you are applying for a remote IT job, it's important to let your potential employers know that you are open to traveling for work and attending team meetings. This displays your flexibility and highlights your ability to adapt as per the job role – both highly attractive qualities in candidates.
If you are unable to cooperate, the organization may deem you as unfit for their company culture and you could end up losing a great opportunity.
The rule of the thumb for remote workers is to assume that they can perform at least 80% of their tasks remotely. The remaining 20% might require them to actually show up and be physically present at the workplace.
Read More: Things to Consider when Hiring Remote Tech Talent >>
Read More: How to Get the Most of Remote IT Talent >>
Read More: Remote IT was Trending Before COVID >>
Read More: Software Developer Jobs may Double in 10 Years >>
4.   Highlight the Benefits of Hiring a Remote Worker
Companies with traditional workflow processes often feel reluctant to hire remote IT workers. Don't let this discourage you though. Even if they are not entirely on board with your request, you can ask to meet with their hiring manager and potentially change their mind.
Like every interview, you'll have to sell the idea of remote work to your potential employer. You can highlight the benefits of hiring remote workers – for instance, since you won't be commuting to work, you can dedicate that time toward completing your tasks. This can be a significant advantage for the company as it allows you to meet deadlines and deliver work on time.
You can also address their concerns regarding employee productivity when working from home. Let them know that you have a very productive home office and stress on your time management abilities. Finally, you can reassure them of your work ethic, transparency, and ability to communicate with team members while working from home.
5.   Expand Your Network
If you are trying to find remote IT jobs, then we strongly recommend expanding your network and applying for jobs in other cities and countries. A great thing about having a remote job is that you can work from anywhere. All you need is the right tools and an internet connection.
You can use this flexibility to your advantage and explore work opportunities in multinational organizations. This can help you improve your portfolio and advance your career accordingly.
The Bottom Line
Given the current state of the job market, it could be a challenge for you to find remote work. However, if you keep at it, you should be able to find remote IT jobs that catch your interest.
Remember to keep your LinkedIn profile up-to-date, reach out to IT staffing agencies, and be willing to explore job opportunities in other countries. Good luck!

Are you finding it harder to locate the good technical and IT talent? Many companies find them selves in the same situation. There are some better ways to locate and attract the right it and technical people to your company. Contact us to learn more.