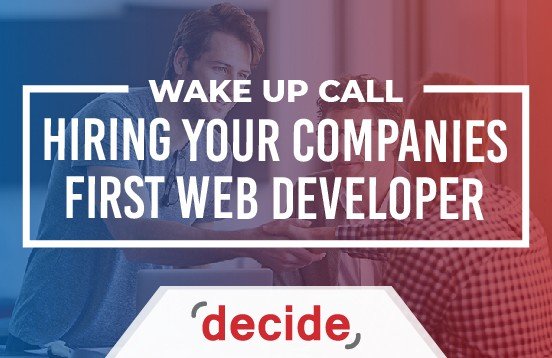 Consider this common scenario many growing small and medium sized business (SMB) face. An SMB with $25 million yearly revenues will likely have a CRM system, accounting software, and an operational software package. They must have a website that they maintain in a Content Management System (CMS) like WordPress or Drupal. At some point these companies will have to add functionality to their site, integrate their separate systems, and provide some reporting to the management. This is when growing SMBs realize they need to hire your first web developer. For a growing company not used to hiring technical and IT people, this can be somewhat of a wakeup call.
When it's time to hire a talented web developer for your company, it's essential that you make the right hiring decision. The tech talent you hire must be outright brilliant and experienced who can take your growing company to the next higher level. Otherwise, you're just wasting your money and time by hiring someone who won't last long and you would have to hire a replacement soon. This turnover cycle is only going to hurt the prospects of your company. And that is something you can't afford in this competitive business world. Remember, your loss is an opportunity for another business.
Today, companies comment that despite the efforts they put into their hiring procedures, they're unable to find tech talent that fits their demands and preferences. Sometimes the candidates don't have the right experience and sometimes they quote a salary that exceeds the budget of a company. And then there's always the case where a company ends up hiring tech talent that's good for nothing.
So what must be done to overcome this problem that worries a great many business owners today?
In this article, we'll share some useful tips that business owners must employ if they want to reach out, hire, and retain a talented web developer. So let's get started.
Read More: It is a Good Time to be a Software Developer >>
Read More: The Battle for Tech Talent – Why IT Recruiting is Getting Harder >>
Read More: 3 Tips for Navigating the Tech Talent Shortage >>
Read More: How Employers Plan to Deal With the IT Skills Gap? >>
1- See That the Candidate Fits Your Culture
Of course, you want to avoid frequent rehires. That's why make sure you make the right hiring decision the first time you have to make one. And for that it's vital that you screen each candidate with respect to your company culture. See if the candidate has the right level of determination, curiosity, and persistence crucial to your workplace environment or not. For instance, if your company is still in a growing phase, then hiring a web developer who has previously worked in some established company might not be a wise choice. It's because a startup demands risk-taking, versatility, and a personality that's comfortable with taking initiatives. Thus, make a list of your requirements and try to assess each candidate accordingly. Of course, you won't find a perfect match, but you'll end up making a good decision.

2- Look at "Buy Before Building" Again
If business owners don't know what they're looking for, then they won't make a rewarding decision. Make sure you're well-aware of what you're looking for in tech talent. Do you want to integrate your separate accounting and CRM systems into one? Are you looking for someone who knows how to work with the latest technology that you're implementing? Sometimes hiring tech talent is not even the most viable solution to the problem a company is facing. You can just change the company application and save all the money you were about to spend on a tech personnel. Knowing what you're looking for in tech talent and considering all angles will result in you making the right decision.
3- Consider Hiring on Contracts
Sure it may cost you a little more than you expected when you add the total cost of an entire project, but hiring tech talent like web developer on a contract is not such a bad idea. The best benefit you'll get from this is the guarantee on the results.
4- Hiring Tech Talent Is Different from Hiring Operations People
As long as you're hiring operations people, like truck drivers, office clerks, and industrial managers, running an ad on ZipRecruiter might get the job done for you. But when it's about hiring someone as crucial as a web developer, you better steer clear of posting an ad for the vacancy on ZipRecruiter. A web developer will collect data from your WordPress site and integrate it with five other systems in order to give you a technology roadmap. That kind of personnel is not looking for jobs on ZipRecruiter. For someone as sophisticated as a web developer, go for referrals or take help of headhunters.
5- Be Flexible
How about the idea of hiring tech talent that seems the closest fit to your requirements and train them? Considering that the demand for tech talent is high and that IT companies are employing more severe means to hire the best tech talent in the market first, there is a chance you might not find the ultimate web developer you're looking for. You can test the competence by handing your web developer a project that's not very critical and see how the person in action performs. The lacking areas can be further honed by contractors.
6- Expect a High Salary Quote
Considering the high demand of tech talent in the market these days, you must know that such a demand comes with a high price as well. A good, qualified, and experienced web developer always has more than one opportunity in front of them. So when you find someone who's ideal for your company, don't just let him or her walk away if they quote a high salary. They will get that salary from some other company, but you might not find another skilled web developer like the one you let walk away.
7- Tech Talent Is in High Demand
There is very low unemployment in the IT industry. Tech and IT companies are talking about the "tech skills gap". Such a gap exists because the technical skills required for advanced IT positions are getting more specialized. And finding such extraordinarily talented tech experts is next to impossible. That's why companies in search of tech and IT talent would have to employ more extreme means to find the best rated tech talent before their competitors.
8- Consider Getting Help
Growing companies might face trouble in hiring tech talent these days. Thus, HR teams of such companies can seek help from headhunters and IT recruiting firms. That's what they're there for. Such professional services understand your demands and might find some suitable tech talent for your company.
Finding the right tech talent demands the organization of work. Before you start your hunt for a web developer, carefully devise your hiring strategy. Make sure the salary and benefits package is market competitive. If it's not, see what improvements you can make in it. After all, you must give yourself every advantage when it comes to hiring an expertise that's very hard to find.
Are you finding it harder to locate the good technical and IT talent? Many companies find them selves in the same situation. There are some better ways to locate and attract the right it and technical people to your company. Contact us to learn more.