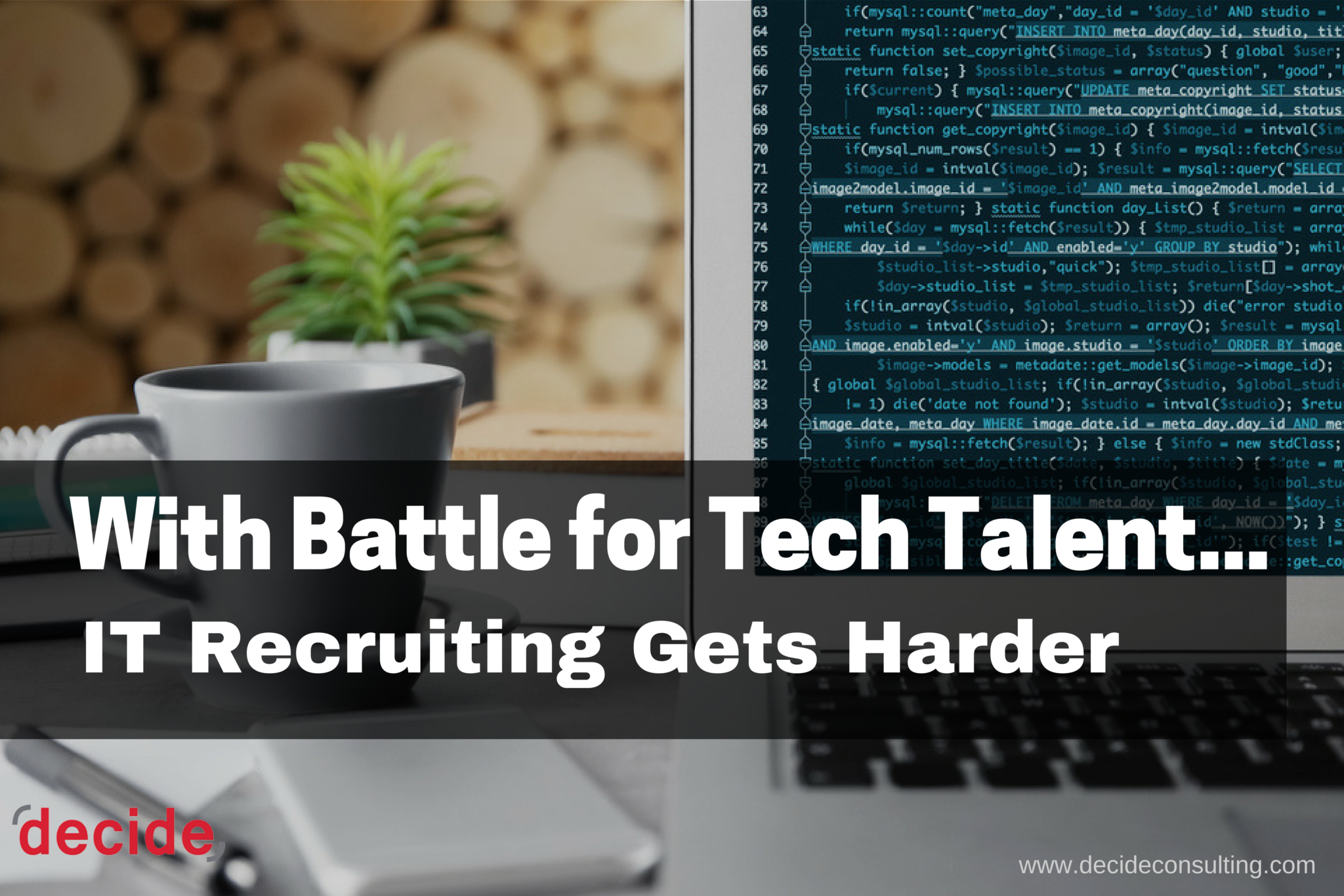 Digital transformation is taking hold in our modern economy. Businesses that want to thrive require a new generation of tech talent with a forward-thinking, entrepreneurial mindset. These talented people can harness emerging and complex technology, drive innovation and empower change. There is a battle for these individuals who have this technical talent.  They are in high demand. The IT recruiting functions is getting harder as a result. Companies who want these highly talented technical minds need to do more to find and attract them.
With nearly 75 percent of CEOs identifying a lack of new technology skills as a major threat to their businesses in PwC's 2016 Annual Global CEO Survey, one of the biggest challenges facing companies is gaining access to the talent with the new technology skills necessary to deliver Digital Transformation. In this article, we look at the state of the tech job market, the emerging fields that are driving demand for top talent and a few strategies to help you find the tech talent you need now.
The State of the Tech Job Market
Today, every company is looking to break into tech, and the booming sector of the economy has made the market for top talent fiercely competitive.
Both tech and non-tech firms looking for coders, software engineers, machine learning experts and AI talent, but it's getting harder to find people with these skills due to the high demand. A lack of critical talent can translate into a range of business challenges. According to a survey of over 1000 tech hiring managers and recruiters, 83 percent of respondents said the tech talent shortage (or increase in competition) had hurt their businesses via lost, revenue, slower product development and increased employee burnout.
Understanding Today's Top Tech Talent
In order to land top talent that will help grow business and empower change, business leaders must both understand the needs and preferences of today's top tech talent and know how to identify highly specialized skill sets as they relate to emerging technologies. Top tech talent prioritizes compensation, career advancement opportunities and the opportunity to work on cool products above working in a company with a flat corporate structure or at a company with longevity, according to a leading IT and Engineering staffing agency.
Read More: Software Developer Jobs may Double in 10 Years >>
Read More: $500K, Stock Options and No Experience Required: AI Jobs are in Demand >>
Read More: Why Is It Harder to Find Talent for Your Tech and IT Jobs >>
Read More: IT And Technology Roles We Place >>
A recent survey conducted by The Mission revealed the following three key trends and challenges facing companies recruiting tech talent right now:
1. If you feel stuck in your search for talent, you're not alone.
For both hiring managers and candidates, attracting / identifying potential options (candidates or jobs), is a top concern. 52 percent of hiring managers cited attracting enough candidates as the biggest concern, far above any other issue. For candidates, discovering relevant open jobs was the second most common challenge. This may be due to the combined opaque nature of job opportunities and candidates' desire to hide their interests in a new job from current employers
2. Candidates feel like they cannot rise above the crowd or break through the initial resume / application filter
Hiring managers may have a very heavy filter that screens out many candidates before they even have a chance to speak to anyone. If your filtering is too aggressive or set improperly, you may be missing out on potentially well-qualified candidates.
3. Assessing technical ability tends to be a bigger challenge than assessing cultural fit
According to the survey, assessing tech ability and clearing technical hurdles was frequently cited by hiring managers and candidates as a major challenge throughout the recruiting process.
Emerging Fields Are Increasing Hiring Competition
The advent of new tech fields such as AI, Machine Learning and Big Data, have led to increased demand for, particularly, highly specialized tech talent. Among the hardest positions to fill are those related to database management, desktop support, network administration and cyber security. And while the growth of IT graduates should help meet hiring demands, there will be increased hiring competition, which makes hiring harder.
Let's take a look at some of the most in-demand areas and the related recruiting challenges:
Automation and AI
Automation is growing rapidly, requiring more data and software technicians as well as traditional engineering talent. Although it used to be primarily tech companies looking for tech talent, that's not the case anymore.
As non-tech companies seek to break into tech, they may end up siphoning away talent from other sector in. The same is true of alternative energy, medical tech and other fields beginning to compete directly for tech talent.
Data Analytics
Another hot area in tech right now is Data Analytics. An increasing amount of companies are looking to hire a full time employee to manage analytics, however, training is still catching up making the pool of qualified candidates small. Finding well-qualified candidates with this new skill set has proven to be challenging for many companies. This gap is creating a new crunch for hiring managers tasked with hiring a specialist in such a new field. However, this also creates opportunities for in-house training.
Finding the Tech Talent You Need Now
If your business is looking to compete for top tech talent, you should know that geographic location can also play a big role in the candidate's decision making process. Most top tech candidates are attracted to leading tech hubs and highly populated areas like Silicon Valley, New York City and Seattle. Competing for top talent is particularly challenging for companies not located in a major metropolitan area.
Additionally, IT positions are taking longer to fill and companies are becoming frustrated with their partnerships with recruiting firms. The challenge facing companies who partner with IT staffing firms is that many firms have a model where they hire inexperienced recruiters straight out of college who, oftentimes, do not have the understanding of the technology necessary to deliver qualified candidates who are a fit in terms of both hard and soft skillsets.

To have the ability to find, identify and hire the highly specialized tech talent that your company needs to be successful, you need a recruiter who understands the market and the technology. If you're in need of top executive tech talent, contact us at Decide Consulting to learn more about how we can help you