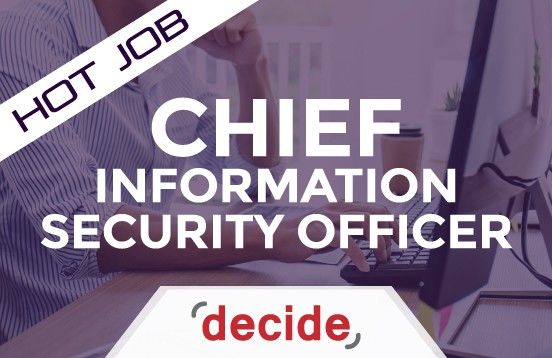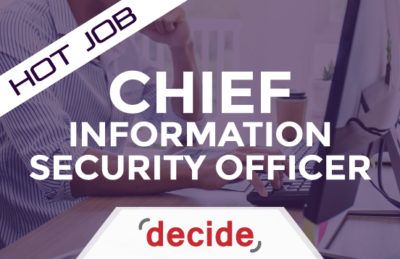 Hot Job – Chief Information Security Officer / CISO
A Chief Information Security Officer (CISO) is the head honcho behind the cyber security of an organization. Responsible for overlooking, managing, and leading any initiatives that strengthen the cyber security of a company, a CISO is one of the most lucrative C-level jobs right now.
With growing threats and awareness of cyber attacks, the responsibilities of a CISO are definitely expanding. To think that a company is beyond the growing sophistication of cyber attacks is a delusion. While healthcare is a common target, according to Statista, the greatest data breaches in the last four years have happened to supply chain networks, retail, and e-commerce businesses.
Retail companies, in specific, have colossal data on their customers that needs to be kept confidential by law. Back in 2018, Wendy's, a famous US fast-food chain in the Philippines, lost huge amounts of crucial customer data to cyber attacks. While this is just one example, companies are finally realizing the unimaginable loss caused by data breaches and are actively recruiting capable CISOs for data security.
Berkshire, Hathaway, Amazon, Apple, and Mckesson are just some companies that are big on CISOs. So, if you want to become a chief executive security officer, you're going to be very lucky soon. Here's the latest guide on the skills, education, and background you'll be needing to land a CISO job.
Background
Since this is a high executive level job, experience is key. You need to have spent years and years in information security to qualify for a CISO. Both your technical and non-technical experience will count here as you prepare yourself for this position.
A good start to your career will begin with becoming a network, security, or system administrator to form a solid foundation and to get the hang of technical expertise. You can then move on to a specialized position like a Security Specialist, Analyst, Consultant, or a Security Auditor. By committing to a specialized field, you will have a good idea on how to secure the infrastructure and locate any vulnerability in the information security system. Ideally, by now, you can join a senior level position and put your management skills and cyber security expertise to use. Become a Security Manager, a Security Director, or an IT Project Manager for the final touch on your skills.
The role of a CISO is constantly evolving and all of this experience in project management and risk management along with technical know-how will sufficiently prepare you for the profession.
What You Will Do
The responsibilities of a CISO are growing and moving in a lot of directions. Here's a brief overview of the main day-to-day tasks that a CISO must undertake. Since the job requires skillful management, risk-taking, and technical knowledge, a CISO is responsible for hiring IT security experts and guiding them in their respective field. But most importantly, a CISO has to design a strategic plan to implement the IT security technologies and use them in the best interest of the company.
Predicting security threats and vulnerabilities, looking into any existing weaknesses in the company's networks, and designing a contingency plan to handle any security incidents are also a few main tasks of a CISO.
As a supervisor, a CISO overlooks security policies and procedures to ensure the IT systems are developed in compliance with them. Scheduling security audits and measuring them against the defined standards, staying up-to-date with modern security infrastructures, and complying with any investigations of IT security departments are long-term roles of a CISO.
And lastly, as a leader, a CISO must always keep their employees up-to-date and offer training in the security field. A CISO basically deals with all the crucial stakeholders of a business as they consult with the senior management of the company to implement and renew any existing IT security policies and regularly report to the CEO on security aspects.
Read More: Benefits of a virtual CISO over a full-time CISO >>
Read More: Technology Spotlight: Vulnerability Management and Penetration Testing >>
Read More: Cybersecurity Certificates to Boost Your Earnings >>
Read More: Cybersecurity Best Practices >>
Core CISO Skills
There is no doubt that such a complex, highly technical, and leadership-oriented position requires exceptional skills. Even when you're still preparing for a CISO position, these skills are going to help you greatly.
1. IT Experience
As aforementioned, knowledge of security solutions and troubleshooting will only come with IT experience. A CISO will have to test web applications to eliminate security vulnerabilities, audit information systems, and design suitable security solutions.
2. Information and Computer Security
Experience in both information and computer security will help CISOs build information security programs to keep cyber threats out of the system.
3. Data Science
The cyber threat is going to explode with growing data and IoT devices. IT architectures have to be more complex and secure. CISOs should have some knowledge of data science or collaborate with data scientists to respond to data breaches appropriately.
4. Business Management
Knowledge about business management is extremely important to develop soft skills as a leader. Business experience in governance, strategic planning, and compliance management can greatly help a CISO.
5. Cloud Computing
Companies are increasingly transferring sensitive data to the cloud, and often, CISOs have to set up a strong cloud security. For this reason, knowing cloud computing can help build a cloud security team and educate senior management on how to use it safely between vendors and the stakeholders.
6. Strategic Planning
Strategic planning through measuring risks, predicting future threats, and recruiting a capable team for long-term cyber security are essentials skills for a CISO.
7. Risk Assessment and Management
Security is inherently tied to risks. As more and more security systems are automated, there is a greater risk of transferring crucial data to third-parties. A CISO needs to make smart risk assessments of IT architectures, quantify and present them to the business leadership. A CISO should be able to define these risks and design security solutions to minimize them.
8. Financial Acumen
A CISO should weigh out the cost of each security solution and communicate its Rate on Investment (ROI) to the high-management. By doing so, they can assert the importance of investing in cyber security.
9. Effective Collaboration and Communication Skills
Communicating the risks, vulnerabilities, and the importance of security solutions to higher-level management requires effective communication skills.
Education
Most CISOs have a Bachelor of Science Degree and then acquire an MBA degree. Computer Science, Engineering, Management Information Systems, or Economics are reasonable backgrounds to kick-start your CISO career.
Why You Should Apply for CISO
By now, you must have realized that the main CISO requirements heavily rely on experience and deep technical knowledge. Not everyone can qualify and garner this kind of senior-level security experience. More and more companies are moving their data to the cloud or automating their security systems, and that calls for intense security protection. Only a CISO will have special skills to design these security solutions and implement them in a company.
Therefore, the ones who do end up becoming CISO are highly paid candidates. The highest paying chief information officer gets a whopping $312,762 in Texas, while the lowest paying chief information officer receives no less than $173,856 in the USA alone. As a CISO, your policies and strategies will determine the future of the company's security. And, that alone is enough to make you a favorable candidate.
Any company that loses its data to cyber crimes ends up losing huge revenues. Big industries, large-scale corporations, and major retail chains are constantly on the lookout for experts who can secure their data and provide security solutions. And this is why a CISO is a highly exclusive and extremely lucrative profession.
Pay
Nationwide
Texas
Low
M ed
High
Low
M ed
High
Chief Information Officer (CIO)
$173,856
$206,390
$292,301
$186,026
$220,837
$312,762
Chief Technology Officer (CTO)
$148,438
$178,939
$253,158
$158,829
$191,465
$270,879
Chief Information Security Officer (CISO)
$146,913
$174,110
$246,296
$157,197
$186,298
$263,537
Companies in Houston With the Most CISOs
IBM
BMC Software
PwC
British Petroleum
Cheniere Energy
AIG
S. Department of Homeland Security
TechnipFMC
Other CISO Statistics:
There are 364 CISOs in Houston
197 have Agile Experience
137 were educated in Texas
277 were educated in the US
271 have post graduate degrees
27 are Job Hoppers
91 are or were contractors

Are you finding it harder to locate the good technical and IT talent? Many companies find themselves in the same situation. There are some better ways to locate and attract the right it and technical people to your company. Contact us to learn more.