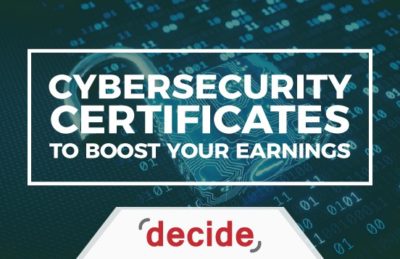 Cybersecurity is a hot topic for every CIO and CTO today. Every day new cyber incidents are reported. In 2018, Sears, Best Buy, Facebook and Panera Bread all reported cyber-attacks and incidents. This has increased the demand of professionals who can help the organizations secure their systems. So, if you have some really good cybersecurity certificates on your IT resume, you can present yourself as an ideal candidate. Such certifications open a tremendous window of opportunity for you to explore.
Cybersecurity certificates are an excellent way to boost your earnings. With these certificates, you can increase your competence and gain an edge over other competing candidates. Here are top five cybersecurity certificates that can help you up your professional game and increase your demand in the IT field.
1. Certified Information System Security Professional (CISSP)
Certified Information System Security Professional is a popular certification which is highly valuable if you are thinking to get into the network security area. CISSP has become necessary for the applicants in the majority of the IT companies. They need IT specialists who have good understanding cybersecurity. They need skills related to telecommunication, networking and access control.
The CISSP exam has a requirement for a minimum of five years experience in the field. Once you pass the exam and get the certificate, you are capable of applying for some of the best and most appealing jobs and positions in the IT industry. You can earn over 150,000 dollars annually and can have tremendous value in the field.
Having CISSP certificate, you can apply for a lot of positions in cybersecurity. You can be given responsibilities such as protecting company's network and defending the system from cyber attacks. You are trusted to make disaster management and recovery plans as well as policies and procedures to avoid such situations.
2. NIST Cybersecurity Framework (NCSF)
NIST Cybersecurity Framework is adopted by over thirty percent of the United States' organizations, enterprises, and public sectors. This certificate allows you to gain basic skills that are required to design, build, test and manage security programs. NCSF is basically for the cybersecurity professionals who are part of the IT teams working on different projects and areas. It allows them to learn a common vocabulary and get basic training about what the framework is and how it is to be followed. Having NCSF certification enables you to understand how to perform the job that is NCSF compliant with minimum risks. You learn about how to protect the critical assets of the organization and make the system stronger.
3. Certified Information Security Manager (CISM)
If you have five years of experience in the IT field, you can get this cybersecurity course which can raise your competitiveness. It is seen as a managerial certification that builds your knowledge and improves your communication skills. When you prepare for the CISM exam, you learn about governance and risk management. It offers you an understanding of incident management and security program formulation. It ultimately teaches you the managerial skills that are required in the field and make you more proficient in handling the challenges. CISM is rapidly gaining recognition for the IT professionals who plan to get into the management side of the field. The prerequisite of the exam requires you to have at least three years of experience in information security management. However, if you already have certifications like CISSP or CISA, you are eligible for the exam.
4. CompTIA Security+
If you are an IT professional with an interest in the cybersecurity and want to explore the opportunities in this part of the industry, CompTIA Security+ can be your base-level certification. You are not require to have many years of experience to take the exam. If you have completed two years in the IT field, you can apply for the certification. CompTIA Security+ is a general certificate that is not vendor-specific. It allows you to learn about different strategies and elements that are necessary for the cybersecurity. This certificate teaches about IT security concepts in a broader context. For example, you will learn about strategies and defenses that are available for countering network attacks. You will be given a basic understanding of the elements required for security policy formation. The certificate will allow you to learn about disaster recovery planning and products security.
5. Certified Information Systems Auditor (CISA)
If you want to get into a highly specialized field, Certified Information Systems Auditor is the certificate for you. It allows you to gain experience in auditing the information in the system. You can learn about managing different vulnerabilities that the system face. Just like CISM and CISSP, you need five years of experience before you can attempt the exam. This certificate helps you learn information system controlling. It makes you adept at the monitoring skills. You learn about the process behind information auditing and get management and governance skills required in the IT field. CISA is a globally recognized field that is necessary for all the IS audits conducted at a high level. Having this specialized certification, you can be eligible for significant controlling positions.
The demand for cybersecurity professionals is only going to rise in the coming years. At present, there is a huge gap in demand and supply. So, if you want to make use of this opportunity, you can get these certificates and increase your skills.
All five of these certificates have the ability to boost your career growth remarkably. They can make you eligible for several well-paid positions. So, if you are considering changing your career path, you can choose any of these certificates and become one of the coveted IT professionals.
Read More: 6 Questions to Ask a Potential Cyber Security Hire >>
Read More: 4 Cyber Security Trends Your Company Can't Afford To Ignore In 2018 >>
Read More: Cybersecurity Best Practices >>
Read More: What Happens During a Cybersecurity Assessment? >>

Are you finding it harder to locate the good technical and IT talent? Many companies find them selves in the same situation. There are some better ways to locate and attract the right it and technical people to your company. Contact us to learn more.