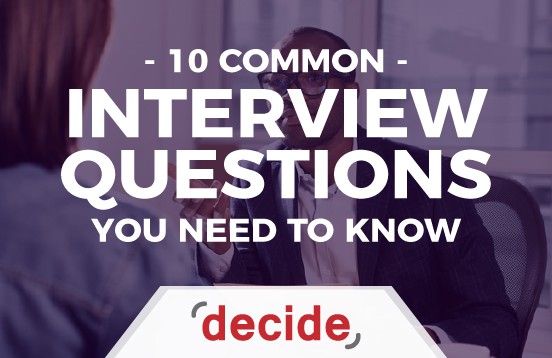 Job interviews can be nerve-wracking. The anxiety before the interview escalates even more when you start worrying about what questions the interviewer is going to ask. There isn't any standardized list of questions that the interviewer goes through during an interview. A lot of what gets asked depends on the kind and the level of job you are applying for. The mindset of the interviewer, the job description and your resume details play a huge role in determining what kind of questions you will be asked in the interview. You cannot determine the first one, i.e. the mindset of the interviewer, but you can surely work on the last two.
You can prepare yourself to answer some questions related to your previous job experiences, skills, and knowledge. You will also be asked questions regarding the job you are applying for to gauge your suitability for the position.
Regardless, there are some standard questions that are asked by the interviewers in almost all interviews. We have compiled a list of common interview questions that you are going to get asked from the interviewing panel in interviews at all levels. If you are prepared well to answer these questions, you will ultimately be more confident across the entire process.
Question 1: Tell Me about Yourself
This is the first question that you can expect in any interview. The interviewer may phrase it differently; such as introduce yourself or tell us something about yourself. The question is really simple but a lot of interviewees fail to answer it convincingly. The reason is that they miss out on the purpose of this question. When you are asked to introduce yourself, you are given an opportunity to mark the first strong impression on the interviewer.
You do not have to talk a whole lot about your education history and job experiences. The interviewer already has all the details about you. You have to be concise in your words and say things that project you as a person who is best suited for the job.
Question 2: Why Do You Want to Work Here?
Now, you have to be really careful in answering this one. You do not have to show yourself as too desperate or too casual about it. Your answer should show your passion and connection to the company and the job description.
You need to convince the interviewer that you are fit for the job and are the candidate they are looking for. You can highlight some positive factors about the company and elements of the job that resonate well with you.
Question 3: Why Are You Leaving?
This can be a tricky question. It gives a glimpse of your professionalism to the interviewer and shows how consistent you are with your work. A safe answer could be that you are looking at career growth and opportunities that offer a better experience. Keep an element of positivity in your answer to give a good message to the interviewer.
Question 4: What Are Your Strengths?
When answering this question you have to adhere to truthfulness and authenticity. Your answer must align well with your resume. If you choose to exaggerate about your strengths and get hired on the basis of it, the truth will be out anyway when you will start working. You can successfully save yourself from embarrassing moments by choosing to go with facts. Speak about your true strengths.
Question 5: What Are Your Weaknesses?
Talking about strengths can be easy, but weaknesses can be difficult. This question can be daunting to answer if you aren't prepared beforehand. What you can do is that take some time and do a personal reflection. Identify your weak areas and list them. However, you have to be careful in the interview. Do not speak about any weaknesses that convey a negative image about you or could work against the company or job you have applied for.
Question 6: Where Do You See Yourself in 5 Years?
This is a question testing how visionary you are and how progressive your thinking is. Be honest when answering this. Talk specifically about your future goals and be realistic in your projections. The interviewer wants to see how logical your approach is and what your aspirations are.
Question 7: How Do You Feel about Working Under Deadlines?
Companies want employees who are passionate about work and are willing to produce the best work under pressure. If you are asked this question, give out a positive response and show that you are open to challenges and can endure work pressure. Give out a positive energy. This will show your zeal and enthusiasm towards personal and career development.
Question 8: What Do You Think about Us?
This is a question that can go terribly wrong if you sugarcoat the answer too much. It will show how much you have researched the company and how well-prepared you are for the interview. The interviewer won't expect you to shower complements about the company.
They expect you to have a good knowledge of services the company offers, how it offers and what clientele it has. It is always an important thing to do a good research on the company before going to the interview. It can help you answer the question better.
Question 9: When Can You Start?
Respond to this question honestly. If you are employed already, tell the hiring manager the exact time period you need to serve the due notice period at your previous job. This shows your professionalism. If you are not working anywhere, tell them that once you have their job offer, you can join right away. This will show your enthusiasm towards the new job.
Question 10: Why Should We Hire You?
This could be an intimidating question. A lot of interviewees fear this one as they do not know how to answer. Well, see this question as the best opportunity to sell yourself and your skills for the proposed job. Emphasize on your strengths, skills and knowledge base, and tell them that you are competent enough to deliver the best results they are hoping to achieve. Tell that you can gel in well with the team and organizational culture and can be a productive hire for the company. These questions are to check your personality traits and understand the kind of a person you are. They determine your suitability for the work culture of the organization and the level of professionalism you have. Prepare well for these questions and answer them with confidence. They can help you give a good impression on the interviewing panel.
Read More: Things to Consider when Offered a Contract-to-Hire IT Position >>
Read More: How to Improve your odds of Getting that IT Job Offer >>
Read More: Read This Before You Accept a Counter Offer >>
Read More: If You Work in IT – Things You Do NOT Have to Worry About >>

Are you finding it harder to locate the good technical and IT talent? Many companies find them selves in the same situation. There are some better ways to locate and attract the right it and technical people to your company. Contact us to learn more.