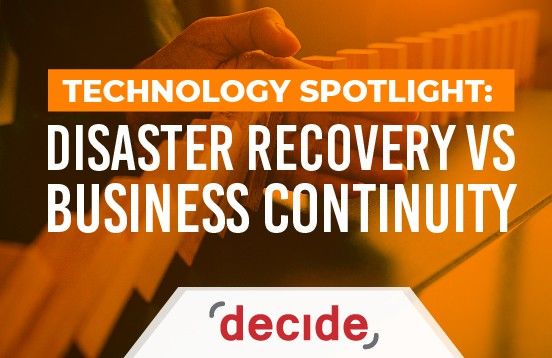 Considering the recent wave of disasters, organizations have put contingency plans in place to deal with them. Organizations now want to deal with disasters in a manner, which safeguards their best interests, without requiring a major upheaval. Companies need to consider what they need to do for disaster recovery and business continuity. While they cross over quite a bit, disaster recovery and business continuity are not the same.
When it comes to planning for disaster recovery, businesses are confronted by two different methods – Disaster Recovery Plans and Business Continuity Planning. There is a basic difference between both of these plans, and it is necessary for organizations to understand what is necessary for them to safeguard their interests and data in the case of a disaster.
Before we move on, we will like to shed some light on what constitutes as a disaster. The definition for the term 'disaster' when it comes to disaster management is quite broad. Anything from a natural disaster, to a loss of data can constitute a disaster.
Read More: 4 Cyber Security Trends Your Company Can't Afford To Ignore In 2018 >>
Read More: 5 Jobs That Are Safe From Automation >>
Read More: The Hard Truth about Working in an IT Infrastructure >>
Read More: AWS vs. Azure – Which One Is Better for You >>
Most organizations don't have concrete plans to deal with a disaster, and often end up suffering. In a research conducted by Gartner, 2 out of every 5 organizations in the world are unable to recover after they are struck with a disaster. Out of the survivors, almost 1/3rd run out of business or stop operating within the next two years. So, we do know that even if companies do have a recovery or continuity plan, it isn't well-tuned enough to handle the burden after a disaster has struck.
Business Continuity Planning
Business continuity planning is best known as the preparations that a business has in place to ensure that the essential functions keep operating during and after a major disaster has struck. The aim behind this planning process is to ensure that the business continues on its core operations and does not stop them.
This type of planning ensures that the business is up and running as smoothly as possible, after a disaster. If the core business operations don't stop, regardless of a disaster, the business wouldn't find it hard to get back to work.
Disaster Recovery Plan
A disaster recovery plan is similar to a business continuity plan in the sense that it aims to achieve smoothness of recovery, but it is different to a business continuity plan when it comes to the overall process. Unlike a business continuity plan, a disaster recovery plan will focus more on how a business would tend to develop back some of the lost processes or business applications.
Disasters can do a lot of damage, but the thought process in a disaster recovery plan is to have a contingency setting, where you can smoothly recover everything that is lost, in a flawless manner. A typical disaster recovery plan would be along the following lines, "How should we recover our IT services if we lose them?"
The Perfect Path
Most recovery experts have argued that the best way to ensure complete recovery from a disaster is to use a disaster recovery plan as a subtype of a business continue plan. This method points out that while you should have a business continuity plan, it is best to include a disaster recovery plan into it, and make one comprehensive package.

Now, drafting both a disaster recovery plan and a business continuity plan require expert analysis and evaluation. You would be required to answer some questions as part of this process. Here are 4 questions that you can ask yourself while drafting a concrete plan for disaster recovery.
What data and strategic units are really important for smooth business operations? Not all data holds the same importance in your organization. It is up to you to decide which data would have an upper hand over other data or processes. For example, a financial institution would realize that the secure financial records of their clients are more important to safeguard, than some data regarding age old financial regulations. Since the data pertaining to client information is the lifeblood for the business, the answer to the question is obvious.
How long can the organization remain out of business for? There is no point in keeping yourself and your stakeholders in the dark about what to expect during a disaster. Discuss everything with your employees, and come with a perspective on how much downtime would be acceptable, before your business is affected. You should calculate the mean time to recovery for all systems. Your IT department will play an important role here. Get them involved and work over the process.
In the current setup, how much data can be lost in the event of a disaster or failure? Just like we mentioned above, it is time to be realistic now. Address all that is required to be addressed, and form a plan that is based on a realistic perspective. If your company follows the current setup, how much data would be at stake?
How long would it take to recover all data and to get the business back and running as it does now? This is the trickiest out of all the questions, and requires an in-depth analysis of recovery techniques and business continuity methods. Cost reports should be drafted here, as finances play an important part in recovery. Finally, if you are able to answer this question, and make a contingency plan, your business continuity/recovery plan would be all set for implementation in the case of a disaster.
Since we've got you thinking with these questions, we now get to some of the best practices for disaster recovery and business continuity solutions. Always prepare yourself for the worst case scenario by following these practices:
Standardize backup projects. Make them a norm across the company.
Define all procedures for data recovery and educate your IT team about them.
Build a dedicated department that will work towards efficient data management. Do not overburden your IT team.
Centralize the monitoring and administration of backup processes. Have an eye on these processes at all time.
Document all the procedures you have for recovery and continuity, and preserve.
Hold a test recovery session.
Are you finding it harder to locate the good technical and IT talent? Many companies find them selves in the same situation. There are some better ways to locate and attract the right it and technical people to your company. Contact us to learn more.