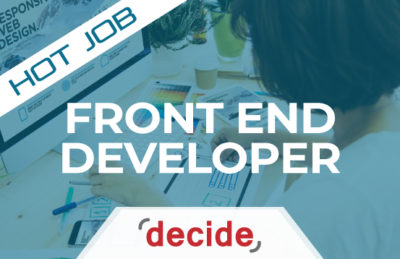 If you've always loved programming and designing and want to combine your passions, the perfect career option is to become a front end developer. Good developers are in high demand and front end developers have the luxury of picking and choosing who they want to work with.
Whether you want to be a freelancer or you're considering it as a career option, it can be a very fulfilling job. The following are some more details regarding the skills, education requirements, and earning capacity of a front end developer in Houston.
Typical Background
Front end developers are typically responsible for successfully implement all the interactive and visual elements that users will be engaging with. This can either be on an app or it can be on a website. They have to work in collaboration with back end developers who are responsible for server-based actions.
When someone thinks of a web developer, they're usually thinking of front end developers. It's a rewarding job because front end developers play a crucial part in the development of different programs. It's also a role which can be high stress, particularly when monitoring and fixing live usage errors and issues.
Nonetheless, becoming a front end developer can give you the creative freedom to combing programming and designing together. Most developers need to understand creative design and different languages of programming to successfully create user-friendly interfaces.
What You Will Do– need content here
As a front end developer in Houston, you will have a number of different tasks to look after. The following are certain responsibilities that you have to fulfill:
Offer feedback and discuss possible issues in implementation of new or old software initiatives.
Develop various web applications that make use of frameworks or languages which are suited for the issue that you're facing.
Work with the team to help them meet industry standards or train, teach and assist in learning of newer advancements in technologies that improve output.
Assist and suggest key design changes that improve user experience
Approve or monitor deployments and appropriate code merges
Recommend enhancements or changes in the system which can boost workflow and team output
Focus on mobile-first design
Be involved in the product of applications that work for mobile browsers as well as desktop browsers
Coordinate with different UI/UX designers and back end developers in order to improve the output and implement ideas.
Skills Needed
The following are some skills which are crucial or needed when you are applying to become a front end developer:
Adaptability in learning with existing codebases as well as learning how to work with new libraries
Analytical thinking and strong skills for problem solving issues related to users or the back end development
Be able to perform well under pressure and work out solutions
Effective time management skills to handle different projects efficiently
Ability to predict perfect turnaround time as well as deliver projects on time
Advanced or appropriate knowledge of design patterns which are applicable to web applications.
Experience in using JavaScript framework such as Angular, Ember, or Vue
Experience with using JavaScript based module loading such as RequireJS, Webpack or Browserify
Familiarity with development of different CMS-assisted programs
Ability to effectively collaborate or work independently in order to produce results or meet the given deadlines
Read More: What UI Needs – People Who Speak Human and Code >>
Read More: Your Mouse is Dead. New Interfaces are Coming! >>
Read More: 7 Secrets to Managing and Hiring Gen Z >>
Read More: 10 Things to Keep in Mind with Your IT Resume >>
Education Needed
Education requirements include a minimum of:
Bachelors degree in Computer Science
Bachelors degree in Information Technology or a STEM field;
Be Certified as a Front End Developer
Be Certified in Java, HTML, CSS or other programming languages
Why This is a Good Job
Becoming a front end developer in Houston is a rewarding career option because there is a high demand for skilled individuals. There is also good room for growth and it's not a job position which will go obsolete any time soon. In fact, according to the U.S. Labor Statistics, the outlook for this job is growing.
From 2014 to 2024, the job outlook for all web developers, including front end developers in Houston is going to increase by almost 27%. This outlook means that you will have more opportunities in the future, especially if you start now and gain the appropriate experience.
The earning capacity as a front end developer in Houston is also very healthy. In 2019, Glassdoor showcased the average annual salary of a front end developer to be around $77,908.
With these facts and figures, it is easy to see that if you choose to be a front end developer, you will get an occupation that is secure, pays well and has room for growth.
Pay
San Antonio
Texas
Low
M ed
High
Low
M ed
High
Senior UX Designer
$72,250
$85,750
$121,750
$77,308
$91,753
$130,273
UX Designer
$62,250
$75,750
$101,750
$66,608
$81,053
$108,873
Senior UX Researcher
$75,500
$85,750
$135,500
$80,785
$91,753
$144,985
UX Researcher
$84,250
$97,750
$133,750
$90,148
$104,593
$143,113
Senior Front End Developer
$83,000
$98,500
$139,500
$88,810
$105,395
$149,265
Front End Developer
$63,500
$73,750
$123,500
$67,945
$78,913
$132,145
Companies in Houston With the Most Front End Developer
ExxonMobil
Schlumberger
Hewlett Packard Enterprise
University of Houston
Shell
Halliburton
EOG Resources
Chevron
Hostgator
Insperity
Other Houston Front End Developers Stats:
There are 2319 Front End Developers in Houston
1030 were educated in Texas
1898 were educated in the US
407 have post graduate degrees
812 are job hoppers
643 are or were contractors

Are you finding it harder to locate the good technical and IT talent? Many companies find them selves in the same situation. There are some better ways to locate and attract the right it and technical people to your company. Contact us to learn more.