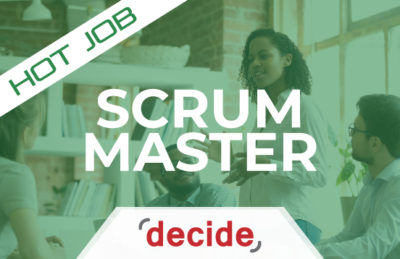 There's a huge demand for a highly-skilled Scrum Masters in Houston. If you think you are a suitable candidate, there are plenty of options for you out there. You are probably being contact by recruiters regularly. If you're still wondering what a scrum master does, we'll help you out. We're taking a detailed look at scrum masters, their job responsibilities, skill requirements and more.
Take a look at the following to find out everything you need to about becoming a scrum master:
Typical Background
Scrum masters are the major facilitators for implementing all appropriate scrum practices in the development of products and software. There is a high degree of collaboration involved as scrum masters are often the bridge between the Agile team and other outside members.
Not all scrum masters are going to be solely handling the technical side of product and software development. The bulk of scrum masters come from the Project Management or Product Owner side. They may also be required to deal with people who work outside the scrum team. This is why, it can be said that the aim of the scrum master is to streamline communication and collaboration and to make work easier.
In the quest to do so, scrum masters may also be responsible for training newer team members to be in-line with scrum practices. They also have to test team performance and ensure that all practices are up to date. Scrum masters have the responsibility to help streamline the team and improve its overall productivity in a healthy manner.
What You Will Do
As a scrum master, you will have a lot of responsibilities resting on your shoulders. The following are certain jobs, responsibilities you will be expected to manage:
Coordinate with your scrum team and other members.
Ensure accurate story pointing.
Cross the divide of developers, testers and product owners in your Agile Team.
Keep an eye on team performance and implement active measures to maintain productivity.
Build a healthy relationship between the product owner and team including other individuals.
Improve and address any problems in the team's dynamics.
Prevent any outside distractions or interruptions affecting the team's overall productivity.
Guide your team and help the organization to implement Agile or Scrum values and practices.
Focus on filling in intentional gaps in the Scrum or Agile values.
Assess the maturity of the organization and team in accordance with the Scrum levels to ensure sustainability.
Train new or existing team members to help them assimilate with the Scrum team properly.
Facilitate effective conflict resolution, discussions, and decision making and problem-solving in a healthy and organic manner.
Monitor all processes being implemented by the team and make amendments as needed to improve or streamline team performance.
Focusing on providing support to the team in servant-leadership style and leading by example.
Skills Needed
A Scrum master applying for any company should have the following are the skills for the job:
Experience with Agile practices as well as Scrum patterns, frameworks and techniques
Experience in Agile techniques including TDD, ATDD, User Stories, CI/CD, Continuous Testing, Agile Games, Pairing and Automated Testing etc.
Knowledge of different Agile approaches such as Kanban, XP, FDD, Crystal and more.
Exposure to appropriate and applicable DevOps processes
Some background in the capacity of a tester, a developer or a product owner
Excellent communication skills
Mentoring skills and some training experience
Understanding of the software environment needed for a successful Scrum team
Coaching and guiding skills, especially for the team
Ability to collaborate with different product owners, testers, business analysts, technical architects and developers
Be able to manage a team in a manner to deliver appropriate results in the given timelines
Education Needed
Education requirements include a minimum of:
Bachelors degree in Computer Science
Bachelors degree in Engineering or a similar field;
Be Certified as a Scrum Master in any of the following capacities:

Certified Scrum Master (CSM)
Certified Scrum Professional (CSP)
Certified Scrum Product Owner (CSPO)
Read More: SDLC Comparision: Agile vs DevOps >>
Read More: Is Your Company Truly Agile? Ask Yourself These 5 Questions >>
Read More: Planning Your IT Career Path >>
Read More: IT Management Certificates to Boost Your Salary >>
Why Is This A Good Job?
Becoming a Scrum master is a good idea because there is a lot of money and opportunity for growth here. Unlike other industries, the tech industry always has a demand for skilled individuals. There's also room for healthy growth in this industry.
Based on data from the U.S. Labor Statistics, the job outlook looks promising. In fact, from 2016 to 2026, the job outlook of managers in the information and computer systems field is expected to grow by 12%. This gives you more security and opportunity for growth. There's also the capacity to earn more here.
Similarly, switching careers is easier here as the job responsibilities and duties of a Scrum master are comparable to those of information systems and computer manager. Annual salaries are also better for these jobs. Keeping in line with the growth of the field and these figures, it is easy to see that becoming a Scrum master in Houston can be a very rewarding occupation for you.
Pay
Nationwide
Texas
Low
M ed
High
Low
M ed
High
Scrum Master
$93,750
$111,000
$157,000
$100,313
$118,770
$167,990
Product Owner
$78,000
$92,250
$130,250
$83,460
$98,708
$139,368
Companies in Houston With the Most Scrum Masters
Chevron
Hewlett Packard Enterprise
ExxonMobil
Schlumberger
United Airlines
Accenture
Halliburton
Shell
Sysco
JPMorgan Chase
Other Houston Scrum Master Stats:
There are 1176 Scrum Masters in Houston
526 were educated in Texas
984 were educated in the US
376 have post graduate degrees
212 are job hoppers
343 are or were contractors

Are you finding it harder to locate the good technical and IT talent? Many companies find them selves in the same situation. There are some better ways to locate and attract the right it and technical people to your company. Contact us to learn more.