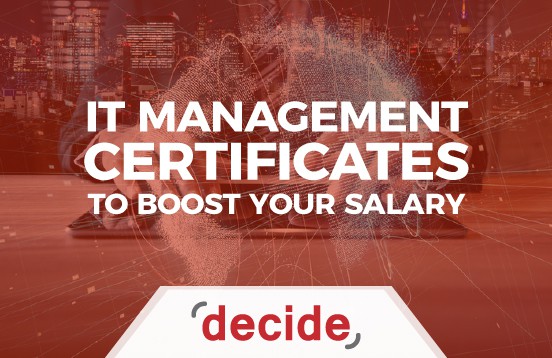 In the previous 18 months ending in November 2018, 1 in every 7 jobs created in the US is in IT.That is quite a bit of technical people. These opportunities are not restricted to just the technologists. Demand for the governance and management expands along with it. If you are planning on moving a step ahead in your career, you can take up managerial and leadership roles in the organizations at an improved pay scale.
IT management certifications area good way to make yourself available and attractive to more roles. Getting these certifications can help you expand your strengths. They make a positive contribution to your skills section in the IT resume and help you stand out from your competing candidates. Now the next question must be what certifications you can opt for.
There are a number of them available that you can consider taking. Each of them has their potential and can support your career development. Let's have a look at them one by one:
1.     Project Management Professional (PMP)
It is expected that by 2020, there will be 15.7 million job opportunities in the field of Project Management. This indicates the anticipated growth in the industry in the coming years. Project Management Professional certification can help you use these opportunities and therefore boost your career. Being a certified PMP, you can earn up to $109,405 on average.
Getting a PMP certification can add tremendous value to your resume and cast a notable impression on the hiring manager. It makes your resume stand out and helps the recruiter in narrowing down their applicant pool. If you are planning to boost your career growth and increase your earning, PMP certification is a good way to make your resume more appealing for your desired jobs.
2.     Certified ScrumMaster (CSM)
The second certification that you can consider for getting into an IT management job sector is the Certified ScrumMaster or CSM. Having a CSM certificate on your resume showcases how pro you are about the knowledge and skills of Scrum practices. The scrum master is an essential part of the IT field where you manage how to exchange information. It facilitates the Agile development process by teaching self-organizing and efficient management.
CSM certificate is proof of your qualification and shows your commitment to learning. This depicts you as a determined person. The best about CSM is that it is widely recognized and the certified professionals are in demand. If you are able to this certification, it can open the gate for several opportunities for you.
3.     Six Sigma Green Belt
DMAIC or "Define, Measure, Analyze, Improve and Control" is a data-driven quality strategy used in improving processes and optimizing and stabilizing business strategies. This cycle of DMAIC is used to regulate the six sigma projects. Six Sigma Green Belt is the certification course that can help you understand the basic structure of DMAIC. You are better able to identify and address the problems encountered in the process.
With this certification, you are better able to take up responsibilities regarding cost controlling and improving process outcomes. However, you need three to four years of employment experience to be eligible for Six Sigma certification.
4.     Certified Information Security Manager (CISM)
CISM is a cybersecurity certificate that gives you managerial certification. It helps in expanding your knowledge base and refines your communication and interpersonal skills. You learn about risk management and better governance. It ultimately projects you as a better candidate for the management position.
CISM includes testing your knowledge about handling challenges and devising security programs. To make a really good impression on the hiring manager looking for IT security and management, CISM is the certificate you can definitely opt for.
5.     Certified Associate in Project Management (CAPM)
Certificates add more credibility and distinction to your resume irrespective of the career stage you are at. CAPM is a certificate that tests your capabilities at an international standard. If you are able to get through the exam, it opens remarkable job opportunities for you that pay very well. Also, it can accelerate your career growth and development.
You can take the CAPM exam online. This helps you to schedule it to your convenience while giving your career a progressive boost. CAPM is an entry-level certification. You can take it even if you have less experience in the field. It tests your basic knowledge about project management and evaluates your technical vocabulary and processes.
6.     Certified in the Governance of Enterprise IT (CGEIT)
CGIET is proof that you are capable of discussing and handling critical issues of governance and strategic alignment. Having this certificate, you can apply for any managerial or leadership role in any IT organization. It offers your skills and abilities a renowned credibility and makes you a suitable candidate for a lot of well-paying jobs. CGIET certifies that you are very much capable of bringing IT governance in the organization and add positive value to the company. This certificate increases your demand extensively.
7.     Scaled Agile Framework (SAFe) Certification
SAFe certification comprises workflow patterns that are required by any organization to scale lean and responsive practices. SAFe has become one of the popular frameworks to address problems related to wide-level scaling. It brings together leadership and Agile development. Having a certification in SAFe, you are seen as a professional who can process high-quality software development faster.
Looking at the IT industry, the job market is expanding continuously. There is a high demand for professionals who have a quality set of skills and have a good reputation in the market. Having these certificates on your resume projects you as a person who has proven IT skills. It gives the impression that you can be trusted with bigger responsibilities.
These certifications open opportunities for you in sectors of Project Management, information security and other management areas. They help you set yourself apart from the competing applicants and give you a better room for payment negotiations. To develop your career level and get better-paying jobs, you can get IT management certifications and plan a prosper career ahead.
Read More: Is Your Company Truly Agile? Ask Yourself These 5 Questions >>
Read More: INFOGRAPHIC – Cost Cutting Techniques for CIOs >>
Read More: How Employers Plan to Deal With the IT Skills Gap? >>
Read More: Improve Your Odds of Getting Tech Talent in a Buyers Market >>

Are you finding it harder to locate the good technical and IT talent? Many companies find them selves in the same situation. There are some better ways to locate and attract the right it and technical people to your company. Contact us to learn more.