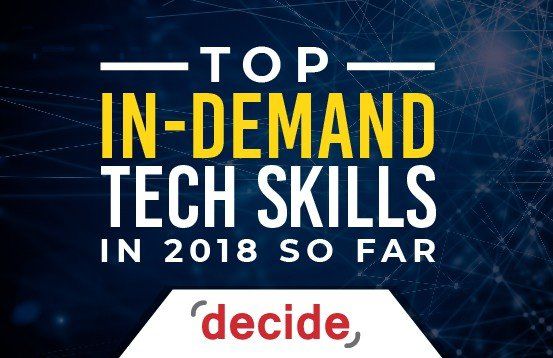 Skilled IT and technology employees are more in demand than ever before – -but learning more about the actual job market in 2018 and the most coveted certifications is a must for today's job seeker. Technically skilled and experienced employees continue to be in demand for brands and organizations of all sizes, but which  actual skills are needed most? A look at some of the most in-demand applications, from Microsoft's Azure to the robust JavaScript libraries offered by React, can reveal just what employers are looking for and what skills are most likely to get attention on a resume or in a job interview.
Azure
Formerly known as Windows Azure, Microsoft Azure's cloud computing solutions are designed to be even more useful to businesses. This increased usability has led to an increase in demand; in 2018, employers are now seeking this skillset in particular. This flexible cloud-based solution functions as a SaaS, PaaS and IaaS and supports and integrates with a variety of programming languages. As a result, the number of employers who are searching for individuals with Azure skills and expertise has risen to 62% – but only about 50 percent of prospective applicants searching for jobs in this area. The high demand and relatively low supply of skilled employees makes Azure a key selling point for a tech employee in 2018.
Cybersecurity
Brands of all sizes are increasingly aware of the rising risk of threats like ransomware; high profile data breaches that make headlines have only reinforced the need for a robust security platform. Qualified employees are in more demand than ever – the demand for workers skilled in cyber security has increased 34% since 2017; this figure is only expected to continue to rise.
Major breaches from brands like Target, Equifax and Sony put consumers at risk and damage more than just the networks of these organizations. The resulting bad press and consumer opinion is costly, and businesses of all sizes are taking measures to prevent data loss and theft.
Employees with skills and certifications in CEH, CISM CompTIA and CISSP continue to be in demand; the ability to take proactive measures to correct security flaws and prevent the loss of assets continues to be a highly coveted skillset that employers are searching for.
React
JavaScript libraries like React-Native and ReactJS are surging in popularity. By enhancing user interface and experience, a library like ReactJS allows brands to better serve customers and ensures that a site is easy to use and navigate. React Native allows for rendering in both Android and iOS; with the rise in mobile device use, an easy and smooth UI is more important than ever.
Because of the surging interest in both React JS and React-Native, employer interest and job growth in these skills has grown by over 200% in the past year alone. Including these skills on your resume and in your job search could allow you to reach out to employers in desperate need of this particular expertise.
Amazon Web Services
AWS continues to compete with Azure for the same prospects and customers. This robust platform continues to experience growth – even some Federal authorities and agencies of the United States government use AWS.
All this interest and competition leads to a robust demand for workers – so far in the last year, job demand has grown by 41%, this trend is expected to continue.  
Angular JS
Google's own JavaScript framework is employed by a growing number of brands to develop improved UI and front-end experiences. The ability to navigate and work within this platform continues to gain momentum in the job market. So far, demand is up 6% as employers begin to invest in the AngularJS and Google brand.  As this skill set gains popularity, demand should continue to rise, making this an ideal addition to a well-rounded resume.
The often-changing landscape of the tech space and in the platforms and systems employers and brands use most is driving the need for additional workers skilled in these key areas. For each of the applications above, demand outstrips the available supply of skilled and experienced employees, creating opportunity for those who can fill these in-demand positions.
Decide Consulting provides IT staffing services. Our conclusive hiring methodology enables us to bring the best IT problem solvers to your organization. Our entire management team comes from an IT technical background giving us a unique perspective on candidates and the industry.